Our fall weather arrived in fine style – cloudy skies, cooler days, chilly nights and, yesterday, some rain. I know some would prefer that summer last all year, but I enjoy the seasonal changes. It is, after all, God's design.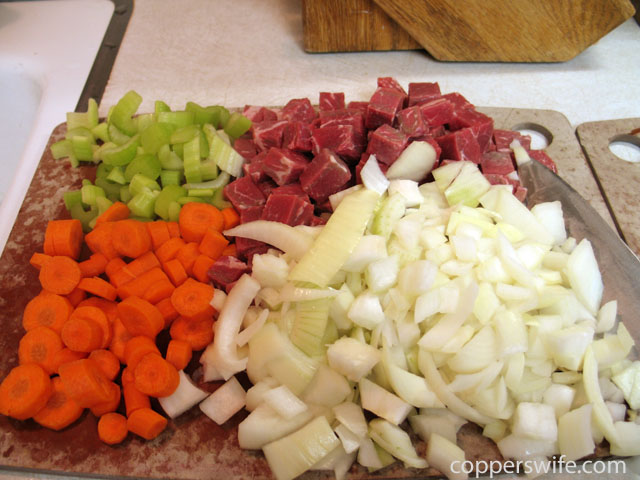 I'm enjoying evening fires in the wood stove and having scented candles burning throughout the day, and then lighting the tea light candles on the mantle for the evening. I like having dinner after the sun has set rather than while it is still high in the sky. I enjoy the aroma of a hearty soup simmering all day in the slow cooker. In just awhile, I'll be mixing up some of my Mile High Biscuits and popping them into the oven to have with our soup.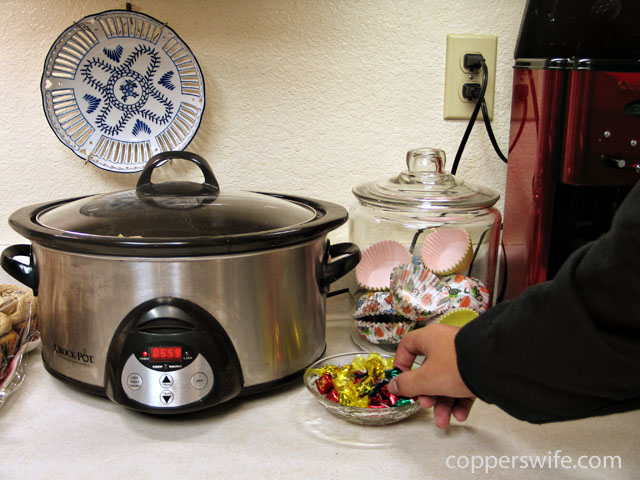 I've been working hard for a few weeks now at moving my home organization into the 21st century. I'm really enjoying the blessings of technology! It's such a delight to have everything at my fingertips and available to me whether I'm in my home, out in the garden or in town. I can add things to my "to do" list as I think of them, and not have to worry later about where that list is, and I can do the same with my calendar, prayer list, or most any aspect of my life. I no longer worry about misplacing my shopping list between stops in town.
There's been a learning curve, of course. I'm a firm believer in "use it or lose it", whether that applies to our physical muscles or our brains. In fact, I've been reading a book, Mozart's Brain and the Fighter Pilot: Unleashing Your Brain's Potential
, that confirms that my belief is true. Good stuff!
There's nothing like fall, in my opinion, to tackle some good old-fashioned organizing. While a lot of gals are all about the Spring Cleaning, I'm always ready to head outdoors in the Spring. Fall has always been more my time for thinking about reorganizing, deep cleaning and taking care of projects inside my home.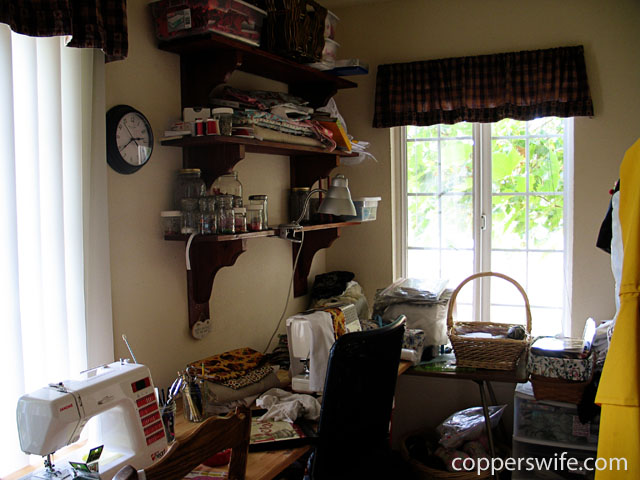 Dani and I both share a tiny little area we call The Sewing Nook. In reality, this space was meant to be a mud room, a place for my goat milking kids to come in and shed their coats and muddy boots when bringing the pails of milk in from the barn. I made it into a sewing space a few years ago when our goat milking days were over.
Now that Dani has her own business, the Sewing Nook is bursting at the seams. My own use of this space is growing and changing, too. After four years of encouragement from a good friend who quilts, I finally started. Of course, it's addicting and the quilts I have planned right now will keep me busy for years!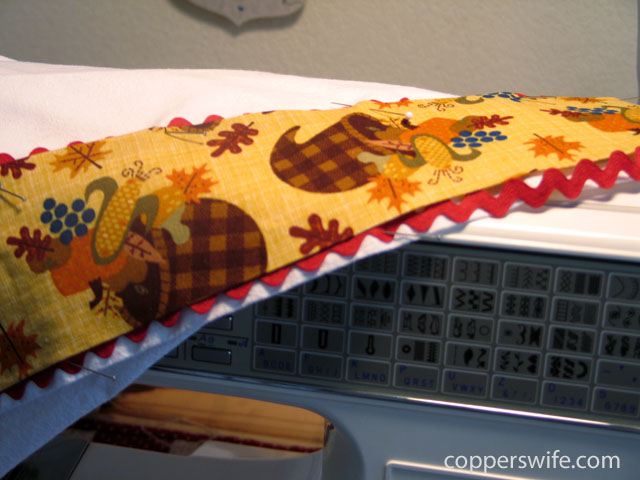 The space is in dire need of a good reorganization, but it's in constant use. I spent an hour or two today trying to tackle just a small area. No one who gave it just a glancing look would notice any difference, but I sure see it! The area right around my sewing machine has been cleaned up, and I might, just might, be able to get in there and finish up the fall dish towel I started last week.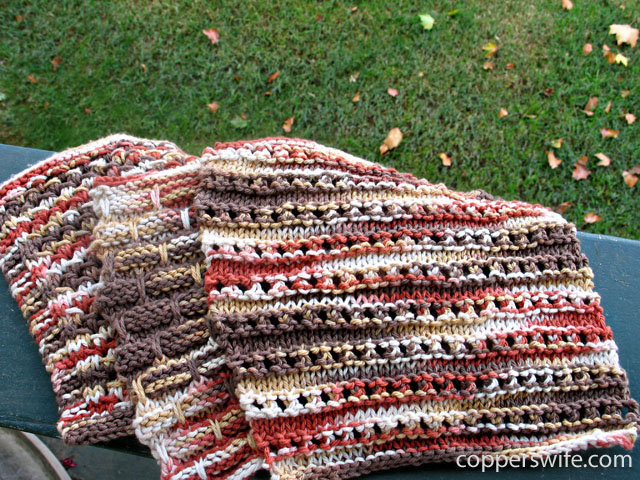 What we really need is a small, yet separate, storage area for each of our endeavors (sewing/quilting, knitting/crochet, paper, etc.). It makes sense to keep like things together, even though I tend to do a lot of mixed media crafting. I'm not sure yet if I'll be able to find room to house things that way. Time will tell. I'm planning on working in this little area in small chunks of available time for the next couple of weeks, and Dani plans to help me organize the fabric. I'll keep you posted on our progress.
So, fall is here, at least for now, but this is California. We're expecting sunny skies and temps in the mid 80's by this time next week. I plan to be thankful and celebrate whatever the weather.