A few of you asked about the Mile High Biscuits from last week's menu plan. This is so easy, I'm almost embarrassed to share it with you here. We'll just pretend you asked about it over a cup of coffee as we shared a left-over Mile High Biscuit with jam, and then we'd both giggle over how silly-easy it is.
Start with your favorite biscuit recipe, but double it. Your recipe can be from scratch or from a biscuit mix. You can even use my Buttermilk Baking Mix , if you'd like. In this season of my life, I'm using good, old Bisquick.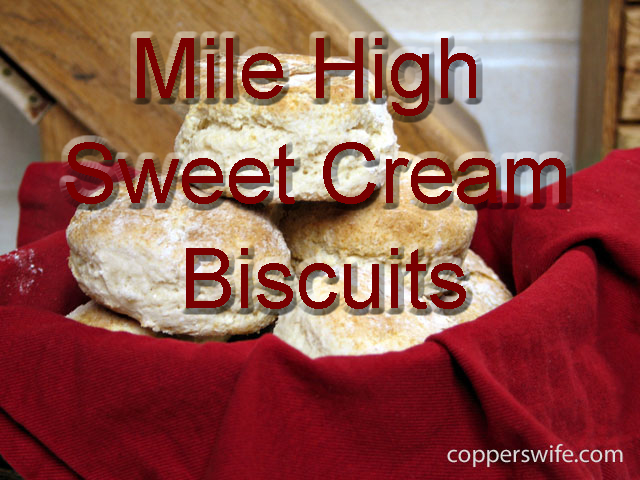 Here's the recipe I use with either Bisquick, or My Own Buttermilk Baking Mix.
Mile High Sweet Cream Biscuits
3 cups Baking Mix
1 cup Heavy Whipping Cream
1/4 cup (or so) sugar
Mix dough lightly with a fork. Turn the dough out onto a board dusted with baking mix. The dough will be very sticky. Knead lightly just five or six times, working in just enough baking mix to keep the dough from sticking to your hands and board. (Overworking the dough, or adding too much flour or baking mix, will make your biscuits dense and heavy. We want light and flaky biscuits!)
Here comes the first secret to Mile High Biscuits – Roll the dough out 1″ or so thick. That's right, really, really thick. Cut with a biscuit cutter if you have one, or with a drinking glass dipped in baking mix if you don't. (I don't use a biscuit cutter, and the diameter of my biscuits always reflects the size of whatever drinking glasses are in my cupboard at the time.)
Transfer the cut biscuits to an ungreased baking sheet, placing them an inch or so apart. Here's the second secret to Mile High Biscuits – Let the biscuits stand in a warm spot for 5 – 6 minutes before baking. (I just set my baking pan on top of the range while the oven finishes preheating.)
Bake at 450 degrees for 8 – 10 minutes, or until the tops are golden brown.
Yield 8 or 9 Mile High Biscuits