I've enjoyed this stretch of four weeks of trying lots of new recipes. With only one exception, everything we've tried has been quite tasty! I'm not one to hang onto years worth of back magazine issues, but I rank my Taste of Home collection the same as I do a much-loved cookbook. I keep coming back to them, again and again, and trying recipes that I skipped the first, second or even third time through. This week there are still a few new-t0-us Taste of Home recipes, but we're trying a few from some other sources, too. I've also included a few of our own recipes once again.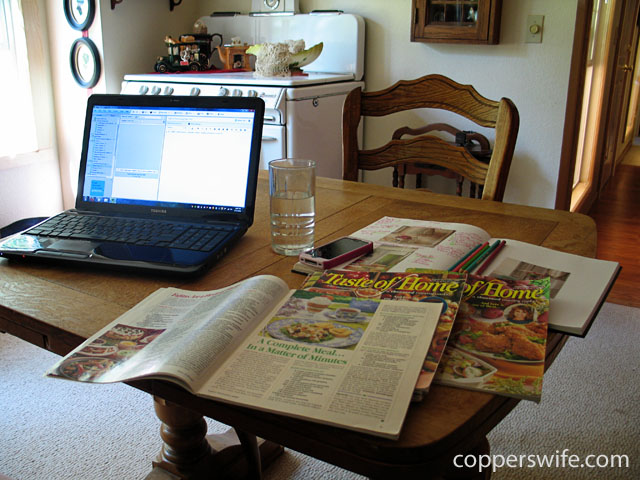 Next week I'll be going back to my normal menu planning methods, but refreshed, inspired and energized from this time of trying so many new dishes. I'm hoping to do a few more posts for the Menu Planning Series beginning next week, too, now that my own menu planning juices are flowing again.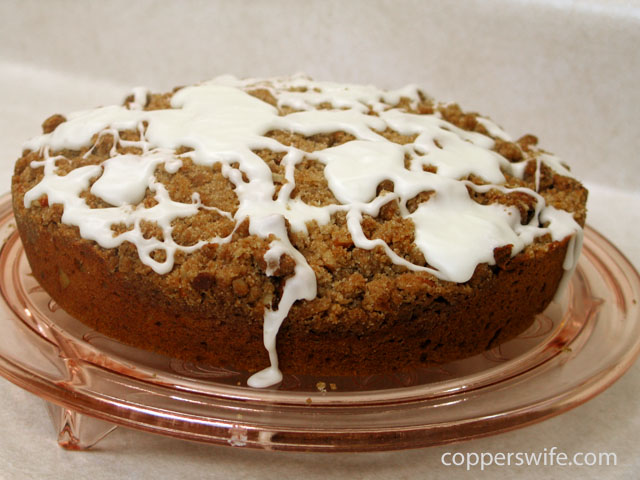 This week's Pumpkin Cheesecake and Double Chocolate Rice Krispy Treasts are recipes we discovered on Pinterest. Come follow me on Pinterest (by clicking that pretty, red button there on the sidebar), and I'll follow you back. We can discover all sorts of new things together. Sunday's Mediterranean Meat Pie is an old recipe of my own. I doubled my original recipe, which yielded three pies. We'll take two for the church potluck and the third is in my freezer for a quick meal in the future. We missed having the Creamy Sourdough Snack last Sunday, so it's recycled onto the menu for this week. I just popped the loaf of sourdough back into the freezer until Saturday night.

As always, be sure to click on over to I'm An Organizing Junkie for this week's Menu Plan Monday.
SUNDAY:
Breakfast: Pumpkin Coffee Cake
After Church Potluck: Mediterranean Meat Pie, Green Salad,  Cranberry Bars
Evening Snack: Creamy Sourdough Snack
MONDAY:
Breakfast; Waffles
Lunch: Pizzadillas (Quesadillas, but with pizza sauce, pepperoni and mozzarella cheese)
Dinner: Chicken Pot Pie, fruit, Biscuits
TUESDAY:
     Breakfast: Cereal
     lunch: Grilled Cheese, Chips
WEDNESDAY:
     Breakfast: Bacon, Eggs & Toast
     Lunch: Meat Sandwiches, Chips
THURSDAY:
     Breakfast: Oatmeal
     Lunch: Mac & Cheese
     Dinner:
Steak 'n' Gravy
(Crockpot!), served Basmati brown rice, Green Salad
FRIDAY:
     Breakfast: Pancakes
     Lunch: Boys on their own, Dani and I in town for the Fortnightly Marketing Peregrination
     Dinner: Deli Sub Sandwich from the grocery store
SATURDAY:
     Breakfast: Cereal
     Lunch: Dani's choice
     Dinner: Nachos
Keeping creativity alive in the kitchen is a great way for us to look well to the ways of our households. What are you doing this week to keep things fresh on your family's table?