It's been awhile since I've posted our menus. I've been following more of a Flying By The Seat of Your Pants Approach to menu planning for the last several weeks. It works for me for awhile, but sooner or later I hit that brick wall of reality and need to get back to a system that works better for me in the long run. We've had too much wasted food, too many unbalanced meals, and too many trips to the local take – n – bake pizza joint.
This week's menu is simple, and includes mostly family favorites. We also have a big birthday to celebrate this week as my "baby" becomes a teen. As things settle back down in my home, after an inordinately busy early January, I hope to try some new recipes. This week, though, we'll enjoy just getting things back to normal, especially at meal time!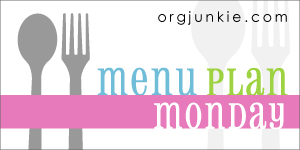 Monday
Breakfast – Waffles
Lunch – Will's Birthday Lunch Out @ The Local All You Can Eat Pizza Buffet
Dinner – Homemade Tomato Soup (the birthday boy's favorite), dinner rolls
Party Time – Baseball Birthday Cake, Ice Cream & Soda
Tuesday
Breakfast – Cereal
Lunch – Grilled Cheese Sandwiches, Left-over Tomato Soup
Dinner – Parmesan Chicken, Candied Baby Carrots, Stir Fried Green Beans with Bacon
Wednesday
     Breakfast – Cinnamon Raisin Toast & Scrambled Eggs
     Lunch – Quesadillas, Baby Carrots
     Dinner – Spaghetti, Green Salad
Thursday
     Breakfast – Oatmeal
     Lunch –  Ham, Cheese & Spinach Panini, Chips
     Dinner – Mac & Cheese with Andouille Sausage, Green Salad
Friday
     Breakast – Pancakes
     Lunch – Grilled Ham & Cheese Sandwiches, Chips
     Dinner – Herbed Panko Crusted Pork Chops, Mashed Potatoes & Pan Gravy, Lemon Garlic Green Beans
Saturday
     Breakfast – Cereal
     Lunch – Chef Dani's Choice
     Dinner – Nachos &
LOST
 (Nachos are the perfect TV Dinner!)
Sunday
     Breakfast – Cinnamon Rolls
     Lunch – Pizza with the Pastors @Church
     Dinner – Wild Dinner (my youngest son's term for our Sunday evening, every-man-for-himself, snack fest)
What's on the menu at your house this week?