February is a peculiar month. The thrill of the holiday season is long forgotten. The anticipation that comes with the start of a new year is now fading. Spring is several weeks away. For all of that, February is a lovely month for staying put and enjoying our homes.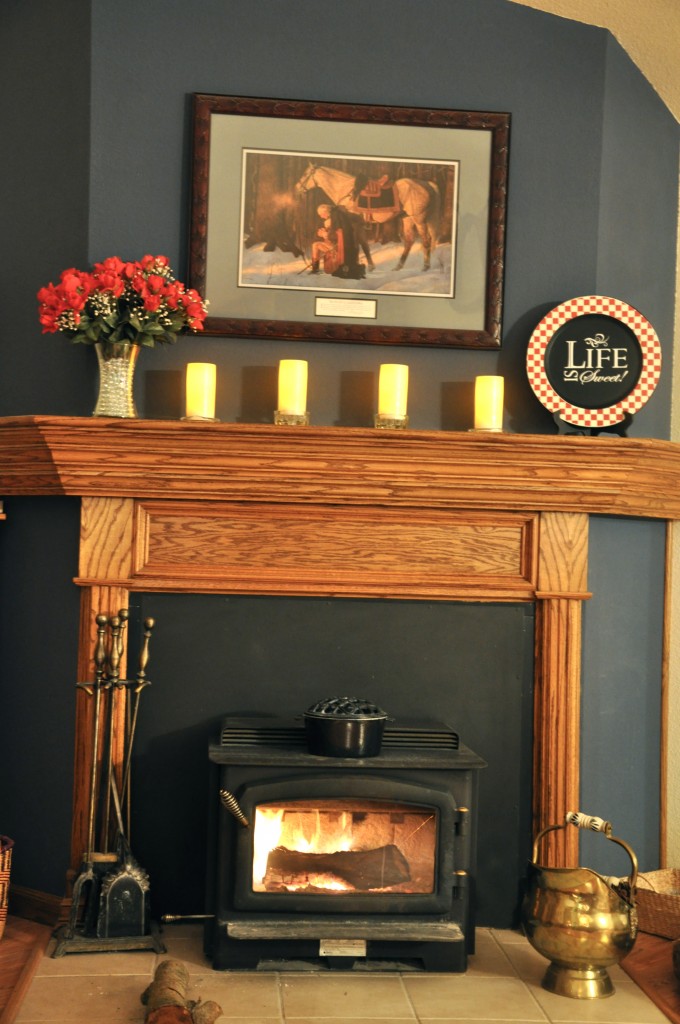 I packed away my small collection of snowmen today. I love putting them out every year as the Christmas decorations are packed away. It helps ease the transition between a heavily decorated home back to something a bit more normal. With the snowmen packed away, the living room mantle, the chest in the entry way and our big kitchen table were completely bare.It's always fun to start with a clean slate. I looked around to see what I had on hand. With Valentine's Day right around the corner, and with my
new red couches
also in mind, I decided to go with some red accents. I didn't work hard, or long, I just kind of moseyed about, polishing wood surfaces while they were emptied, and cleaning items before setting them out.
Truth be told, we've all been fighting a virus or two for the last couple of weeks. No one has really been sick, but we've all had a day or two or three where we haven't felt our best. Taking it easy has been our best defense against getting sick, I think.
The boys are in that funny February time of school, school and more school. Christmas vacation is long past, and Easter break is still weeks away. Don't feel too sorry for them, though. We're having an unseasonably dry winter this year and Will heads outside most every day with a stack of school work. He's usually joined by one four-footed family member or another.
Tammy asked about a "recipe" for our homemade Peppermint Mochas. Tammy, we cheat! I buy a big can of Caffé D'Vita Mocha Mix
at Costco, and we use that as the base for our mochas and frappes. One can lasts us several months. It's quick, easy and only dirties the cup you'll drink from and a couple of spoons. We don't follow the directions on the can exactly, though.
We, usually, substitute milk for about half of the water called for. That one small change, makes a smoother, richer, better tasting product. We tweak the amount of mix added, too, usually really heaping, rather than rounding our measurements; and I use a full Tablespoon of Torani Peppermint Syrup
per 8 ounces of liquid in my drinks, too. Canned whipped cream and sprinkles make it  special. I love the Peppermint, Raspberry and Coconut syrups. Dani likes Irish Cream. It's not Starbuck's, of course, but it's a good, fairly inexpensive substitute, and it's non-caffeinated so we can enjoy it in the evenings, too.
Funny February is upon us, but it's sure off to a nice start!