We're ramping up for the start of baseball season. This is the first time, ever, that I've had a child participating in team sports. Our weekday evenings will be busy with practices and games, but I want to preserve the family dinner hour as many nights a week as possible. To make that happen, it's time to start thinking about make ahead meals, crockpot dinners and quick-to-fix family favorites.
In the coming weeks, I'll be pulling out some of my favorite sources for dinners that can either be prepped and made ahead or put together quickly just before meal time. The first such favorite is Aviva Goldfarb's SOS! The Six O'Clock Scramble to the Rescue: Earth-Friendly, Kid-Pleasing Dinners for Busy Families
. Over the last year or so, I've tried a dozen or more recipes from this cookbook, and they've all been hits. Every recipe includes the prep and cooking times, as well as suggested quick-to-fix side dishes to complement the main dish. Most recipes are ready in about thirty – forty-five minutes, start to finish, making them perfect for hectic evenings.
You can read even more about this fantastic cookbook in my review. 
Here's our menu for the coming week, including three recipes from SOS! The Six O'Clock Scramble
.  For even more menus, be sure and visit this week's Menu Plan Monday at I'm An Organizing Junkie.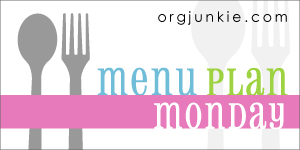 Monday:
Breakfast – Waffles
Lunch – Turkey Sandwiches, Chips
Dinner – Bourbon Street Chicken, Rice, Veggies Normandy
Tuesday:
Breakfast – Cold Cereal
Lunch – Black Bean, Corn, Tomato & Cheese Tostadas
Dinner – Tortellini Soup (from SOS! The Six O'Clock Scramble to the Rescue
), Garlic Bread
Wednesday:
Breakfast – Bacon, Egg & Cheese Breakfast Burritos
Lunch – Left over Tortellini Soup, Bread
Dinner – Panko Peanut Crusted Pork Chops (from SOS! The Six O'Clock Scramble to the Rescue
), Green Salad with Cranberries & Parmesan Cheese, Whole Wheat Bread & Butter
Thursday:
Breakfast – Baked Oatmeal
Lunch – Grilled Cheese on Rosemary Sourdough, Fruit
Treat – Valentine Cupcakes
Dinner – French Cassoulet (from SOS! The Six O'Clock Scramble to the Rescue
), French Bread
Friday:
Breakfast – Pancakes
Lunch – Boys on their own, Dani & I in town
Dinner – Sub-sandwich from the grocery store deli
Saturday:
Breakfast – Cereal
Lunch – Dani's Choice
Dinner – Nachos & Lost
Sunday:
Breakfast – Yogurt Cranberry Coffeecake
Lunch – Out After Church
Dinner – Wild Dinner
What resources do you find helpful for making dinner on busy nights?