Routines are a good thing, and I love employing routine to my menu planning. However, if we're not careful, our menus can become boring and filled with the same few dishes week in and week out.
That might be fine, for a season, but we all like variety on the table, too. God created many different, wonderful foods for us to eat, and a wide variety of spices and herbs to add even more flavor to delight our taste buds.
What can we do to spice things up when our menus have become flat and uninspiring? Here are a few ideas to get you started.
Head to the grocery store and browse the aisles. I mentioned doing this in the Beyond Just Dinner post when we were thinking of menu ideas for breakfast and lunch. In much the same way, browsing your favorite grocery store can give you some great ideas for your dinner menu. Head down the international foods aisle for inspiration. Check the baking aisle for a new spice blend that might enliven simple grilled or roasted chicken or fish. The frozen foods section can inspire us, too. Look for a new dish that you can create from scratch at home. Maybe you'll see a frozen entree that reminds you of a dish your family loves that you've not made for a long time.
While you're in the store, check out the deli or in store food service. New ideas for salads and side dishes can be found there. Look at their blends of marinated vegetables, or check for a unique ingredient that they might add to their potato or pasta salads. You can create the same thing at home at a fraction of the deli price. My favorite store has a display of unusual and gourmet condiments by the deli. Sometimes using a unique dressing or a spicy mustard in your old, standby recipes can make it seem fresh and new.
Check out the local farmer's market.  Choose one new vegetable every couple of weeks and give it a try. Check on line for recipes if you aren't sure how to best prepare it.
Visit your public library and look through their selection of cook books. Most libraries offer a terrific selection of basic cookbooks, specialty cookbooks (baking, chicken, slow cooker, grilling, etc.).  Be brave and check out an ethnic cook book! Don't forget to look through the periodicals for back issues of cooking magazines that you can take home, too. I've enjoyed issues of Cook's,  Cook's Country, Everyday Food, and my favorite, Taste of Home.
If you don't want to leave home, spend some time on some good cooking web sites. Martha Stewart, Taste of Home, Cook's and King Arthur Flour, are all wonderful web sites for cooking inspiration. There are thousands of food related blogs our there, too. Find a couple, add them to your feed reader and read them regularly.
For more menu planning helps, visit my Menu Planning Series.
Dani has recently found some great Indian recipes that we're enjoying, including two on the menu for Monday of this week. I'm also trying a new recipe for Pork and Green Chile Stew and French Dip Sandwiches. The stew recipe is from the current issue of Taste of Home, and the French Dip Sandwiches were inspired by an ad from that same issue.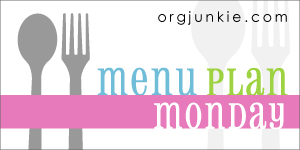 Here's our menu for this week. As always, please be sure to click on over to I'm an Organizing Junkie for this week's Menu Plan Monday. 
Monday:
Breakfast: Waffles
Lunch: Turkey, Spinach & Provolone Panini, Fruit
Dinner:  Chicken Tikka Masala, Naan Bread, Kachumber Salad
Tuesday:
Breakfast: Cereal
Lunch: Turkey Club Sandwiches (turkey, bacon, tomato, lettuce), chips
Dinner: Pork & Green Chile Stew, Tortilla Chips
Wednesday:
Breakfast: Scrambled Eggs & Cinnamon Raisin Toast
Lunch: Cheese Quesadillas, Baby Carrots
Dinner: Rotisserie Chicken
, Golden Mashed Potatoes
, Green Salad
Thursday:
Breakfast: Old-fashioned oatmeal
Lunch:  Canned Soup
Treat: Cupcakes
Dinner: French Dip Sandwiches, Green Salad
Friday:
Breakfast: Pancakes
Lunch: Loaded Baked Potatoes
Diner: Chicken & Dressing Casserole (with chicken from last night's dinner), Steamed Veggies Normandy
Saturday:
Breakfast: Cereal
Lunch: Chef Dani's Choice
Dinner: Nachos & LOST
Sunday:
Breakfast: Chocolate Swirl Coffee Cake
Lunch: Out after church
Dinner: Pizza (We're having family over to look at old family slides together!)
These are just a few ideas to get you started. How do you find inspiration when your menu plan needs a bit of spicing up?