This week we'll enjoy meals from all over the world – Mumbai, China, French-Italian fusion,  New Orleans, Mexico, and hometown America with a dinner sandwich based on a breakfast favorite from McDonald's.
Over the last several months, we've started incorporating more exotic spices and ingredients into our meals. A few of these items have even become staples in my home because we've found several dishes that use them. Spices like Garam Masala and Chinese Five Spice, and even Mango Chutney. Until a few months ago, I'd never purchased a mango. Now I buy them regularly. The boys enjoy cutting them up and eating them for snacks, but they are used in a couple of our favorite new international dishes, too.
Spice it up! Cruise the Internet (or Pinterest) for recipes from around the world. If you homeschool your children, or even if you don't, look for recipes from the countries or regions they are studying in school. They might surprise you by liking foreign inspired dishes.
When I was growing up, international foods were expensive and hard to find, but today's marketplace is teeming with produce, meats, spices and other food items from around the world. Most larger grocery stories have an extensive "international foods" section. In fact, my grocery store has one aisle devoted to Mexican food items, another for Asian food items, and even features a rather large Asian foods area in the produce section.
Enjoy a trip around the world right in your own kitchen!
Please be sure to visit Laura at I'm An Organizing Junkie for this week's Menu Plan Monday.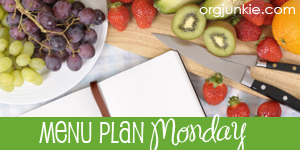 MONDAY:
Breakfast – Waffles
Lunch – Turkey, Gouda & Spinach Panini

on Sourdough, Chips
Dinner – Bourbon Street Chicken, Brown Rice, Asian Chopped Salad
TUESDAY:
Breakfast – Cereal
Lunch – Loaded Baked Potatoes
Dinner – Mumbai Meatballs, Naan Bread, Peas & Carrots (The yummy Mumbai Meatball recipe can be found HERE
.)
WEDNESDAY:
Breakfast – French Toast, Bacon (cooked to perfection, and with no greasy mess, on a foil lined baking pan in a 400* oven for 15-20 minutes)
Lunch – PBJ Sandwiches, Chips
Dinner – Chinese Chicken with Peanuts, White Basmati Rice, Sesame-Soy Broccoli (The quick & easy recipe for the complete meal can be found HERE
)
THURSDAY:
Breakfast – Old-fashioned Oatmeal with brown sugar (and maybe a little cream!)
Lunch – Grilled Ham and Cheese Sandwiches, Chips
Goodie to Share when Corin and my grand babies visit – Chocolate Cupcakes with Chocolate Frosting (We'll celebrate a fifth birthday!)
Dinner – Out after the game (Will's baseball team will play in the championship game tonight! Go, Cardinals!)
FRIDAY:
Breakfast – Pancakes
Lunch – Chef Dani's Choice
Dinner – Pasta Primavera with Andouille Sausage, Green Salad
SATURDAY:
Breakfast – Cereal
Lunch – Nachos
Dinner – Canadian Bacon, Egg & Cheese Sandwiches on English Muffins
SUNDAY:
Breakfast – Audrey's Coffee Cake
Lunch – Out after church
Dinner – Wild Dinner (My youngest son's term for our Sunday evening, every-man-for-himself, feast.)
Branch out! Try some new recipes and/or ingredients this week!
What's on the table at your house this week?