We're still transitioning from cooler weather Spring dishes to the lighter fare we prefer in the summer. Our weather hasn't quite settled into the heat of summer, and I, for one, am okay with the cooler weather.
Our week starts off with a couple of "heavier" cool weather type dishes, but then we venture into more summery meals with Casablanca Burgers, Grilled Chicken and a light Pasta Primavera. Yum!
This week, I'm not only joining Laura at I'm An Organizing Junkie for Menu Plan Monday, but I'm also joining Yvonne of StoneGable for her On the Menu Monday . In addition to some great menu ideas and recipe links, both of these gals have a lot to offer you as you look well to the ways of your household. Be sure to visit both of them.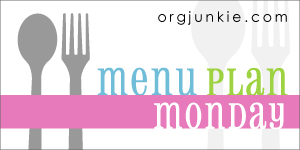 Here's our menu for the week:
Monday:
Breakfast – Waffles
Lunch – Loaded Baked Potatoes
Dinner – Creamy Garlic Pasta with Shrimp & Vegetables, Tomato-Cucumber Salad
Tuesday:
Breakfast – Cereal
Lunch – Taco Salad
Dinner – Sunrise Casserole,  Mile High Biscuits  (This casserole is a huge favorite, and it's a great potluck dish, too. My trick to make it even better? Use the diced "country style" hash browns instead of the shredded variety.)
Wednesday:
Breakfast
– Scrambled Eggs, Cinnamon Raisin Toast
Lunc
h – Left over casserole OR Cheese Quesadillas
(Typically, my boys aren't big on left overs. That's okay by me, because they are hearty eaters of most everything I make when it's first prepared. Dani and I will finish up last night's casserole, and they can have the Quesadillas. Works for me!)
Dinner
–
Casablanca Burgers
, Oven Fries, Asian Chopped Salad
Thursday:
Breakfas
t – Old Fashioned Oatmeal
Lunch
– Meat Sandwiches, Chips
Goodie to Share with Corin and the Grandkids –
Dani's Famous Chocolate Chip Cookies
Dinner
– Pasta Primavera with Andouille Sausage, Green Salad
(An easy and quick dish – I brown my sausage with diced onions, minced garlic,  and whatever fresh veggies I have on hand while the Penne pasta cooks in salted water. Then, I toss the whole thing together with a bit of butter, fresh Parmesan Cheese and several turns from the Pepper mill.)
Friday:
Breakfas
t – Pancakes
Lunch
– Grilled Cheese on Sourdough, Chips
Dinner
– Lemon Herb Marinated Grilled Chicken,
Cher's Chicken Rice
, Broccoli Slaw
Saturday:
Breakfast – Cereal
Lunch
– Dani's Choice
Dinner
– Nachos and
LOST
(We're slowly making our way through this fun show for the second time, but this time we're including the boys.)
Dinner – Out wherever Copper wants to go
What's on the menu at your house this week?