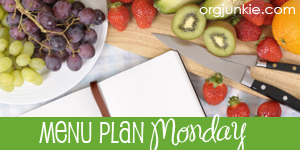 Boy! The weeks just fly by, don't they? We're wrapping up June already, and next week we'll be celebrating the 4th of July! That's a big holiday for my family, and I can't wait! We have a special menu full of yummy food, treats and snacks all set for the day.
There's some pretty good stuff on our menu this week, though, too. Dani has pulled a couple of delicious treats from her Pinterest boards to bake for us this week, and we're going to enjoy a dinner treat originally found on Pinterest, too.
We're continuing to enjoy dishes made from ingredients from around the world. Chinese stir fry noodles, Greek sandwiches, and east Indian spices. Mmmm, can't wait to have some of the dishes we've enjoyed before again this week and to try a couple of new ones.
MONDAY:
Breakfast – Waffles
Lunch – Chef's Salads, Saltine crackers on the side (Just like in a diner!)
Dinner – Ultimate Juicy Turkey Burgers (the burgers are from one of my favorite cookbooks
) and Asian Cabbage Salad with Peanut Dressing
TUESDAY:
Breakfast – Cereal
Lunch – Meat Sandwiches, Chips
Dinner – Golden Chicken with Ginger and Peppers, long grain Basmati rice, Orange Ginger Glazed Carrots – the entire meal is from one of my favorite cookbooks
WEDNESDAY:
Breakfast – French Toast, Sausage Links, and Orange Juice
Lunch –  Grilled Cheese Sandwichs, Carrots & Dip
Dinner – Spicy Peanut Butter Noodles, Green Salad
THURSDAY:
Breakfast – Rolled Wheat hot cereal with cinnamon and butter (Mmmmm, just like cinnamon toast, but good for you!)
Lunch – Chicken Noodle Soup, saltines
Goodie to share with my Grandbabies –  Maple Bacon Cupcakes (Oh, ya!)
Dinner – Slow Cooker Indian Chicken Stew, Cheesy Garlic French Bread
FRIDAY:
Breakfast – Cinnamon Roll Waffles
Lunch –  Meat Sandwiches, Chips
Dnner – Greek Chicken Sandwiches with Yogurt Cucumber Sauce in Pita Bread, Greek Green Beans (The entire meal is from one of my favorite cookbooks
)
SATURDAY:
Breakfast – Cereal
Lunch – Dani & I are donating at the blood bank, the boys are on their own
Dinner – Nachos and LOST
 (We've been enjoying rewatching this entire series with the boys while eating plates of Nachos. We're just starting the final season.)
SUNDAY:
Breakfast – Audrey's Coffee Cake
Lunch – out after church
Dinner – Wild Dinner (our family's term for our Sunday evening free-for-all feast)
Bonus Baked Goodie for sometime the week: Raspberry Breakfast Bars
Be sure to visit both Yvonne at StoneGale for her "On the Menu Monday" and Laura of I'm An Organizing Junkie for her "Menu Plan Monday".
Need some help menu planning? Not sure where to start.  My Menu Planning Series might be a good place to start.