After  holding my menu plan loosely last week, I ended up with two meals to carry over to the menu plan for next week! I generally have menu plans written a couple of weeks in advance, so those two meals gave me a nice jump start on planning for that week. Nice!
Baseball season has ended so we will have fewer late dinners and fewer occasions of being tempted to just grab a burger or hit the cheap pizza buffet while we're in town for practice or a game. Yay, for that!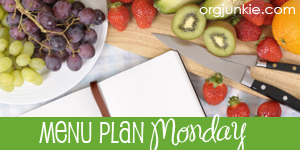 Here's our menu for the week:
Monday:
Breakfast – Waffles ala Copper
Lunch – Chef's Salads (turkey, ham, cheese, hard boiled eggs on a bed of greens), toast
Dinner –Pioneer Woman's Chicken with Mustard Cream Sauce, Spinach Salad, Cheese French Bread
Tuesday:
Breakfast – Cereal
Lunch –  Dani's Choice (Copper and I will be in town for our 7 year old granddaughter's birthday outing)
Dinner –  Tacos
Wednesday:
Breakfast – Bacon, Eggs, Cinnamon Raisin Toast
Lunch – Grilled Cheese Sandwiches, Chips
Dinner – Tandoori Chicken, Basmati Brown Rice, Curried Carrots with Dill (the entire meal
can be found here
 and here's
my review of the cookbook
.)
Thursday:
Breakfast – Scottish Oatmeal
Lunch – Blue Box Mac & Cheese, fruit
Goodie – Chocolate Cupcakes with Chocolate Frosting (to be shared with Corin and my grand babies when they visit for the afternoon)
Dinner –
Rotisserie
 Chicken,
my own Chicken Rice
, Italian Mixed Vegetables
Lunch – Meat Sandwiches, Chips
Dinner – Chicken Salad (Left-over Rotisserie Chicken, Grapes, Pecans, Celery and Onion mixed in a sweet mayo dressing on a bed of greens), Garlic Bread
Saturday:
Breakfast – Cereal (or Toast) (Dani and I to town early for the Fortnightly Marketing Peregrination)
Lunch – Boys on Their Own
Dinner – Nachos &
LOST
 (as we wind down the series as a family)
Sunday:
Breakfast – Bagels and Cream Cheese
Lunch – Out After Church
Dinner – Wild Dinner (Our term for Sunday evening's every man for himself popcorn, snack, left over fest)
What's on the menu at your house this week?