A few years ago, pastor/blogger Tim Challies inspired me to broaden the scope of my reading by including some selections from The New York Times Non-fiction Best Sellers list. Since that time, I've read several books from that list, and I've learned a lot in the process. With only the rare exception, I've enjoyed every book I've chosen from that list.
Most recently, I read Boomerang: Travels in the New Third World
, by Michael Lewis. Published in the fall of 2011, Boomerang offers keen insight into the worldwide financial crisis of the last few years. Lewis writes in a friendly, almost conversational tone, making this in depth look into international finance and banking practices easy for the layman to understand.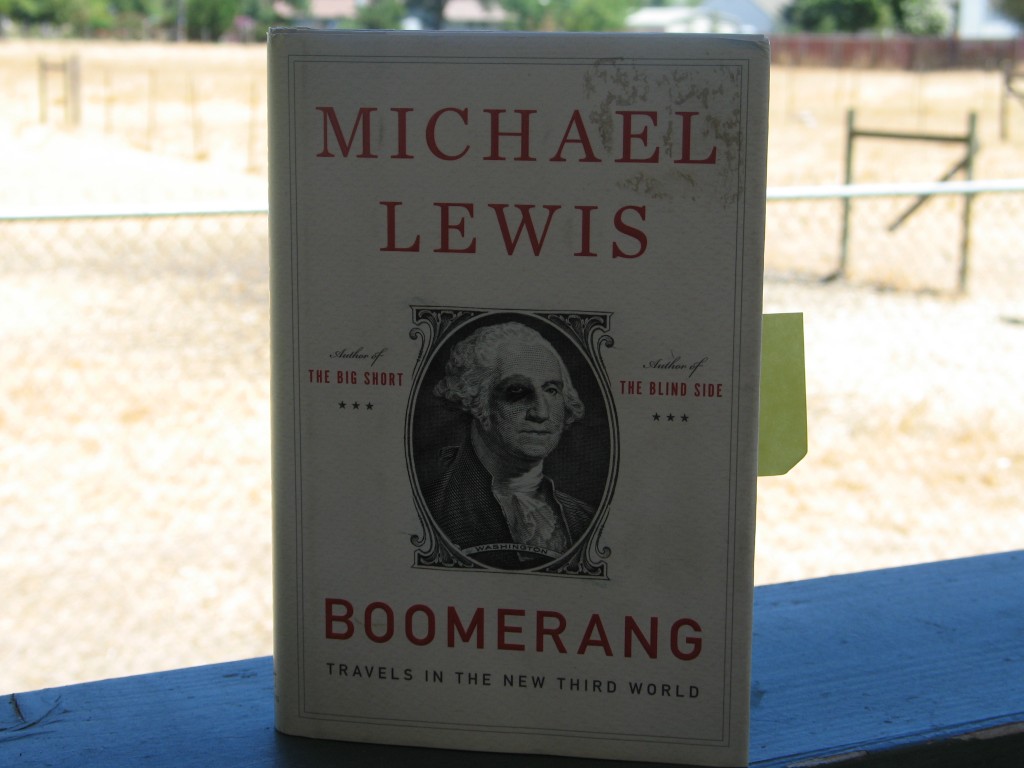 The book takes us on a whirlwind tour of the world, making stops in Iceland, Greece, Ireland and Germany, with a single chapter devoted to each country. The author travelled to each of these countries, meeting with key political officials, banking industry executives, businessmen and the man on the street. I enjoyed the way he was able to convey a real sense of the personality of each country, and a feel for the way each country's financial woes were experienced by its people. I found his conversations with the head of a Greek monastery, an Icelandic fisherman turned currency trader, his Irish driver and even former governor of California Arnold Schwarzenegger engaging and insightful.
Michael Lewis's travels, and his book, end with a final chapter devoted to the current economic crisis here in the United States. He traces the downturn from what is happening at the national level, down to the state level, and ultimately, to the city and county level. Being a California girl through and through, I knew his book would probably end in California, and I was right. Our state is in a huge predicament, two large cities have filed for bankruptcy, and our public officials seem inclined to repeat the mistakes of the past, which continues to make things even worse. Lewis exposes the problems of one bankrupt city and offers some insight into what may be the only viable solution for turning things around. It's important that those of you in other states take notice of what is happening in California. The old saying, "As goes California, so goes the nation." has proven itself to be true time and again.
Michael Lewis is the best selling author of several books, including The Blind Side, Moneyball and The Big Short. This quote about his writing is spot on, "The trademark of Michael lewis's best-selling books is to tell an important and complex story through characters so outsized and outrageously weird that you'd think they have to be invented. You'd be wrong." (from the inside flap of Boomerang). This writing style made Boomerang an enjoyable read while still allowing me a good look into the reasons behind the current global economic mess.
Books like Boomerang
 are important tools for us as we continue in our course of being life long learners. Remember, it's important that you read broadly and often. I've read fourteen books so far this year, and I'm in the process of reading several others right now.