Summer is flying by! I'm hanging on to her coat tails, trying to slow down the pace, but it's not working.
Copper and I have found the importance (and luxury) of saving up throughout the year to get away for a few days for our anniversary. Last week we celebrated our 34th anniversary just south of the little town of Mendocino on the Pacific Coast. We stayed in a lovely, self-contained cottage, made most of our own meals, and relaxed. We stayed up late and slept in. We enjoyed the cool days of the foggy north coast, sitting outside on our deck long enough to get chilled and then coming in to warm by the fireplace. Both of us read and sat with our feet up, enjoying the sounds of the surf, the sea birds and the bell on the buoy warning of the rocks in the shallows.
We enjoyed a walk on one of our favorite beaches on the only sunny, warm morning that occurred during our stay. Our timing was perfect. The tide was out, but had turned to start making its way back in. The tide pools were teeming with life, and the waves were spectacular on the rocks just off shore. The water was the most beautiful, deep blue that I've ever seen.
We spent an afternoon perusing the little shops in the town of Mendocino, enjoying both the touristy spots as well as the more unique shops. I could have spent hours, and a small fortune, in a lovely, retro kitchen shop, but was blessed with the beautiful Moda dishtowels, fun diner sign, and the gorgeous glazed, pottery bowl that Copper bought for me there. Chatting with the shop owner was a lot of fun, too.
We enjoyed a special dinner out one night, in celebration of our anniversary, in a terrific, jazz-inspired, grill. My husband had saved up his own "pocket money" from the amounts we budget for ourselves from every check, to splurge on our steak dinners. The meal was excellent and the enormous slice of cheesecake with raspberry sauce we shared for dessert was delicious.
Now that we're back. reality has me working hard to finish my fall planning and make the final preparations to begin a new homeschool year. This will be my 24th September as a homeschool mom. Every year is different, so the planning and preparation are as fresh, new and exciting as they were in September, 1989.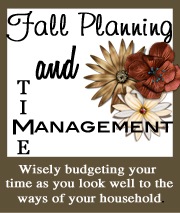 Watch for more posts in the Fall Planning and Time Management Series in the days ahead.