Late summer is the ideal time to begin planning for fall. Fall traditionally heralds back-to-school and the return to more structured days after summer's more relaxed pace. The long, hot days of late summer, are often the perfect time to begin planning for fall. We can take the time to look over our current schedules and see the changes that need to be made as we approach the more structured fall season. We can write and modify our proposed schedules as we see the areas where we are overextended and need to give ourselves some breathing room, and we can look for open slots of time to include those things that we'd really love to do but never seem to find the time to accomplish. The key, of course, is making time work for you.
A couple of years ago, I read Tell Your Time, an e-book by Amy Lynn Andrews, for the first time. The key concept I took away from that first reading was the analogy she drew between time management and the envelope system of budgeting our finances. It was brilliant!
When we use the envelope system for our finances, we give every dollar a job
. If we've allotted $300 for the monthly electric bill, and the actual charge is $330, we must take money from another budget category to cover the overage.
The same is true for planning our days. We all have just 24 hours in a day, 168 hours in a week. There is nothing we can do to add more hours. If we fill up every single hour of every single day and try to add something more, we will be forced to take that time from something else. Unfortunately, most of us will choose to steal that time from the hours we should be sleeping, resulting in a tired, overwhelmed, anxious mom. Tell Your Time will help!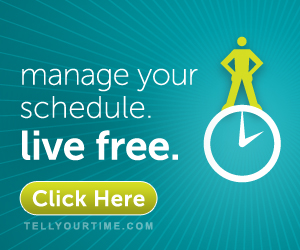 Amy offers a simple, but effective, strategy for "budgeting" your time. She will lead you through the steps of prioritizing all of the activities that you need and/or want to do and then placing those prioritized activities onto your own daily or weekly calendar. The book is an enjoyable, quick read so that you can get down to the business of actually planning your days. Amy has included free printables of the three charts you will need in budgeting your time at the end of her book making the process as simple as possible.
Tell Your Time changed the way I look at planning my days. Because the book can be read in as little as half an hour, I re-read it twice a year (late summer and late December) when I customarily revamp my personal and household schedules. The principles I learned from Tell Your Time were what enabled me to fit Will's spring and summer Little League experience into what was an already full schedule. At just $4.99, this book has been a huge bargain for me! The book downloads instantly so you can get started right away.
Learning to use the envelope system for planning our days and managing our time is a terrific way that we can look well to the ways of your households!
Be sure to read all of the posts in the Fall Planning & Time Management Series.