Remember that great children's book,If You Give a Mouse a Cookie?
 That's what things are like around here these days!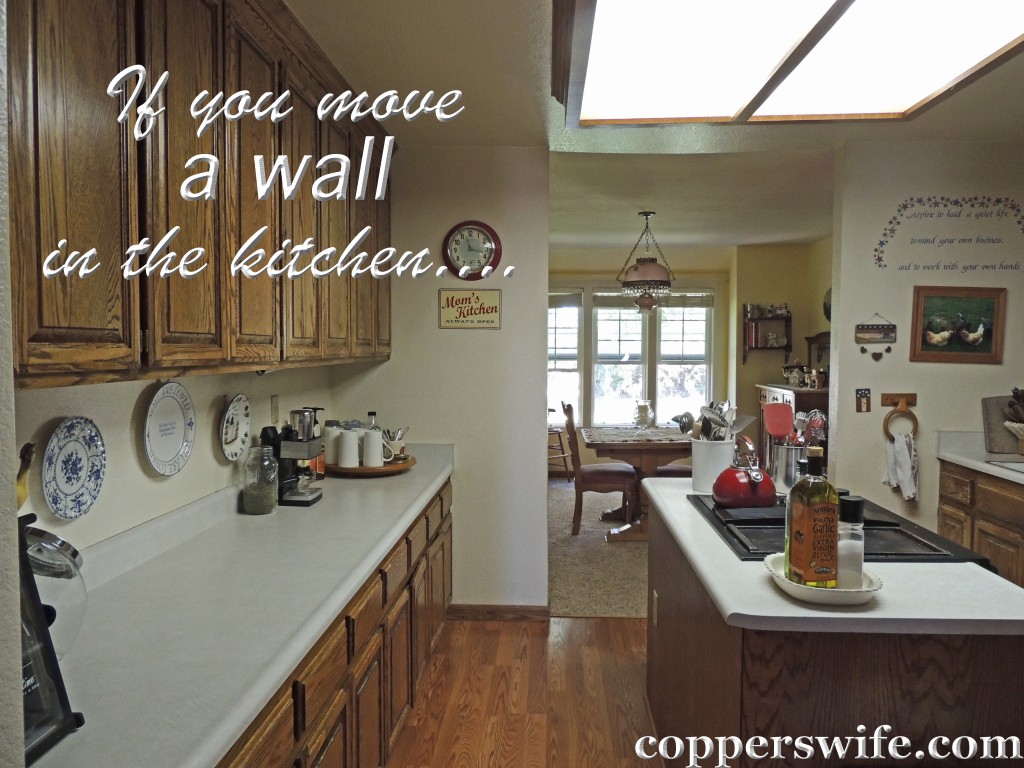 If you move a wall (or two or three) in the kitchen, then you're going to have to deal with what is happening on the other side of that wall, too! Simple physics, maybe, but it's creating quite a domino effect of moving stuff around.
See that bit of wall there, on the left, with the clock and "Mom's Kitchen" sign? That wall is going to be partially removed. It will, eventually, extend just a couple of inches or so beyond the built in double ovens that will be where the cabinets on the left are now.
That's not really a problem on the kitchen side of things, but on the other side of that wall is my grandmother's china cabinet, filled with my mom's china.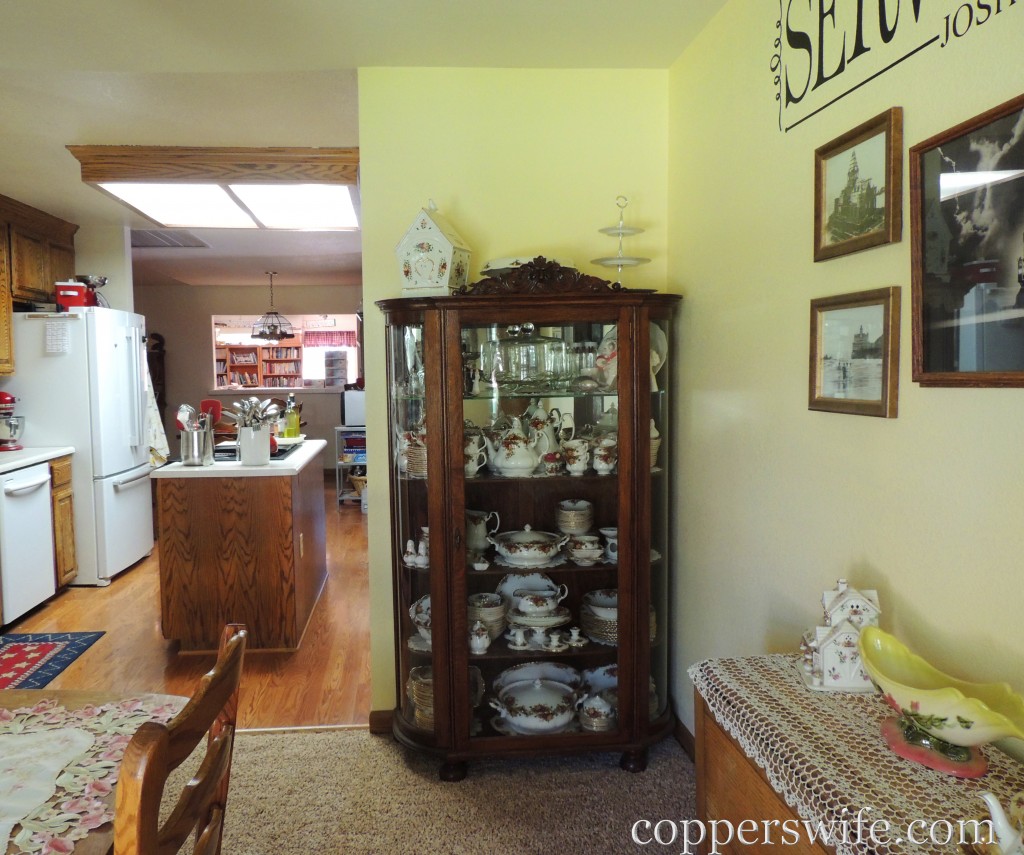 Not only does the cabinet have to be moved during construction, it will no longer fit on this wall, which will be several inches narrower when the project is complete.
Today I emptied the china cabinet, moved it away from where the guys will be working, and then put all the china back in.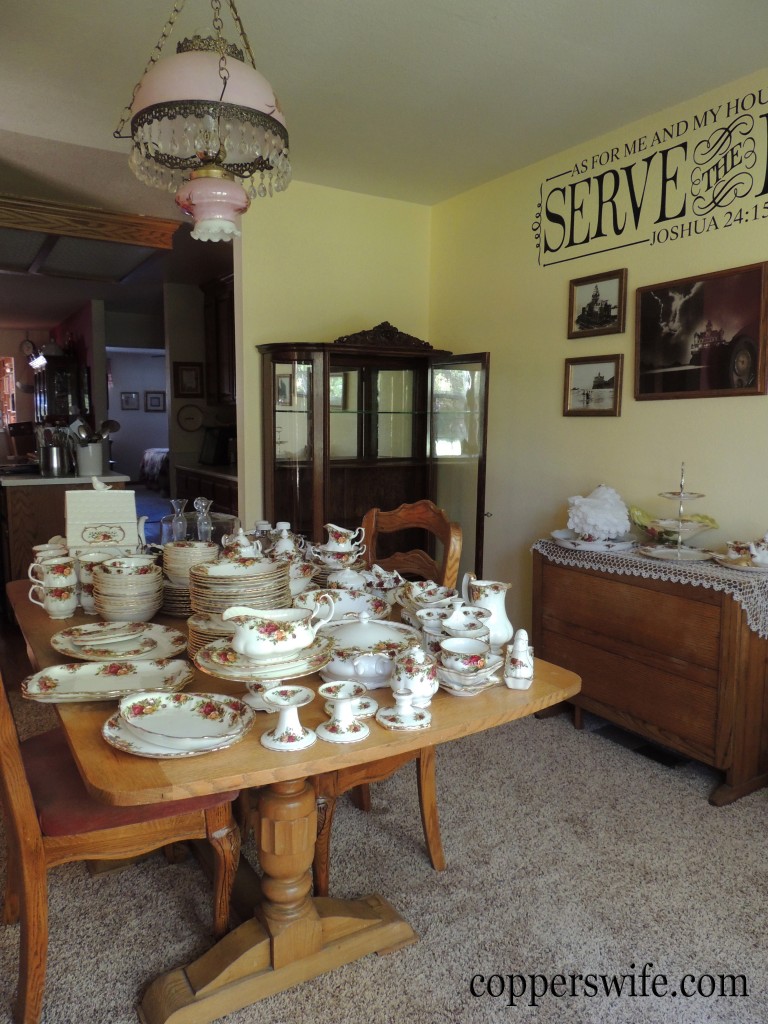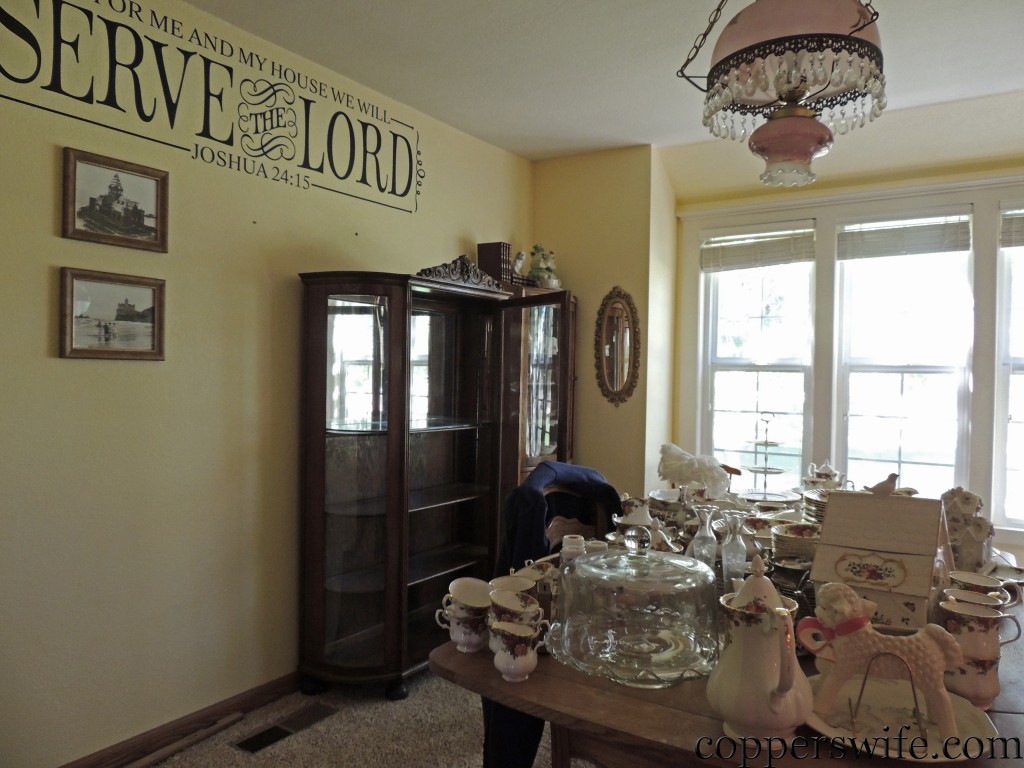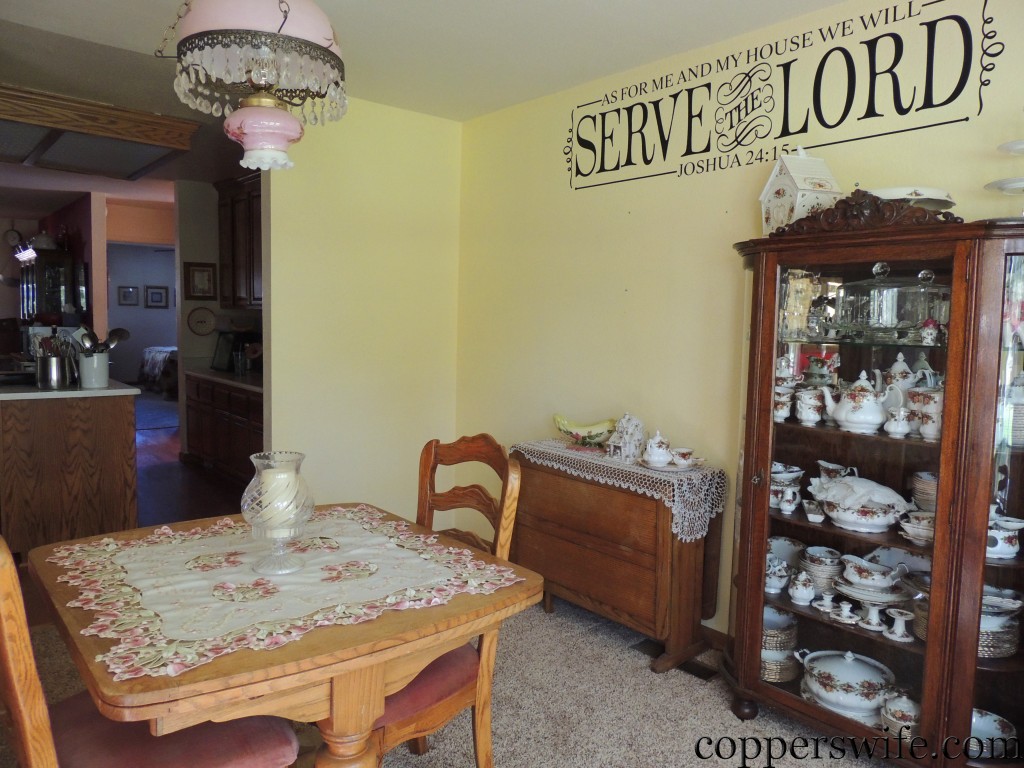 I was right in the middle of this project when KitchenMart called to confirm that we'd be ready for them to start a week from tomorrow. We will absolutely, positively be ready!
One of the most useful skills my dad ever taught me was how to "walk" a large piece of furniture. I moved that china cabinet all by myself in just a few minutes. The little table will have to move, too, but that can be done on a moment's notice. It kind of bugs me, having all of my furniture lined up like this, and having to take all of the pictures off the walls, but the new kitchen will more than make up for any inconvenience!
Then there's the wall on the other side of that wide opening into the parlor. While the wall on the left side is being made several inches shorter, this wall will be extended out a couple of feet!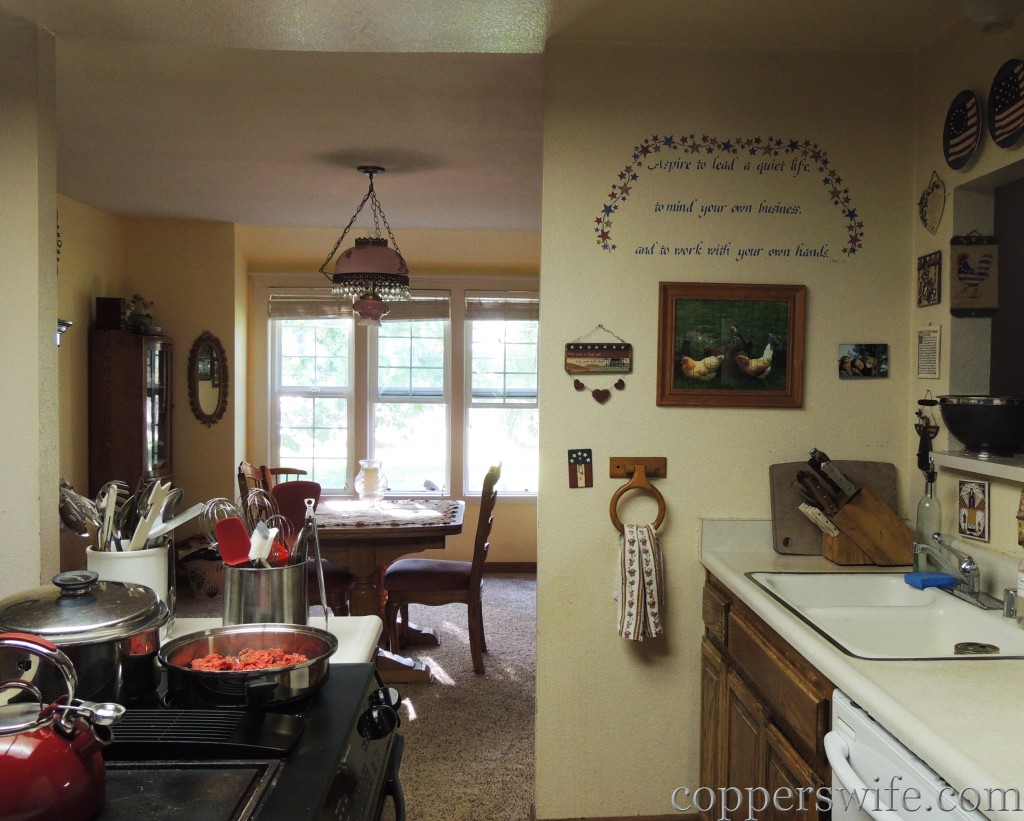 In the midst of what is now a wide opening into my parlor, there will be a wall of cabinets, an electric cooktop, and a built in microwave.  The doorway into my parlor will become the size of a normal doorway.
Here's an idea of what that's going to look like.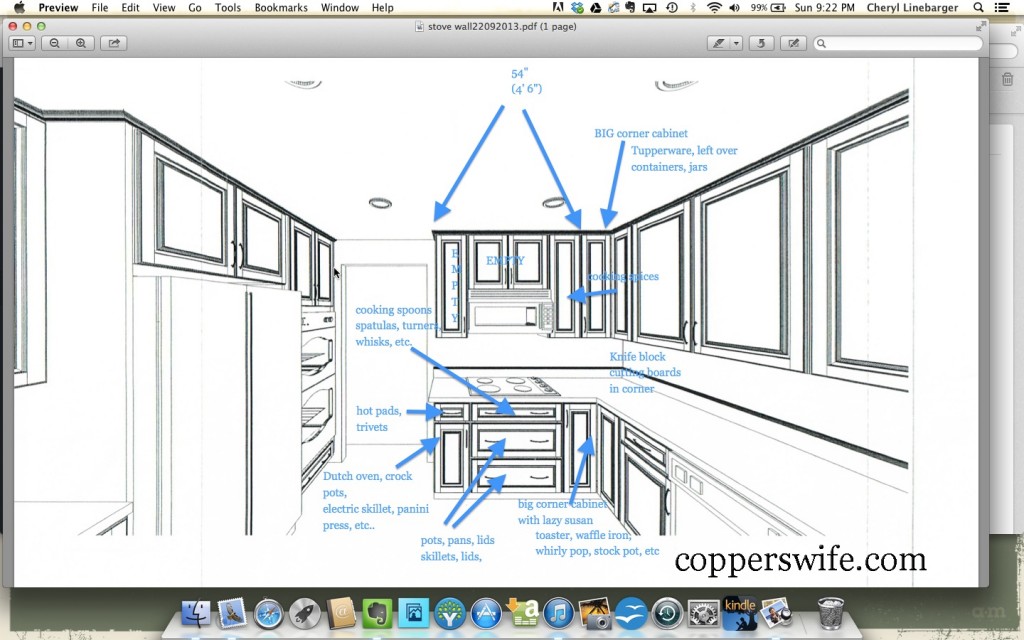 Those blue arrows and the blue text are my notes of where I am, tentatively, planning to put things away once the kitchen is finished. As always, I'm  making my plans, but holding them loosely.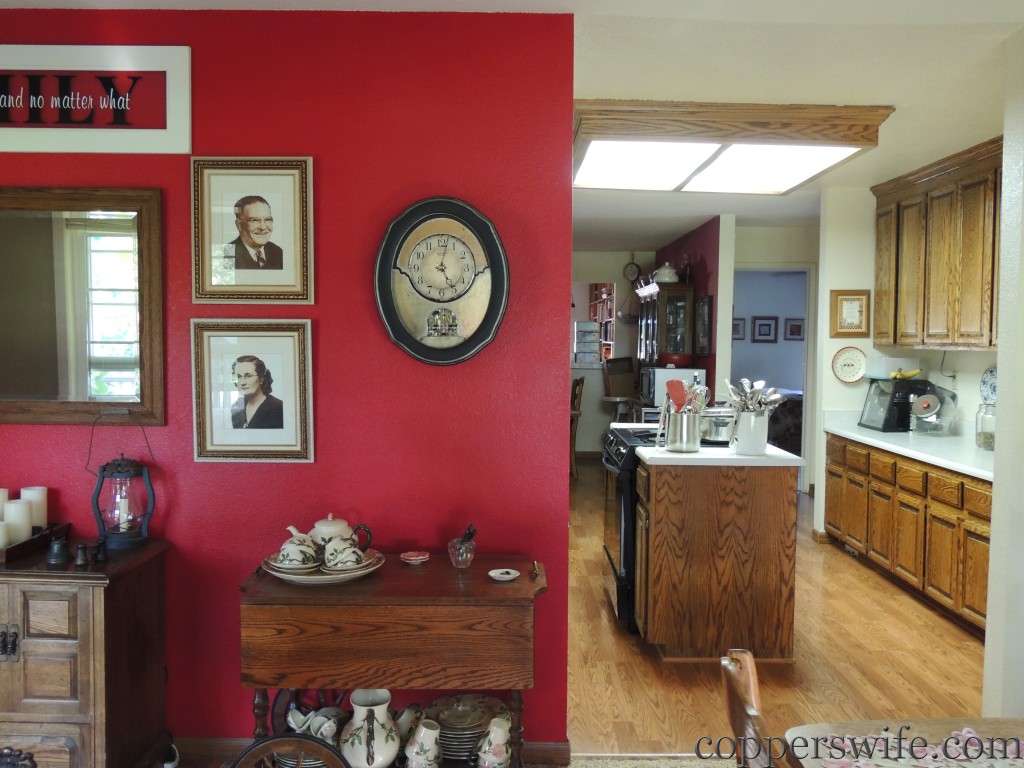 This pretty red wall, that extends from my entry way into my parlor, is the other side of that wall. We'll have to take down the clock and all of the pictures and move the little tea cart, of course, before construction begins; and I'm planning to take down the big, vintage mirror, too, just in case. My grandmother's china cabinet may end up on the newly lengthened red wall, but I'm not making any final plans until I can actually see the new wall in place.
Remodeling my less than perfect kitchen is going to be a huge project that keeps the whole house torn up for a season. It's exciting, and I know that the first couple of weeks will be like camping. I'm hoping that, by the time the fun of cooking without a kitchen wears off, there will be enough progress in my beautiful, new kitchen to see us through until it's complete.
Closing comments – If you use the link at the top of this post for If You Give a Mouse a Cookie
, and then make any purchases at Amazon, I'll get a few pennies for every dollar you spend. I use those pennies to keep this site going, to buy books for our Heritage Library, and to buy the books that I review for you on this site. I am always very thankful for those of you who choose to bless me that way. I am not, however, receiving any gifts, money or other perks for blogging about my kitchen remodel. I just wanted you to know that.