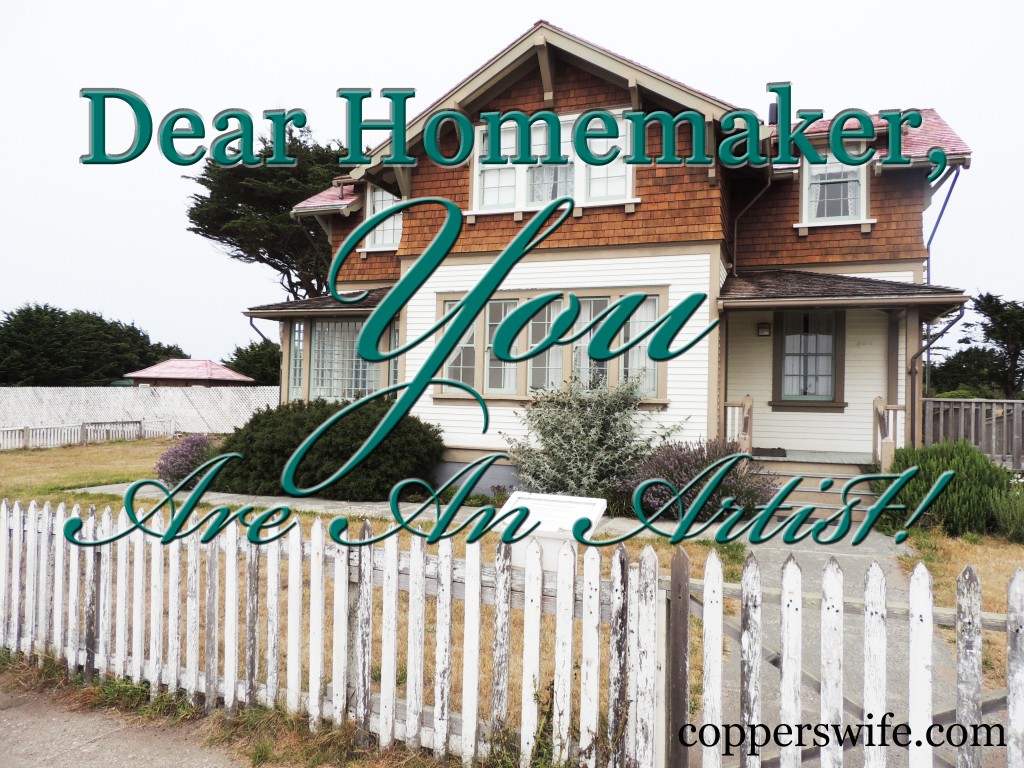 Homemaking is an art, and you are an artist.
We are created in the image of God. He is The Ultimate Creator, and so we are, by nature, creative. Think not? Well, you are! It's inherent in the way you are made. That doesn't mean that each of us is given the same talents or gifts. We are all wondrously different and diverse! Some of us can put paint on canvas worthy to be hung in a museum. Others of us can create culinary marvels that would rival anything found in a five star restaurant. Some of us can decorate our homes in a manner worthy of the very best decorating magazines. But that's not all that creativity, and art, are.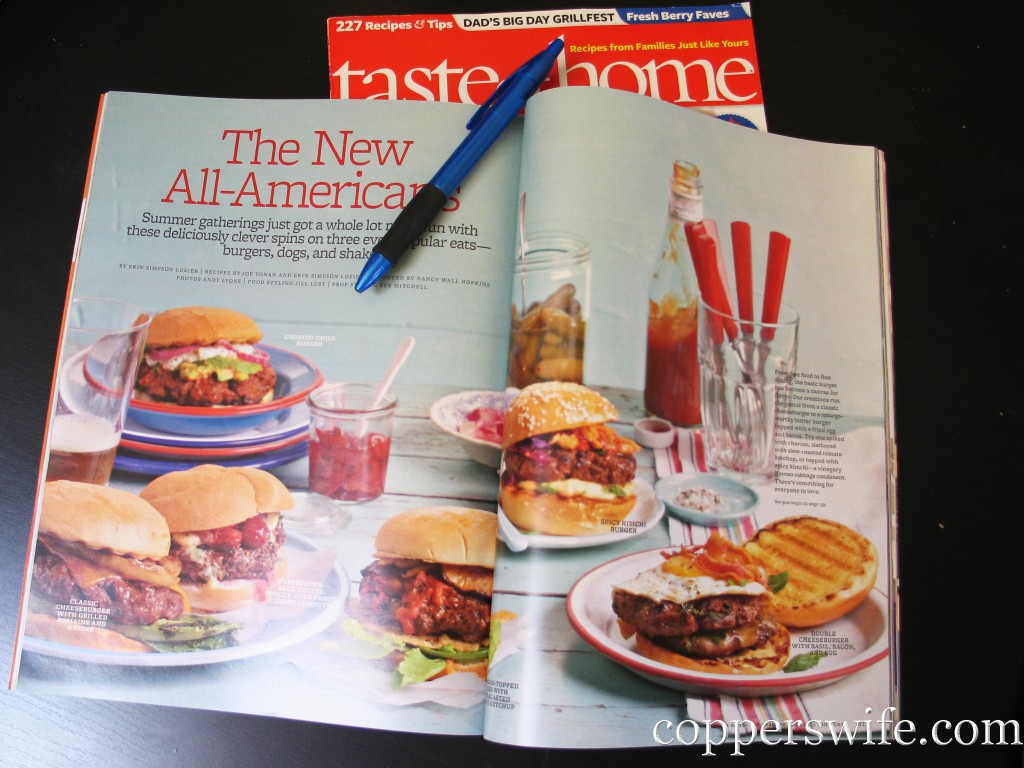 When money is tight and you still serve well balanced, delicious meals, you are making art.  When there isn't a dime to spend on landscaping your home and you gladly accept transplants from friends or make cuttings from the plants that are already growing in your yard, you are making art. When one of your children is struggling in math and you devise a system that will teach him that difficult concept in a way that will cause it to click for him, you are making art.
Do you look at your home through the lens of creativity? It's not about what others see when they look at what you've created. It's what you see as you seek to glorify God in all that you do, and that includes the manner in which you look well to the ways of your own household. Doing that is not only making art, it's making good art.
Don't make the mistake of letting others tell you that you cannot do something because of the rules they have made for themselves.
"Don't paint that piece of furniture because it's an antique."
"You really should get rid of those knick-knacks, they make your room look dated."
"That color paint will make your room seem smaller."
Don't listen to those naysayers! Paint the furniture! Keep the knick-knacks! Paint your walls the color that makes your heart fill with joy from the very first bit you roll on. You are unique and your unique way of making art is every bit as good as the other guy's.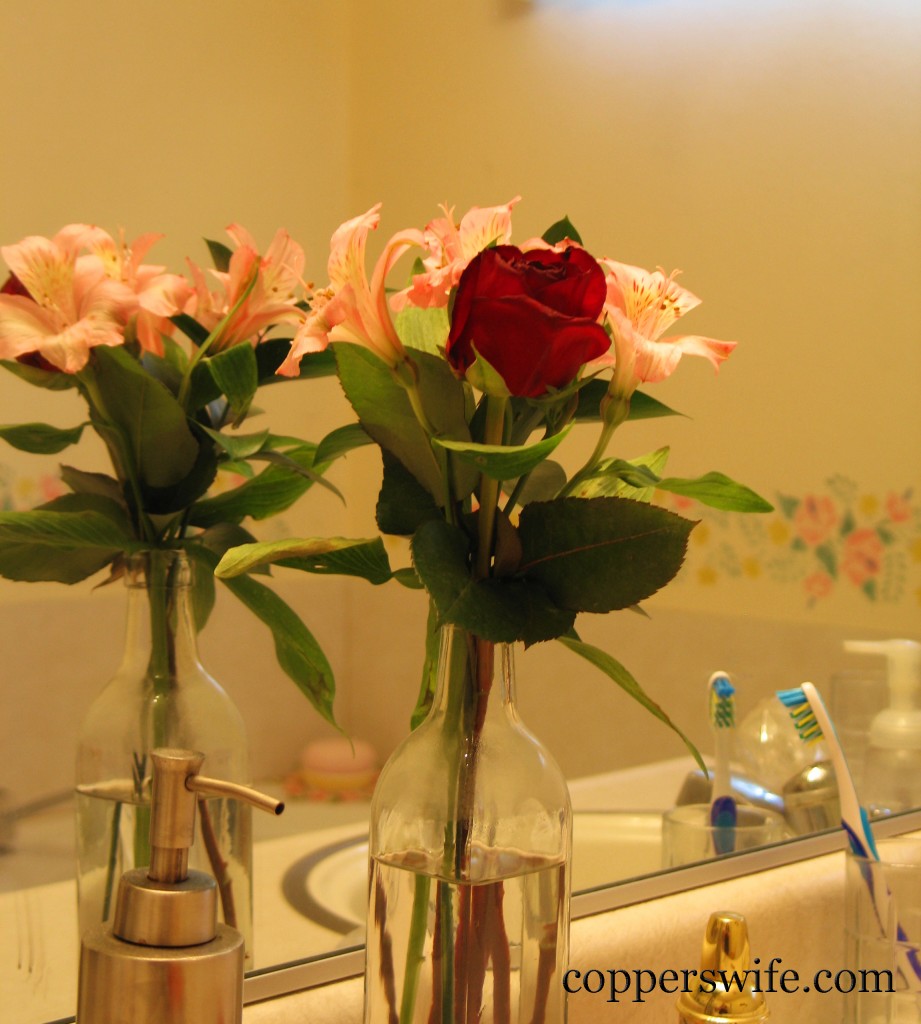 Once upon a time, when I had no money to spend on my home, I really wanted to spiff up our front door area for the summer. Money was very tight. Even though the stained wood looked dry, there was not even enough money for a bucket of paint to brighten the front door. The untreated, wood frame screen door was bleached from the sun, but there was no money or paint for it, either. What I did have was an unused grapevine wreath, some silk flowers and ribbon. I made a new, summery wreath and hung it on the screen door. I was so happy with the results. It was cheerful and fresh and new and welcoming. Imagine my surprise when I visited another blogger who criticized my efforts and said that I would have been better served to have waited until I could paint and replace the hardware on my front door. She was wrong.
I was already planning to repaint my front door and replace the worn out hardware, and eventually I did; but God had given me the creativity to make my front door area welcoming to guests without spending a dime. I am so glad that I didn't wait, and I'm equally glad that I didn't let someone else discourage me.
Don't let others discourage you. You are creative. You are an artist. Make good art!
Don't wait until you can afford to do something big! Don't wait! Do what you can now!
You'll make mistakes, but don't let the mistakes keep you from expressing your God-given creativity. He can redeem the mistakes, or He can show you a better way because of the mistakes. Don't let the fear of failure keep you from trying.
The greatest mistake you can make in life is to continually be afraid you will make one.
Elbert Hubbard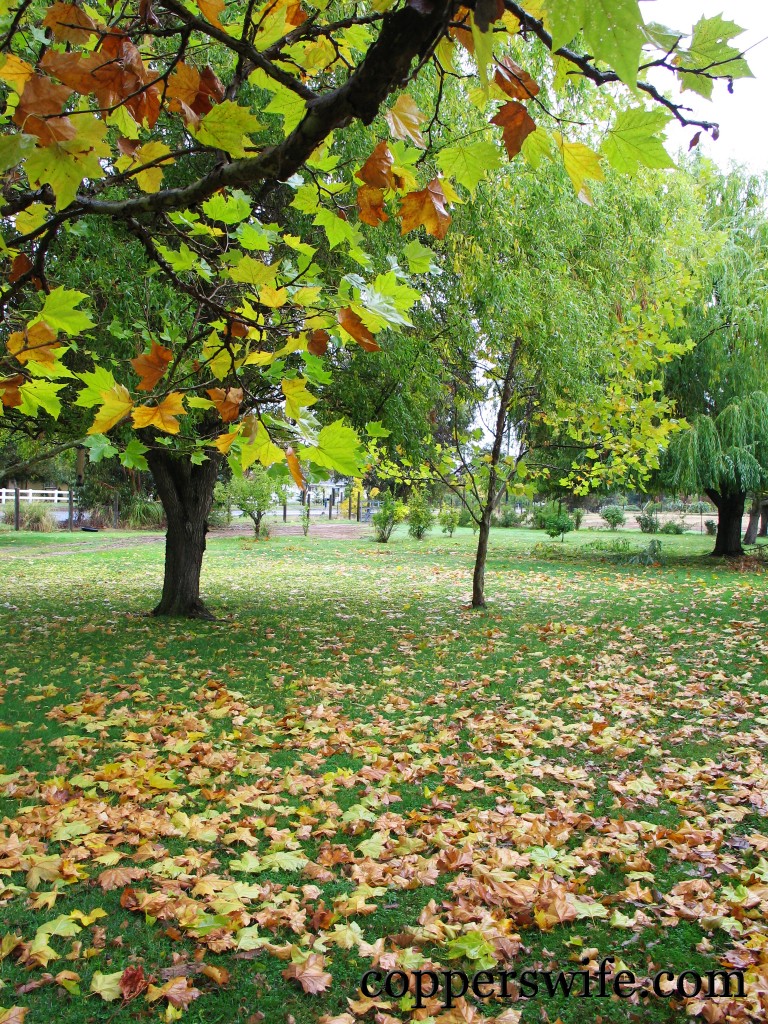 (If you click on the links below, and then make a purchase, some of them may put a few pennies into my pocket. You can read about how I spend those pennies, and more about how I earn them, here. I am always grateful to those of you who choose to bless me this way.)
I've wanted to revisit this theme of homemaking as art in my own home, and fall seemed like the perfect time to begin. I've pulled a few of the books that have most inspired me to look at what I do in my own home as art, and I will enjoy reading each of them again. It will be my second time through Jane Brocket's lovely book,
 but I've lost count of how many times that I've read, and loved, The Hidden Art of Homemaking
 and Creating a SenseSational Home.
 I'm also looking forward to reading Emily P. Freeman's brand new book, A Million Little Ways: Uncover the Art You Were Made to Live.
I'm looking forward to really digging into these books. Every reading of Hidden Art,
 The Gentle Art of Domesticity
 and SenseSational Home,
over the years, has inspired me in a different way, and I'm eagerly looking forward to seeing how my creative juices might be stirred this time through them.
Homemaking is art, and you are the artist that can make good art, beautiful art, happen in your home!
(If you'd like, you can follow along on Instagram as we remodel our Less Than Perfect Kitchen. New pics going up there every day!)