Menu planning. Folks seem to either love it or hate it. I don't always enjoy the process of menu planning, but I do love the perks. Knowing what's for dinner every day is a real stress reliever for me. During the seasons that I do not menu plan regularly, my grocery budget soars and we eat out too frequently.
(If you click on the links below, and then make a purchase, some of them may put a few pennies into my pocket. You can read about how I spend those pennies, and more about how I earn them, here. I am always grateful to those of you who choose to bless me this way.)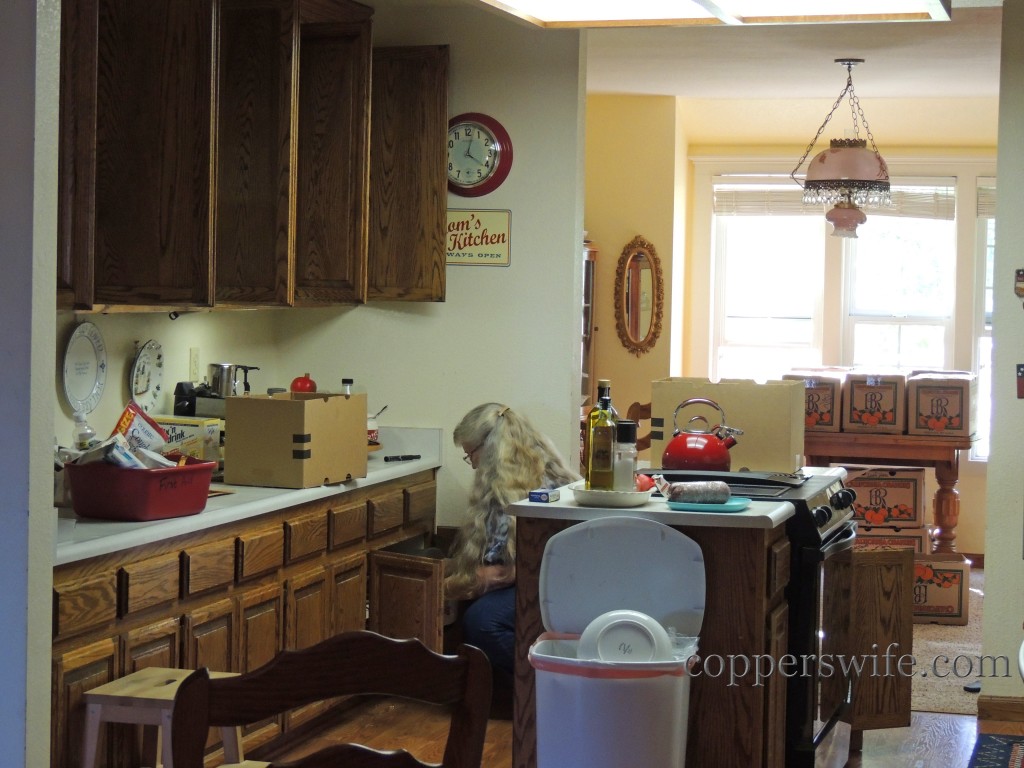 We are just beginning six weeks of life without a kitchen, and I know that, for me, menu planning will be essential. No stove.  No oven. No dishwasher. No sink. I've written before about cooking without a stove. There are options that work quite well. Cooking will be doable, but clean up is going to be the really tricky part. I'm taking all of that into account for the meals I'm planning for the next five or six weeks.
Here are the tools I have available for cooking:
We've moved the fridge into the dining area, and I've set up my temporary camp kitchen there as well.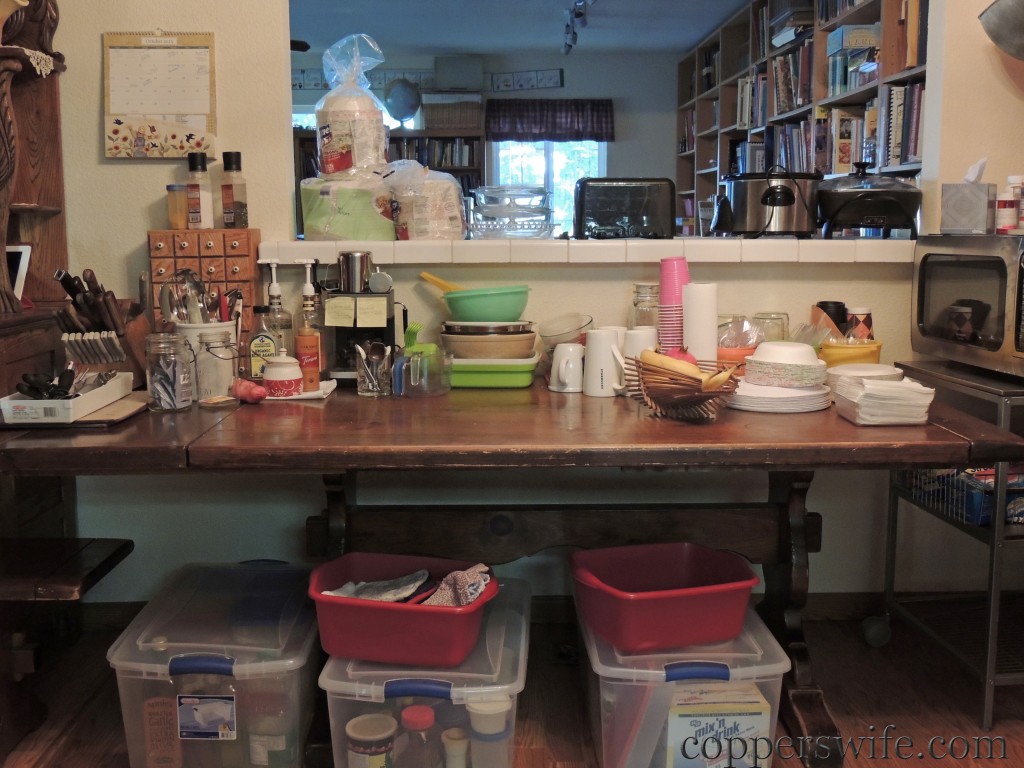 Since I have no easy way of washing things up after cooking, we'll be relying almost entirely on paper plates, plastic utensils and plastic cups. Paper towels are my new best friend. I plan to wash just a handful of dishes in the bathtub every evening. I really don't want any bits of food remaining on things before I wash them, though, so everything needs to be able to be wiped clean before washing.
My electric skillet is non-stick and will wipe out nicely with a paper towel. It's fully immersible with the cord removed, so washing it up in the bathtub won't be a problem. My daughter, Corin, reminded me that crock-pot liners
 are still available. I wouldn't like cooking with the liners all the time, but I will definitely use them in my crockpot during construction. Any food remnants will come out with the liner, and then I can just take the almost clean removable crock to the tub to be washed.
The old kitchen was completely demolished on Friday, so we started our kitchenless adventure then with cold cereal for breakfast, sandwiches for lunch, and a pork roast with a cranberry glaze in the crockpot for dinner. And of course, I forgot to use a crockpot liner Friday!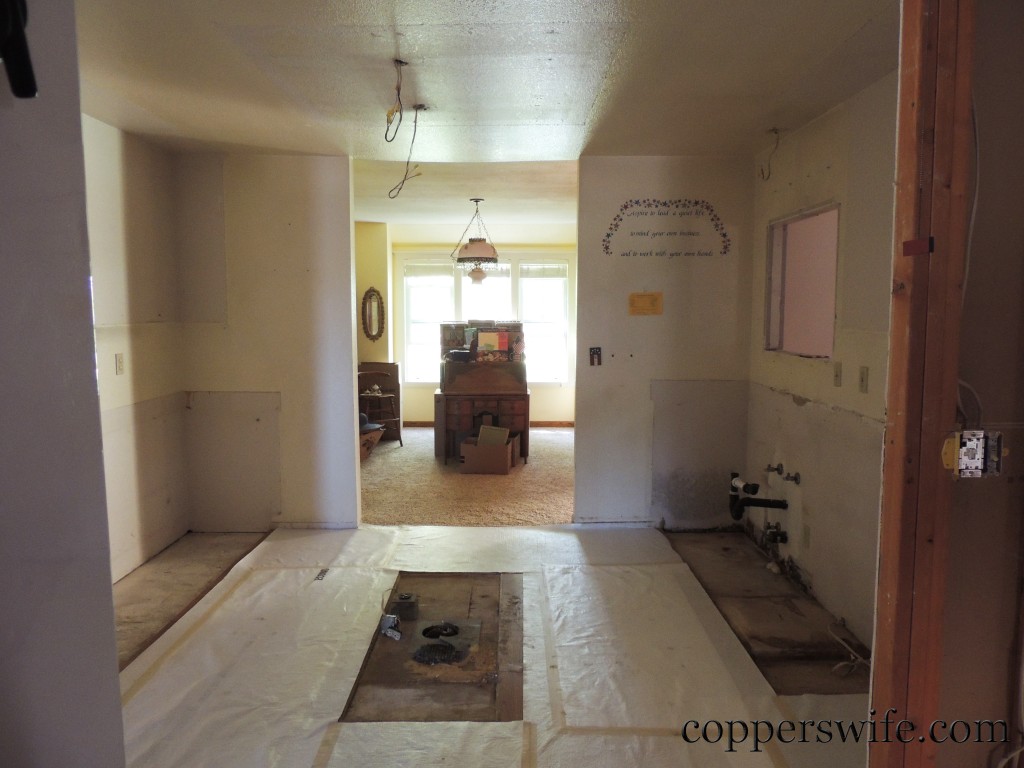 Here's my menu plan for this week.
Monday
Breakfast – Toaster waffles
Lunch – Hobo Lunches (rolled sliced smoked turkey, cheese squares, multi-grain crackers, sugar snap peas, sliced apples)
Dinner – Baked Potato Soup ("baking" the potatoes in the microwave, then making the soup in my big electric skillet)
Tuesday
Breakfast – Cold Cereal
Lunch – Meat Sandwiches, chips
Dinner – Italian Meatballs (frozen from Costco cooked in the microwave), Pesto Pasta (cooked on the BBQ's side burner), green salad
Wednesday
Breakfast – Pancakes (electric skillet)
Lunch – Peanut Butter and Jelly Sandwiches, chips
Dinner – Grilled Chicken (on the BBQ), steamed garlic green beans with bacon (microwave), french bread
Thursday
Breakfast – Cold Cereal
Lunch – Grilled cheese sandwiches (electric skillet), baby carrots & ranch dip
Dinner – Beef, Bean and Cheese Burritos (tortillas steamed in the microwave, filling cooked in the electric skillet), Green Salad
Friday
Breakfast – Toast and Southwest Scrambled Eggs (Eggs scrambled with Chorizo, salsa and grated cheese) (electric fry pan)
Lunch – Loaded Baked Potatoes (microwave)
Dinner – Cheeseburgers, french fries (frozen fries from the store, cooked on foil on the grill alongside the burgers)
Saturday
Breakfast – Toaster Waffles
Lunch & Dinner – We'll be enjoying a fun day out with the whole family
Sunday
Breakfast – Cinnamon Toast
Lunch – Out After Church
Dinner – Tin Foil Supper (hamburger patty, sliced potato, sliced onion, and baby carrots all wrapped in individual foil packets, seasoned, and cooked on the grill)
That's my plan for week one of cooking without a kitchen. I'm looking forward to learning to be a bit more creative as the weeks progress.
I've joined Laura today for Menu Plan Monday. Be sure to visit her site for more menu planning ideas.