I'm a believer in being a life-long learner. Because of that, as the kitchen remodel was nearing completion, I messaged a few friends who share my love of cooking, asking them for some new resources for recipes and cooking techniques. I received half a dozen, or so, good recommendations, and I plan to try them all soon. I want to keep learning new things in the kitchen, and I want to keep up with the latest in cooking techniques.
(If you click on the links below, and then make a purchase, some of them may put a few pennies into my pocket. Of course, there is no additional cost to you. I am always grateful to those of you who choose to bless me this way. You can read about how I spend those pennies, and more about how I earn them, in my disclosure policy.)
Even though I want to invest soon in several new resources, my budget would only allow one new purchase right now. It was very difficult to decide which to buy first because they all looked so good.  In the end, I settled on  The America's Test Kitchen Family Cookbook.
, which was recommended by my daughter, Dani.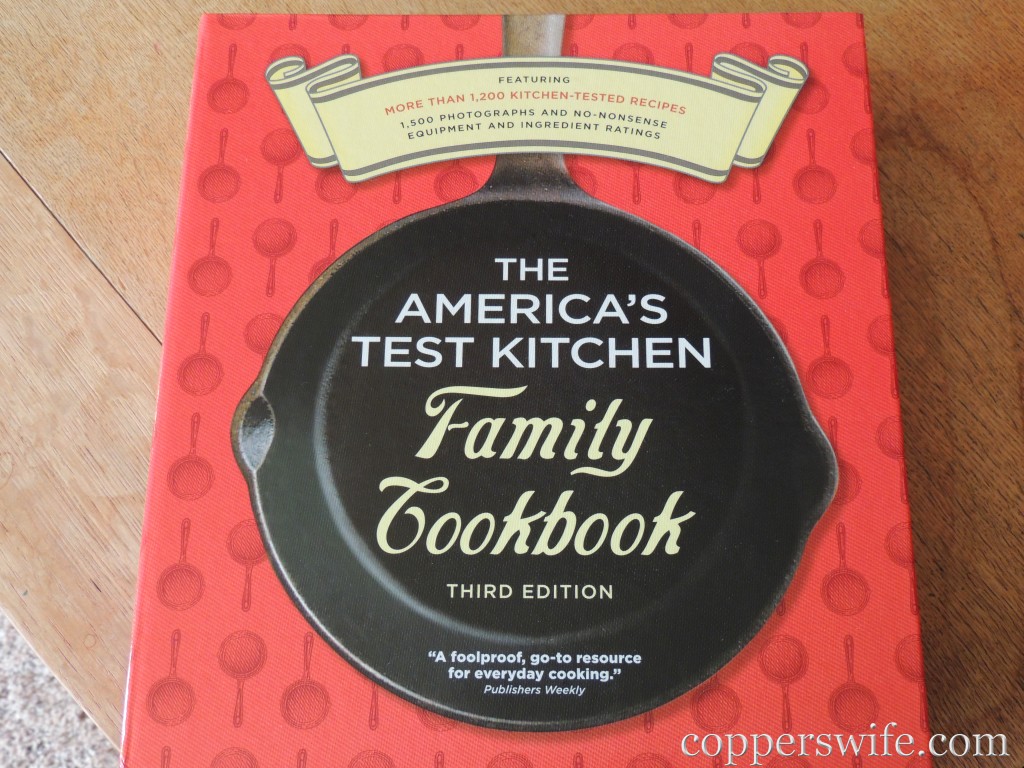 Even though I've never used any of their recipes before, I've planned all of our dinners this week from this cookbook, including the side dishes. In fact, I've also planned our Sunday morning coffee cake and the week's baked goods from the Test Kitchen Cookbook,
 too. Saturday night is "Nacho Night" in our home, so I'm going to use the Test Kitchen recipe for that, as well.
The directions for all of the recipes are well written and there are plenty of photographs. As far as I could tell, all of the recipes are made completely from scratch, but the ingredients are all, for the most part, pantry or refrigerator staples.
The only deviation from an all America's Test Kitchen Cookbook menu is the french bread that I will serve on Monday and Tuesday evenings. There is a fabulous looking Rustic Bread recipe in the cookbook, but I do not (yet) own the baking stone required for making it. So, I'll use my own French Bread recipe this time.
(I'm including the page numbers for each recipe in case something sounds really good and you have a copy of your own hanging around somewhere.
Monday – White Bean and Garlic Soup (p. 130), my own French Bread
Tuesday – The Best Spaghetti & Meatballs ( p. 210), with Quick Tomato Sauce (p. 209), Green Salad with Balsamic Vinaigrette (p. 85), homemade French Bread with Garlic-Herb Butter (p. 677)
Wednesday – Chicken Pot Pie (p. 357) (using their Double Crust Pie Dough p. 593), Skillet Broccoli with Toasted Garlic and Lemon (p. 157)
Thursday – Sloppy Joes (p. 121), German Potato Salad (p. 108)
Friday – Slow Cooker Chicken Provençal (p. 471), Creamy Polenta with Butter and Parmesan (p. 193), Simplest Green Salad (p. 85)
Saturday – Cheesy Nachos with Spicy Beef (p. 75)
Sunday – Breakfast, Lemon Blueberry Coffee Cake (p. 523)
Dinner, Potato Skins Baked with Cheddar and Bacon (p. 76)
Baked Goods:
Thursday treat for my grandkids – Bake-Sale Brownies (p. 552) (I'll make a double batch!)
Monday afternoon (to enjoy during the week) – Pumpkin-Nut Bread with Toasted Pecans (p. 529)
So, there's our America's Test Kitchen Family Cookbook
 menu for the week. Eighteen brand new-t0-me recipes that I can't wait to try, and several new cooking techniques to learn in the process!
What cookbooks, websites, magazines or other resources do you use to keep things new and fresh in the kitchen?
I'm joining this week's Menu Plan Monday. There are always tons of great menus, and other resources, there.
Need some help with menu planning? My Menu Planning Series might just have what you need!