You all have been so encouraging these last couple of months as we've remodeled our kitchen. Thank you! Since the boxes are unpacked, and the work is 99.9% complete, I think it's finally time for a tour of my new kitchen.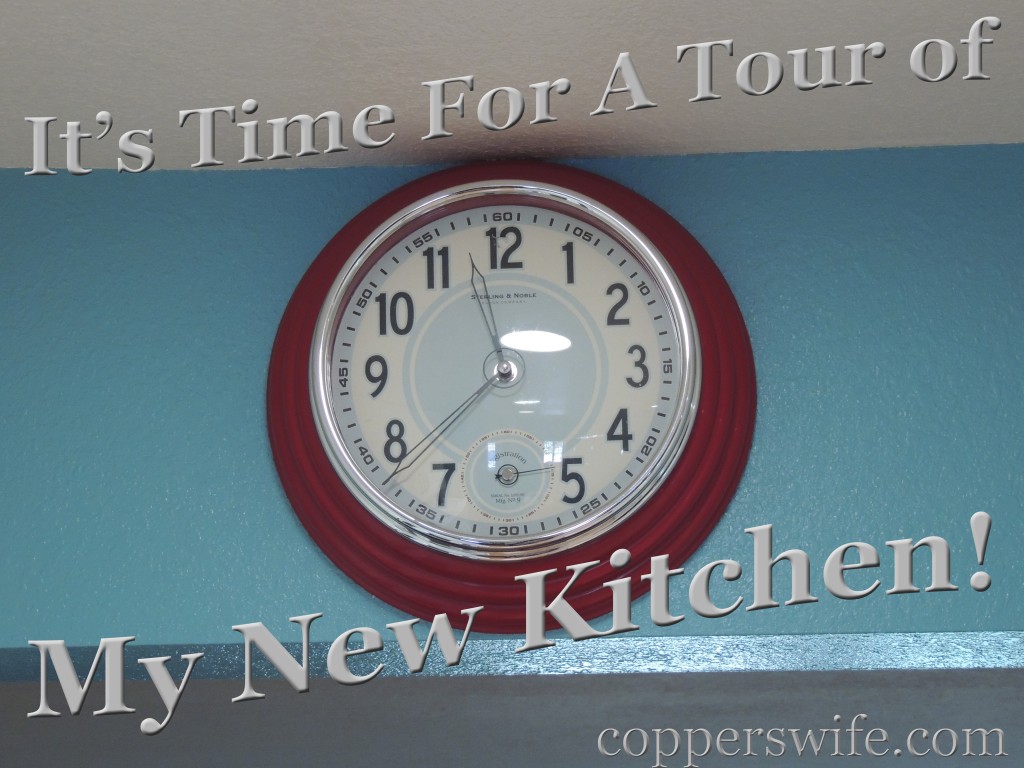 Just to jog your memory, here's a single "before" shot of my old less-than-perfect kitchen.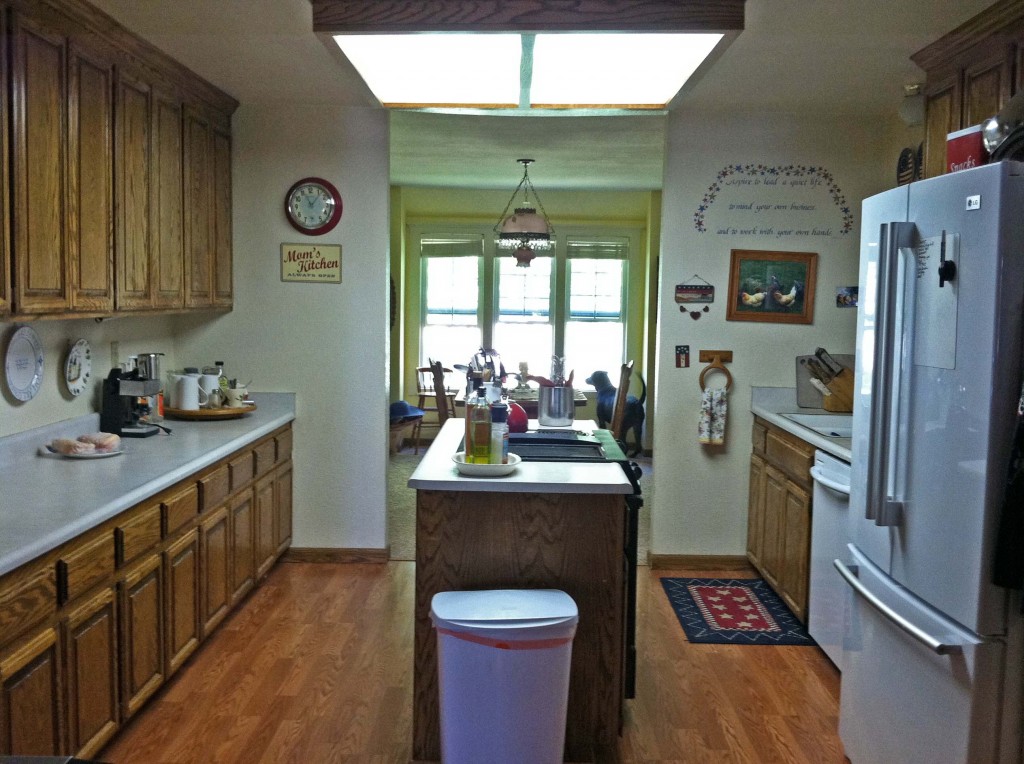 And here, from the same angle, is my new kitchen!
The new kitchen isn't perfect either. I honestly didn't expect perfection, but holy cow! This is awfully close! I love everything about the new kitchen, and Copper does, too. The island that hindered all work flow is gone, opening up the center of the kitchen. The wide opening at the far end of the kitchen was partially walled off, leaving an opening just a bit larger than a normal doorway. A partial wall (just out of camera range and next to the fridge in the "before" shot) was completely removed. The window to nowhere over the old sink, was walled off making way for a glorious span of cabinets and counter! The peninsula is the result of the inspired suggestion of the designer at KitchenMart, and I love, love, love having my sink there!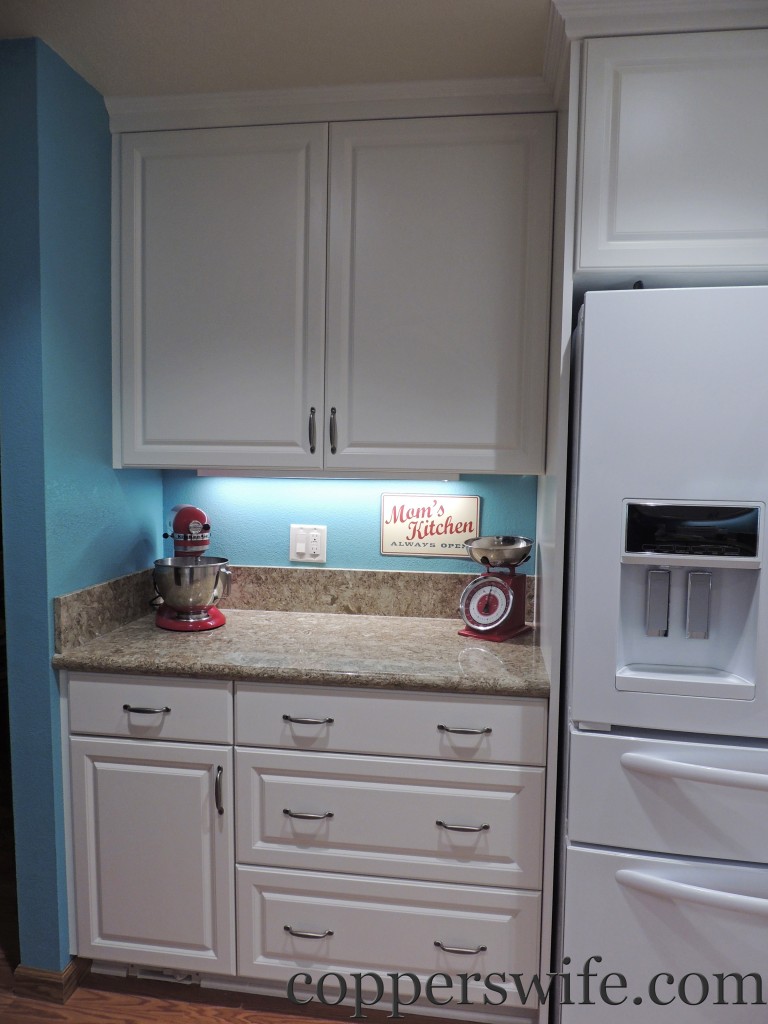 Since I first saw this section of the kitchen on the plans, I knew that it would be perfect for a baking center; and I was right! The upper cabinets are filled with all my baking staples (flours, sugars, extracts, etc.), along with my mixing bowls, sifter, liquid measuring cups, cookie press, cookie cutters, etc. The small drawer on the left holds my dry measuring cups, pastry cutter and all of my various sized cookie/muffin scoops. I'm thrilled that the lower cabinet is just the perfect size for my food processor! It's been neglected in a hard-to-get-to cabinet for years, but I've used it multiple times in the last week! And those drawers underneath…..well, let me just show you.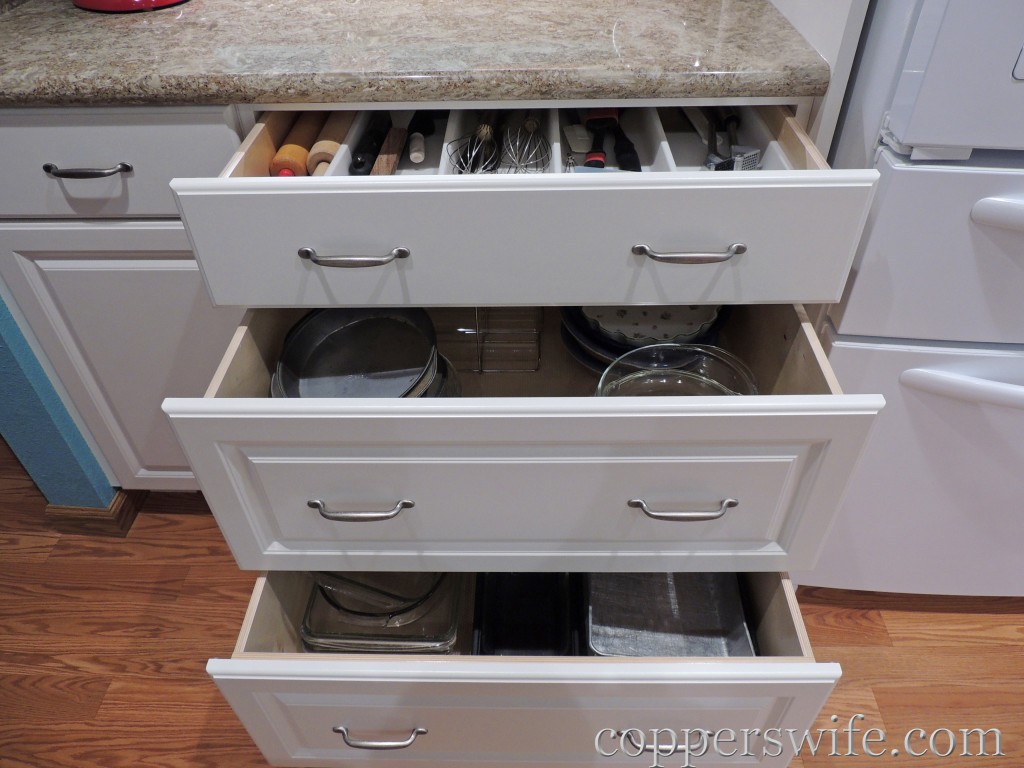 When I started putting my baking pans, and casserole dishes into these drawers, I was sure I'd run out of room. I didn't! All of my loaf pans, bread pans, regular cake pans, pie plates, pie tins, 9 x 13 pans – everything went into these drawers! They are deep and they are on heavy-duty drawer glides. It's so much easier to find what you're looking for in a drawer, and to pull it out to use, than it is in a cabinet!  That top drawer holds all of my whisks, spatulas, mixing spoons, pastry brushes, pastry servers, and there was even room for both of my rolling pins! I just cannot get over the amount of space in these drawers!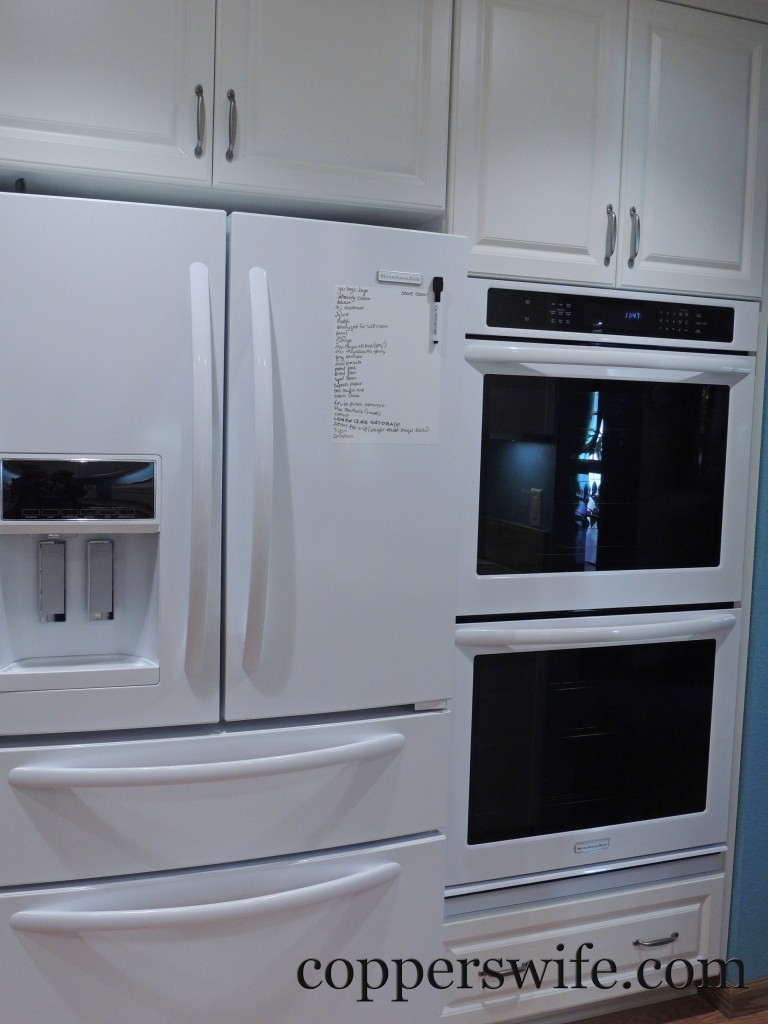 Next to the baking center is the new fridge (love that center drawer!), and the double ovens.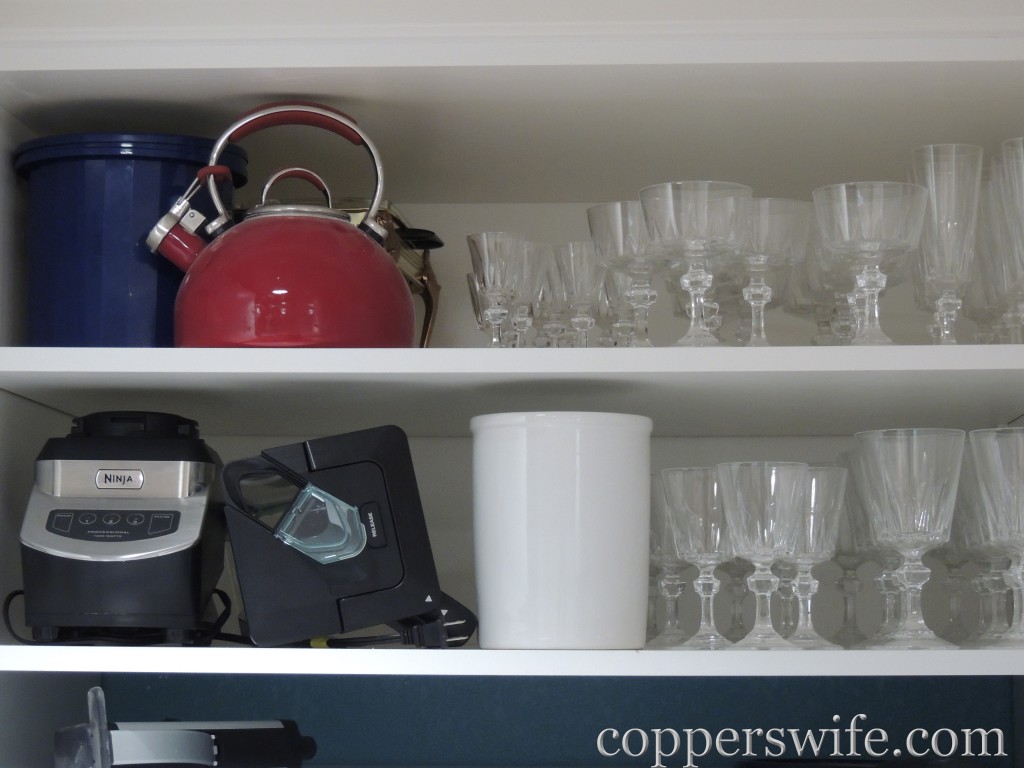 The cabinets over the fridge and ovens are ginormous! I was able to store all of the things that I don't use frequently, like our good crystal stemware, my copper chaffing dish, ice buckets, etc. over the fridge and there's still a ton of space up there. I do use my blender fairly often, so I placed it near the left, front corner where I can reach it fairly easily.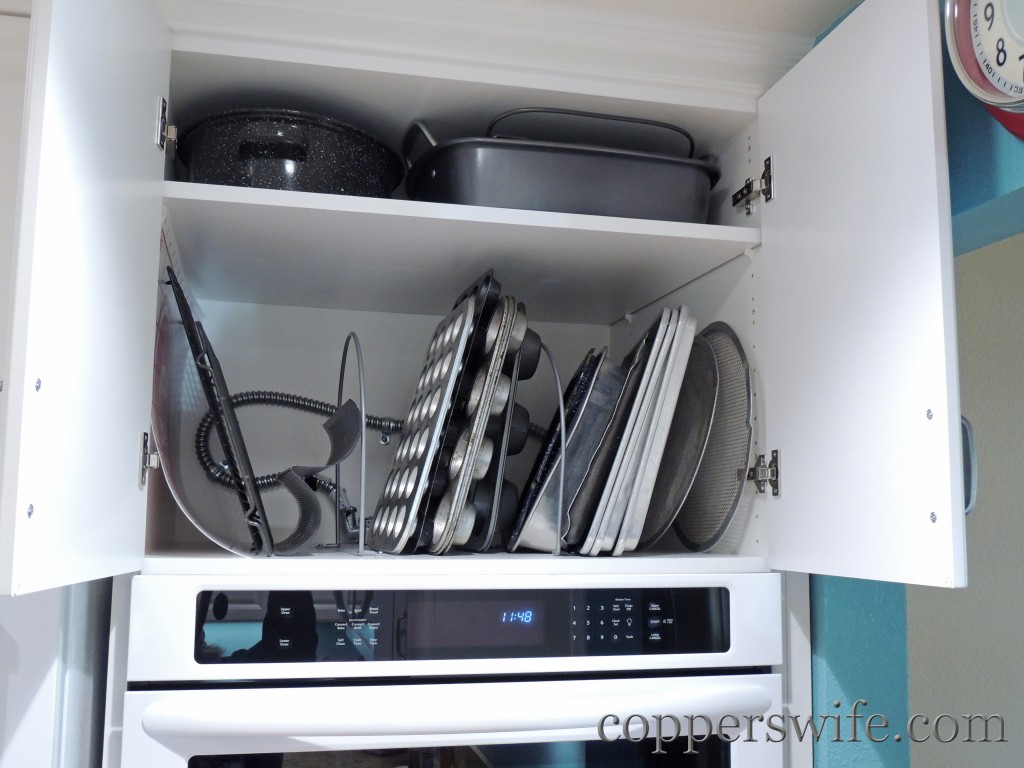 Copper installed some upright dividers from IKEA in the huge cabinet over the ovens so that my oversize baking pans, cookie sheets, muffin pans and cooling racks would stand upright. I have room to expand my collection! There's a drawer under the double ovens, too, and I'm keeping my broiler pan, microwave rack, and that sort of thing there.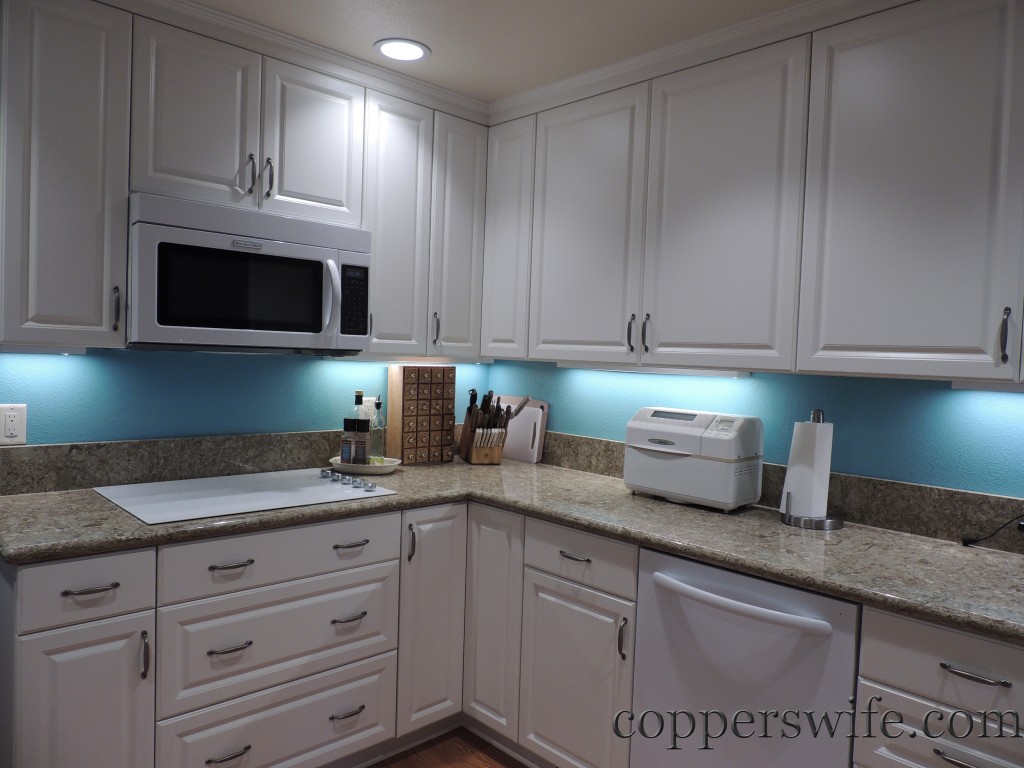 The lighting is incredible! My kitchen is, quite literally, the heart of my home, nestled snuggly right in the middle of the house. Surrounded by other rooms, there was no hope of any natural light. After living for more than fifteen years with a large, fluorescent light box in the middle of the kitchen, I am amazed at the quality and amount of light from the six LED can lights that are now installed. The light is bright, without being glaring. There are also LED under cabinet lights throughout the kitchen, and I love leaving those on all day and well into the evening. The LED lights use very little electricity, and they are cool burning – i.e., they won't heat up the kitchen in the summer.
Until now, I've always had a stove/range. This is the first time that I've had separate ovens and a cooktop. I really do enjoy having things cooking in the oven, and being able to stand at the cooktop without feeling all of the heat from the oven! The smooth cooktop surface is taking some getting used to. There's a bit of a learning curve, not the least of which is figuring out the control knobs, but I'm up for the challenge! The microwave includes the exhaust fan for the stove.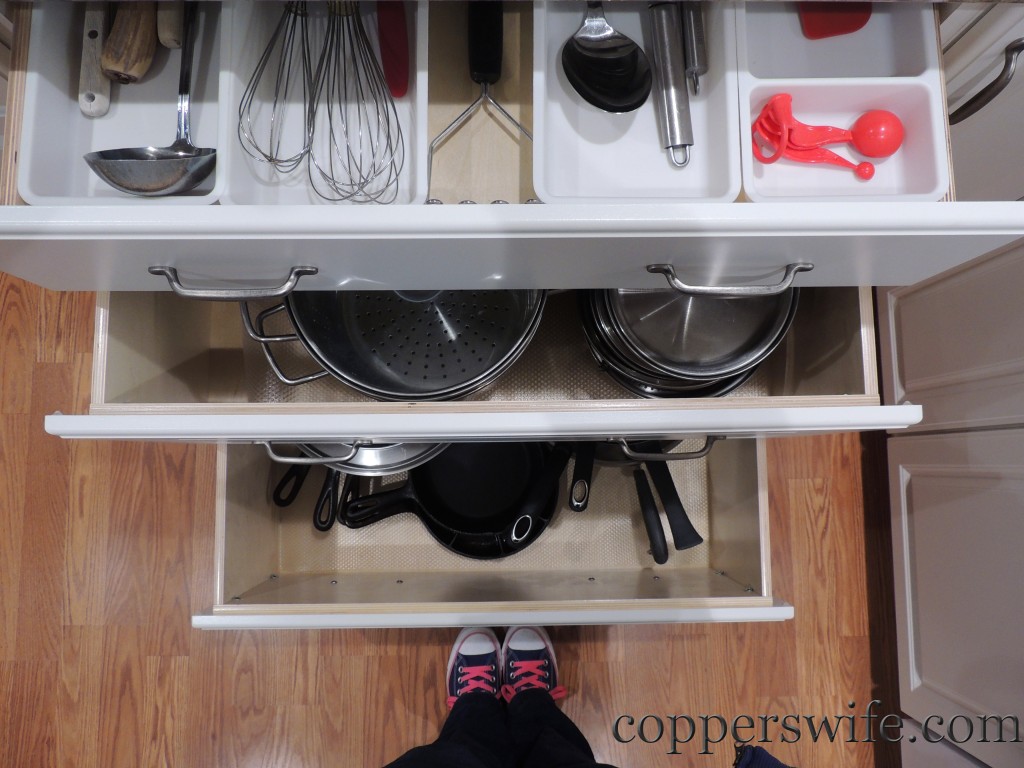 Under the cooktop, there's another bank of those wonderful, deep drawers. Up top, I have access to whisks, spoons, spatulas – everything I might need while cooking at the stove.  The other drawers hold all of my pots, pans and skillets.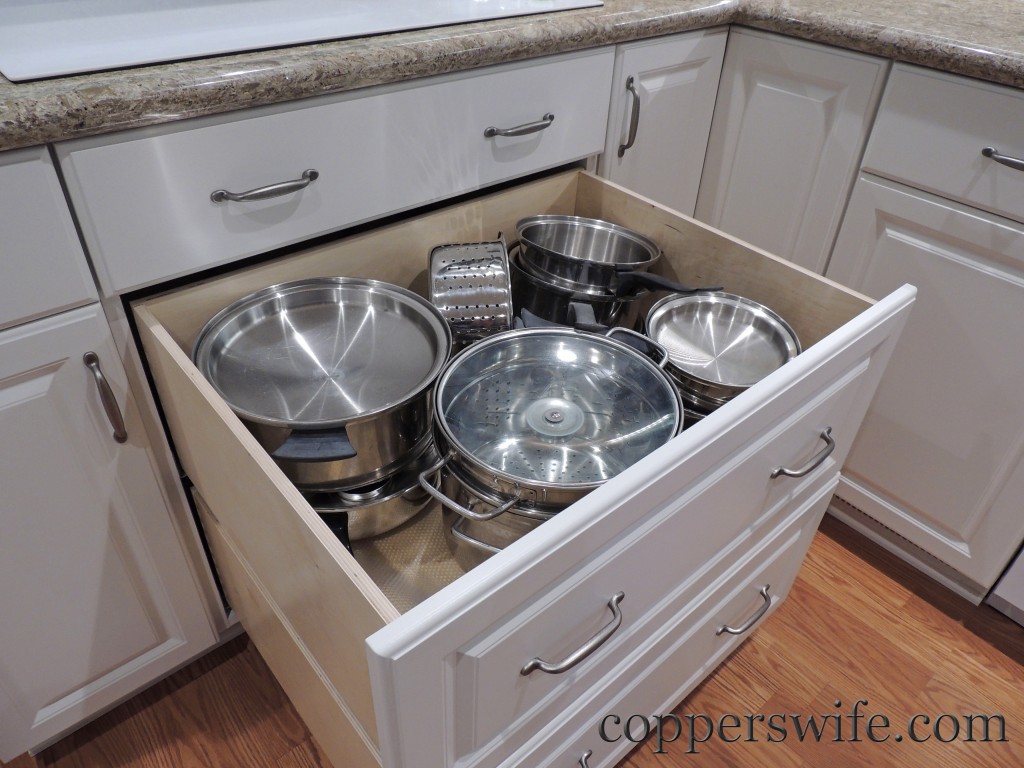 These drawers are wonderful! My entire set of pots and pans fits in this drawer, plus a large steamer basket, and my really large stock pot and strainer! In the past, the pots and pans were in a very narrow, deep cabinet, making them very difficult to reach. My two biggest pots were even  kept in a cabinet in another room! No more. They're all right here in a single drawer.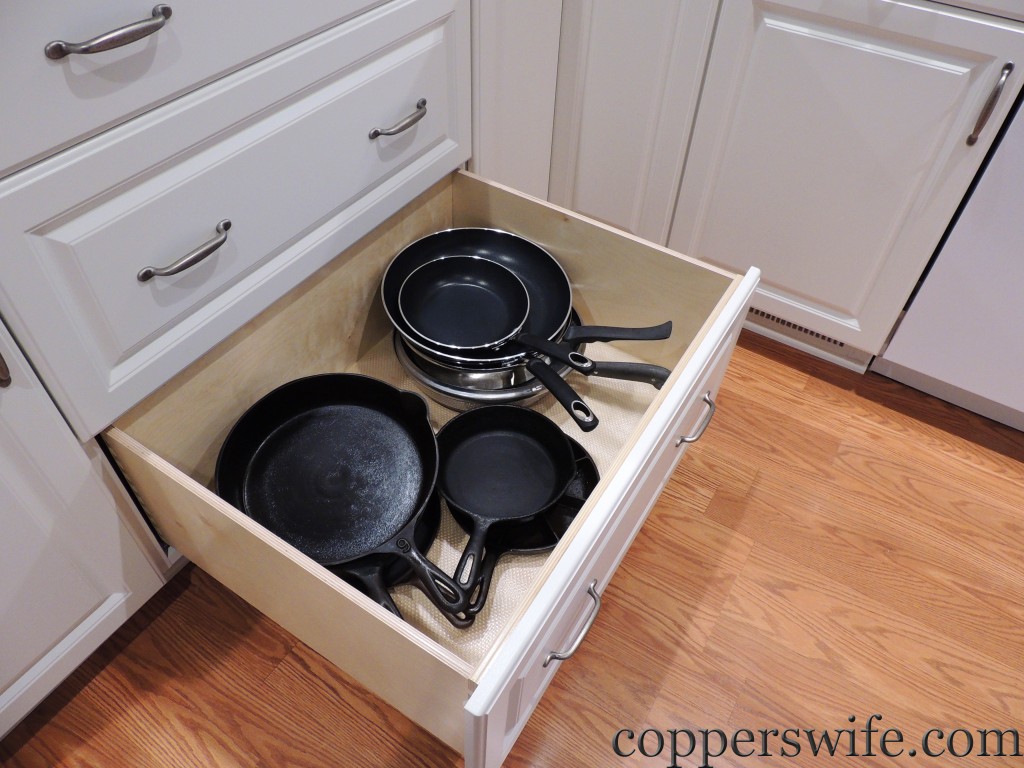 All of my skillets, including all of my cast iron skillets (and I have several!), are in one drawer. They used to keep company with my big soup/stock pots in a sideboard in another room, but now they're right at the stove. I love these deep drawers!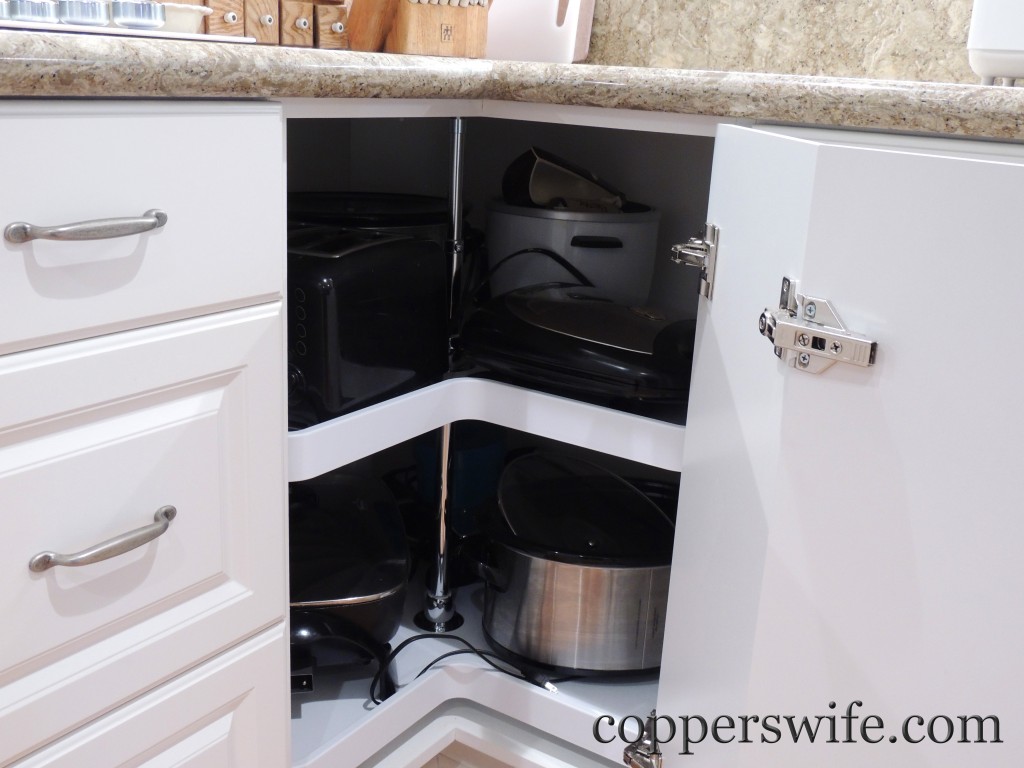 As I pulled all of my small appliances out of the lower cabinets in preparation for the remodel, I wondered how many of them I should keep. After all, the Panini press and the rice cooker were always so hard to reach, they were rarely used. I knew the lazy susan cabinet would be deep, and I knew that the shelves had a hefty weight capacity, but I had no idea that ALL of my rather large "small" appliances would fit. A toaster, two big crockpots, a rice cooker, a panini press, a waffle iron, my big electric skillet, even my electric knife. Everything all in one cabinet, and I can reach it all with a simple turn of one of the rotating shelves.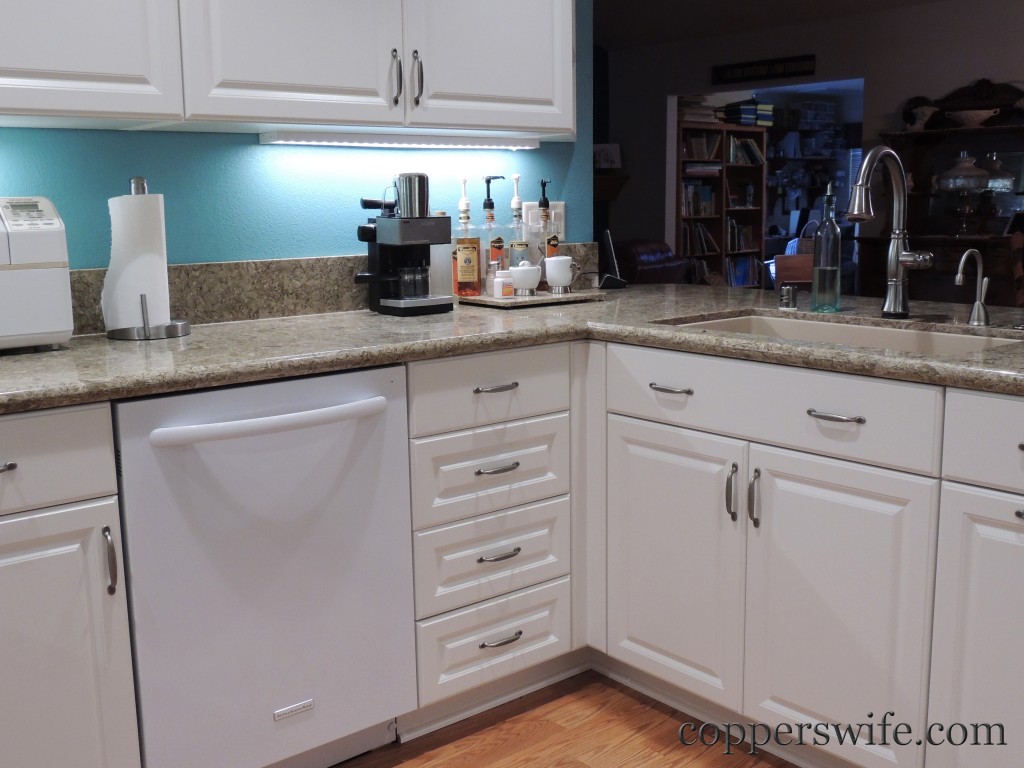 There is SO MUCH usable counter space in this kitchen! I'm enjoying every square inch of it! I'm also enjoying the fact that I have cabinets and drawers in all the right places. For the first time in fifteen years, my silverware is kept in a drawer right next to the dishwasher, and my dishes and glasses are kept in cabinets just over, and within reach of, the dishwasher. I have plenty of drawer space for my kitchen hand towels, dish towels and my beloved white, terry towels that I use for everything.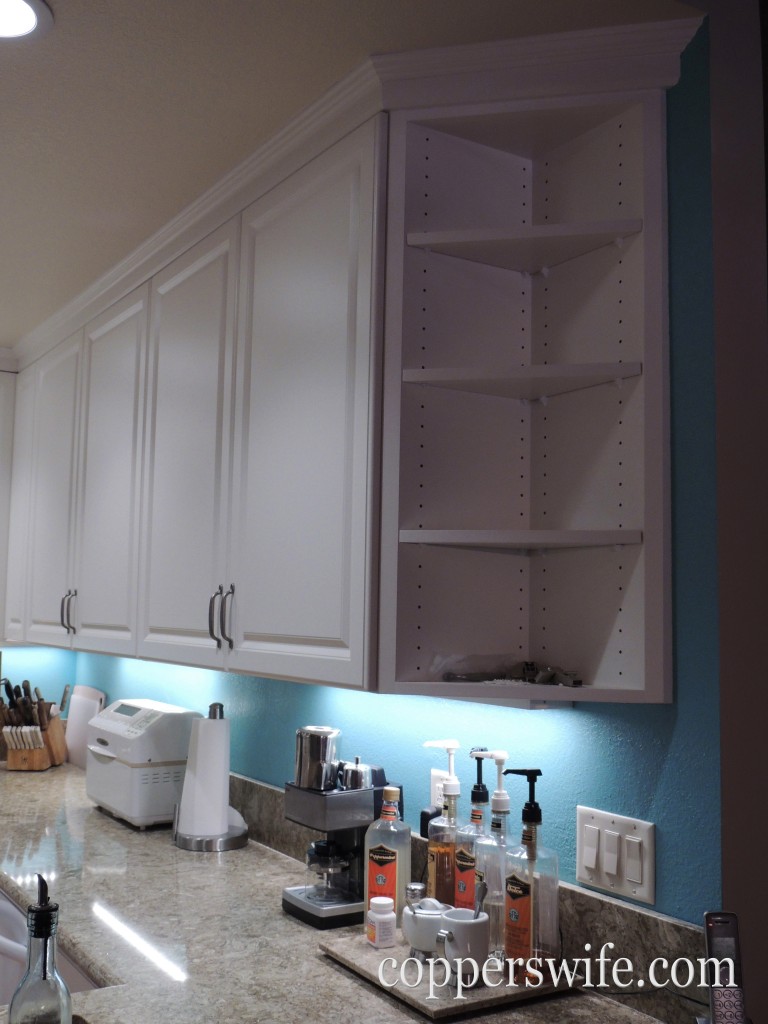 We're still waiting for the glass front door for this little end cabinet that sits just over our espresso station. I'm not sure, yet, what I'm going to use this pretty, little cabinet for. I've been waiting for the door to arrive so that I have a better idea of what will work best in there. The door "should" be here by Monday.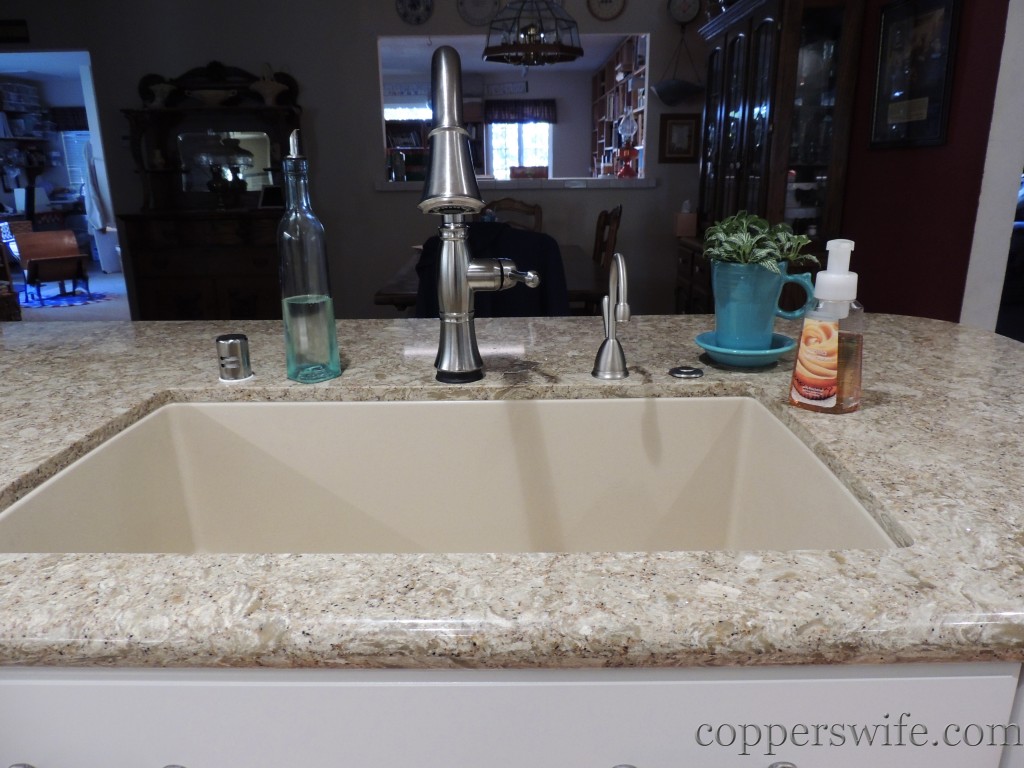 This sink is really big, and really deep. The drain is situated on one end, rather than in the middle, which means I can stack stuff in there like crazy without blocking access to the drain or disposal. My faucet, thanks to the recommendation of a friend, is a "touch" faucet. It remains in the on position, and turns on and off with just a touch. That's super wonderful when your hands are covered in gooey cookie dough, or if you've been handling raw meat. Being able to turn the faucet on at the touch of an elbow, or forearm, keeps the handle clean. (My children and grandchildren may, or may not, have tested turning the faucet on and off with their noses.) The instant hot water dispenser was on my "must have" list.
These pull out garbage and recycle cans are something I knew I wanted from the start, and I was so happy that the designer was able to work them into the plan. By the way, all of the cabinet drawers, and doors, have a soft close feature, which means no slamming doors and no doors or drawers standing slightly ajar.
The nuts and bolts: All of my appliances are KitchenAid, purchased from a local, family-owned business. KitchenAid was having an incredible rebate program at the time we bought them, too, which gave us a tidy little sum back in the form of a prepaid MasterCard. Sweet! The cabinets were custom built at KitchenMart, and they performed 100% of the work in my home. Copper did the painting and floor. The cabinet doors and drawer fronts came from Decore-Ative Specialties, and they are super easy to clean Thermo Foil. The color is Mission White.The quartz counters are Cambria, and my color choice was "Berkeley", all finished with a full bull nose edge. The sink, a granite composite, is Blanco's "super single", and the color is Biscotti. We ordered the matching "biscotti" stink strainer, too, and it's much nicer than a chrome one would have been. All cabinet hardware, and the faucets, are an antique pewter finish. The faucet is by Delta. Paint is Behr semi-gloss. The wall color is "Lagoon" from the Martha Stewart line, which the fine folks at Home Depot color matched for us in the Behr paint that we prefer. The ceiling is Behr Antique White, also in a semi-gloss finish.
I have some final thoughts about buying local and working with a kitchen designer that I'll be sharing soon.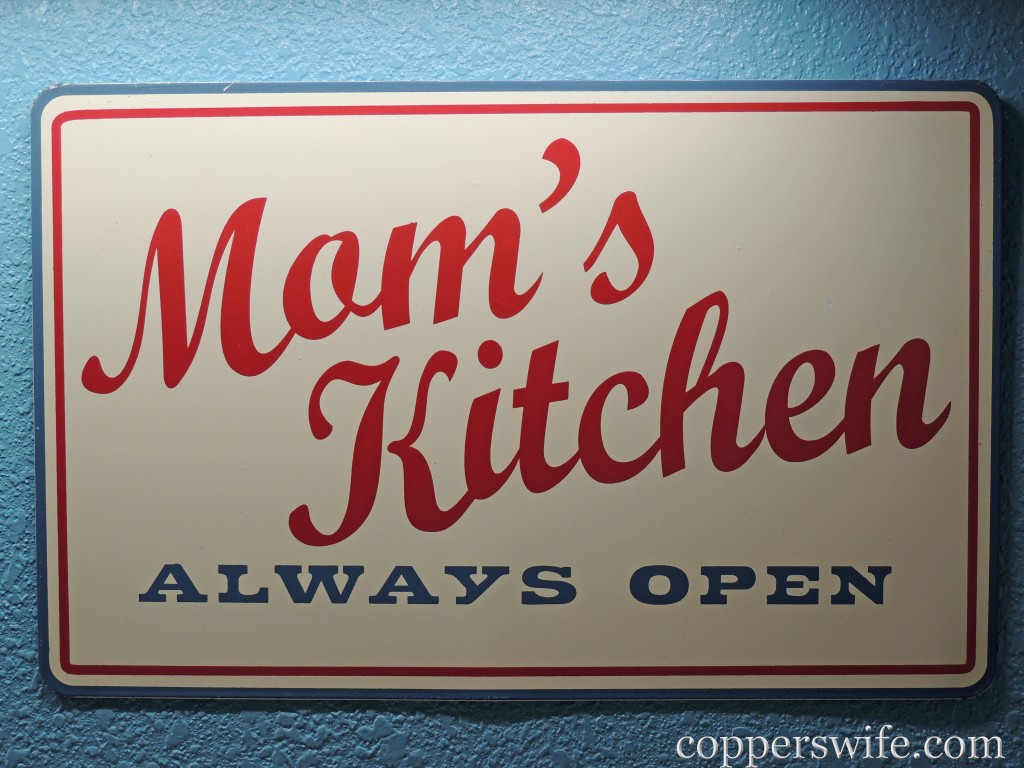 I wanted a kitchen with all the modern conveniences, but one that still had a vintage feel. My beloved red and aqua clock, from the picture at the very top, and the "Mom's Kitchen" sign followed me from my old, less than perfect kitchen, right into my brand new kitchen, setting the vintage tone I wanted, and providing the color scheme that I've long dreamed of.  I am so thankful for my new kitchen!