In some ways it seems like the kitchen remodeling has gone quickly. In other ways, it feels like it's taking forever! In either case, my kitchen should be done sometime this next week. I'm hoping that I'll be able to wipe out the insides of the cabinets and drawers, and start unpacking boxes Tuesday evening. I can't wait!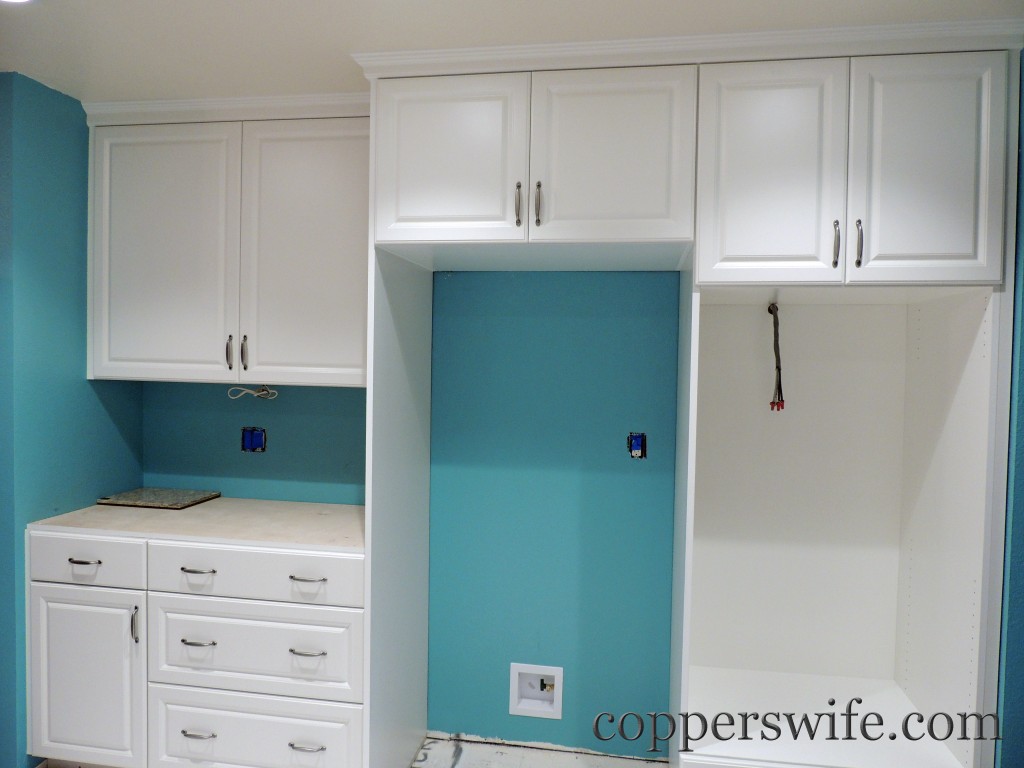 My menu this week reflects the transition between cooking what we can in our temporary kitchen, and starting to enjoy all of the wonderful  features of my new kitchen (like the double ovens that will be in that cabinet to the far right!).
In all honesty, I had some difficulty with the menu this week. I've been longing to cook, and especially to bake….something. Anything! So, when faced with an almost completed kitchen, it was hard to be reasonable and allow myself some time to settle into my new kitchen gradually. Reason won out, but I'm already scheming and dreaming about next week's menu.
(If you click on the links below, and then make a purchase, some of them may put a few pennies into my pocket. Of course, there is no additional cost to you. I am always grateful to those of you who choose to bless me this way. You can read about how I spend those pennies, and more about how I earn them, in my disclosure policy.)
Here's the dinner plan for the week.
Monday – Southwest Chicken Tacos (diced, seasoned, cooked chicken, diced tomatoes, corn and cheese on multigrain/corn tortillas), with a green salad. (The taco filling and the tortillas will all be cooked in my electric skillet;
 and may I just say, that skillet has been a real work horse for the last month!
Tuesday
– Little Caesar's Pizza (gift cards!) – Our very sweet, across the road neighbor lady, blessed us with Little Caesar's Pizza gift cards before
our  Less Than Perfect Kitchen
was demolished. I've clung to those gift cards, keeping them in case of a dinner time emergency. I'm so thrilled that such an emergency never occurred, but I will love using them on the day that I expect the workers to finish my kitchen.
Wednesday– Meat loaf, Crash Potatoes, green salad (This is an easy dinner for me to put together, since I'll probably (hopefully!) be unpacking boxes and putting my kitchen back together all day.)
Thursday – Quick Chicken Noodle Stew, Green Salad  (Corin and the grands will be over during the day, and it's youth group night at church, and I'll be folding and stuffing the bulletins for the Sunday service while Will is at youth group, so it's a good night for another quick to fix dinner.)
Friday – Cuban Black Beans and Rice, Topped with sliced avocados, scallions, and lime wedges, served with slices of Portuguese Style Sweet Bread. Okay, I waited as long as I could to really dive in and make something new and fun. It doesn't help that I picked up Cook's Comfort Food Favorites 2013.
right in the middle of the remodeling job. Oh, the recipes! I was sort of whining over their "Ultimate Pub Style Burger" one day and the fact that I had no kitchen to make such a yummy sounding thing, when one of the kitchen guys came over to take a look. Know what he said to me? He said, "I've got a kitchen.". Smartypants. I already have a quick and easy Cuban Black Beans and Rice recipe, but this just looked so good – with the making of a Sofrito, and the rendering of the salt pork, and the baking of the whole thing in a dutch oven – and it promised to be more authentic, and very superior, version, so it's on the menu for Friday! I am counting the days.
Saturday – Nachos. Our old, Saturday night standby. I'd really rather make something more creative, but my guys have such simple tastes and they've missed their Saturday night nachos, so nachos it is.
Sunday – Mexican Chicken Corn Chowder, corn muffins.
I'm also hoping to be able to swing a homemade goodie for the grandkids when they come Thursday, and I've promised you the recipe for my all time favorite chocolate snack cake, too. Here's hoping it all comes to pass!