I love chocolate, and I love to bake, and I love easy to serve. This cake is a great fulfiller of all three of those loves!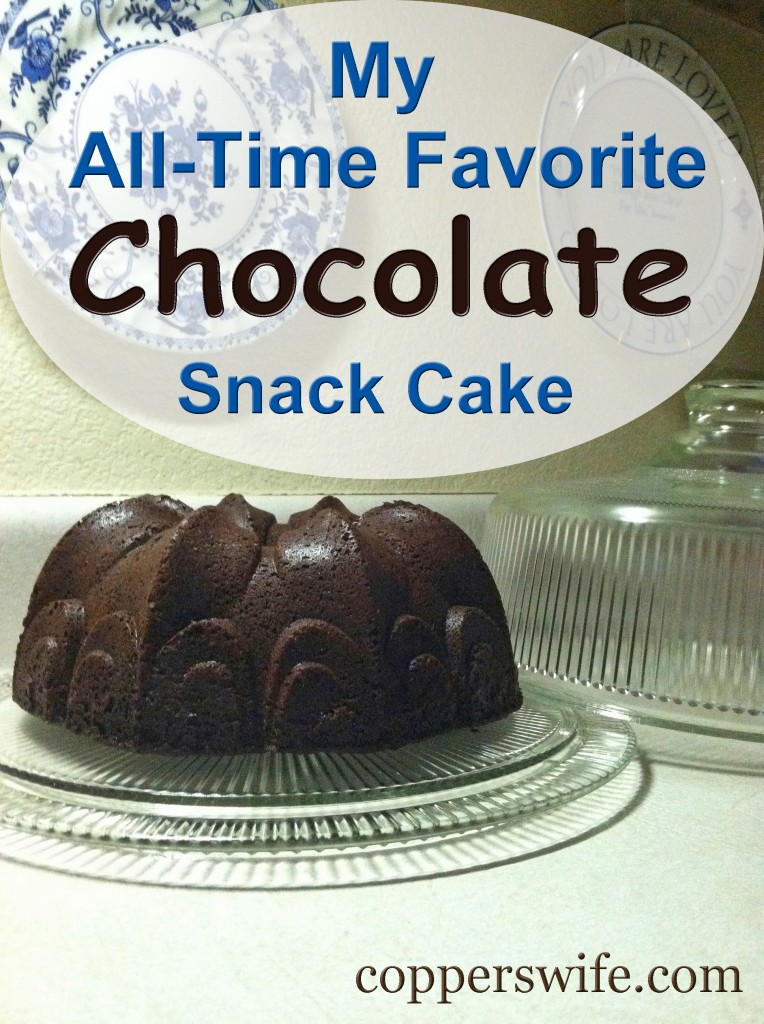 (If you click on the links below, and then make a purchase, some of them may put a few pennies into my pocket. Of course, there is no additional cost to you. I am always grateful to those of you who choose to bless me this way. You can read about how I spend those pennies, and more about how I earn them, in my disclosure policy.)
This cake started out as a sort of pound cake, but I've played with the recipe a bit, and now it's so much more. Full of rich, chocolatey goodness, with just a hint of almond flavor, it has the denseness of a pound cake, but it's moist and not at all crumbly.
It's baked in a Bundt Pan,
which makes it pretty without any frosting or adornment, especially if you use a seasonal
or fancy Bundt Pan.
My favorite way to serve this cake is to just cut a nice-sized wedge, and place it on a dessert plate. That's why it's such a wonderful snack cake.
If I'm feeling extra fancy, or if I'm serving it to company, I might slice up some strawberries and whip some heavy cream to put on top of each slice, but this cake can stand just fine on her own.  We've been known to just cut a slice and eat it out of hand, too.
The rich, chocolatey flavor comes from using the best, darkest cocoa
you can, and from the addition of Espresso Powder.
The cake will be wonderful with regular cocoa powder, too; but the darker the cocoa powder, the richer and darker the cake. The Espresso Powder
 will not make your cake taste like coffee, I promise! Rather, it intensifies the flavor of the cocoa powder. Such a wonderful, yummy combination!
This cake's ability to be served as a simple snack, or as a fancy dessert (with the berries and whipped cream), makes it one of my favorite recipes to bake. I make it often!
My All Time Favorite Snack Cake
3/4 cup butter, softened
1 2/3 cup sugar
2 eggs
3/4 cup sour cream
1 teaspoon vanilla extract
1 teaspoon almond extract (please use the real almond extract, and not the imitation)
2 cups flour
2/3 cup baking cocoa (again, the darker the cocoa, the richer and darker the cake)
2 teaspoons baking soda
1/2 teaspoon salt
1 cup buttermilk (or 4 Tablespoons Buttermilk Powder
 and 1 cup water*)
4 Tablespoons Espresso Powder
 (optional, but so worth it!)
In a large mixing bowl,  cream butter and sugar. Add the eggs, one at a time, beating well after each addition. Add the sour cream, vanilla extract and almond extract and mix well. In a separate bowl combine flour, cocoa, baking soda, salt and espresso powder. Add the dry ingredients to the creamed mixture alternately with the buttermilk. Beat well.
Pour into a greased 10″ Bundt pan. Bake at 350° for 50 – 55 minutes, or until a toothpick inserted near the middle comes out clean. Cool in pan for ten minutes, and then remove from pan and allow to cool completely on a wire cooling rack.
(*If you use Buttermilk Powder, and I usually do, mix the dry Buttermilk Powder with the other dry ingredients, and then pour in one cup of water as you would the liquid buttermilk.)
Make this cake. Your family will thank you.