I've planned my menus in all sorts of locations – waiting at a doctor's office, while sipping coffee at Starbuck's, at the library, or even while sitting in my recliner. My favorite spot for menu planning, or writing in general, is at the table in my parlor. While the kitchen remodel was happening, the parlor was not available. The parlor was filled with stacks and stacks of boxes containing all the contents of my kitchen cabinets. The biggest impediment, though, was the fact that one of the parlor walls, this red one, was extended a few feet on the left side of the doorway, and shortened several inches on the right side, as part of the new kitchen. I am overjoyed to have my favorite spot to work back again!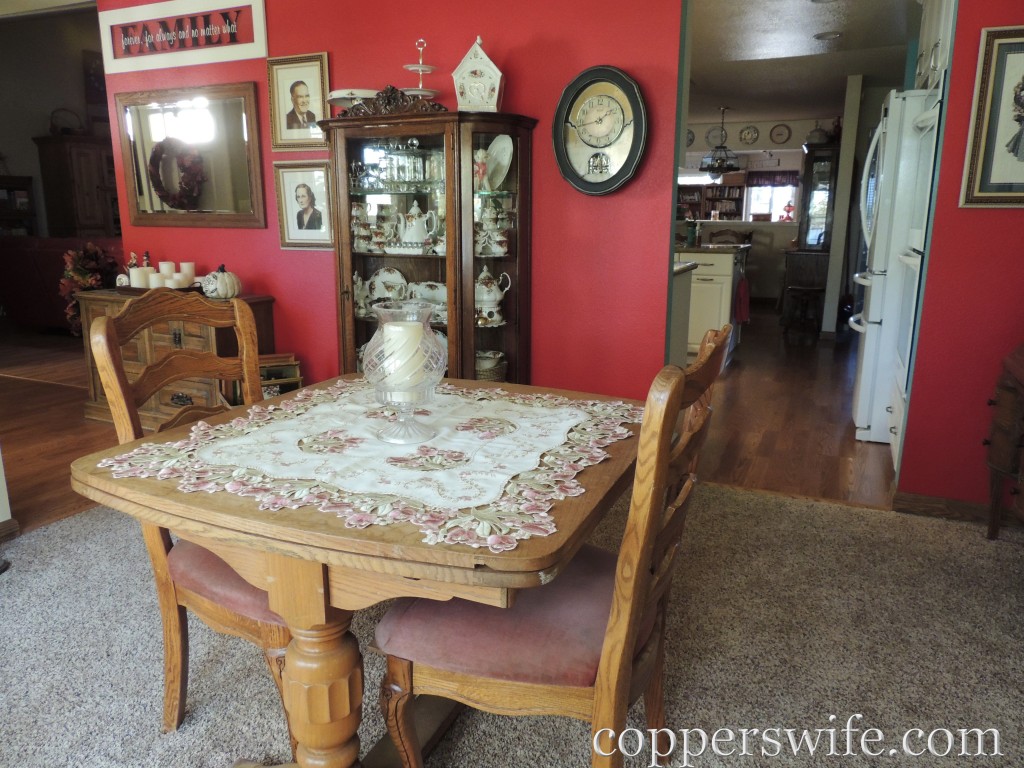 This room is still not put together quite the way I want it, but it's neat and tidy and functional! This is the table where I love to read my Bible in the morning, with something hot and caffeinated close at hand.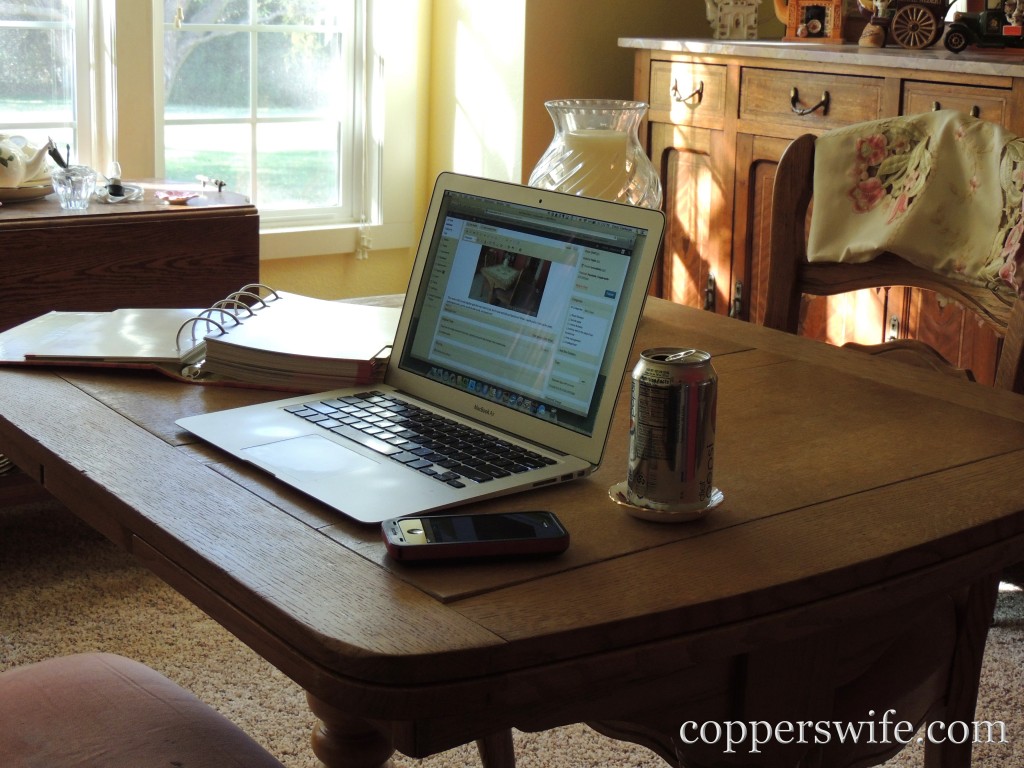 When I use the table for menu planning, or other writing projects, I fold up the pretty, embroidered cloth, put the candle holder aside, and spread out. The table has leaves I can pull out when I need even more room. The windows of this room face west, so it's filled with wonderful light in the afternoon. The trees just outside provide filtered light during the summer months. The leaves are falling now, providing a bit more Autumn light, and soon they'll be bare, allowing plenty of afternoon sunlight in. It's a wonderful place to work.
(If you click on the links below, and then make a purchase, some of them may put a few pennies into my pocket. Of course, there is no additional cost to you. I am always grateful to those of you who choose to bless me this way. You can read about how I spend those pennies, and more about how I earn them, in my disclosure policy.)
The virus that hit my home ten days ago has stuck around. Poor Will is still pretty sick. With all of that going on, we haven't stuck to our menu plan completely, so a couple of things are showing up this week from the menu plan I posted two weeks ago. Remember, it's really important to remain flexible with your menu plan. The menu plan is a tool to help you. Don't allow it to be a wicked taskmaster.
Here's what's on the menu in my home this week.
Monday: Roasted Chicken Breasts, Golden Mashed Potatoes,
 Green Salad
Thursday:  Burritos, Green Salad
Friday: Friday Morning Bible Study Potluck – I'm taking Teriyaki Wings, Simply Sinful Cinnamon Muffins
Saturday:Cheesy Nachos with Spicy Beef
Sunday:  Breakfast: Lemon Blueberry Coffee Cake
Not sure where to start with menu planning? Looking for some new ideas? I've a whole series that will help!