Homeschooling is hard work, but if you have a preschooler (or two or three) in the mix, your homeschool day can be downright chaotic. Enter Kendra Fletcher's e-book,  Preschoolers and Peace – Homeschooling Older Kids With Success While Loving the Little Ones at Your Feet.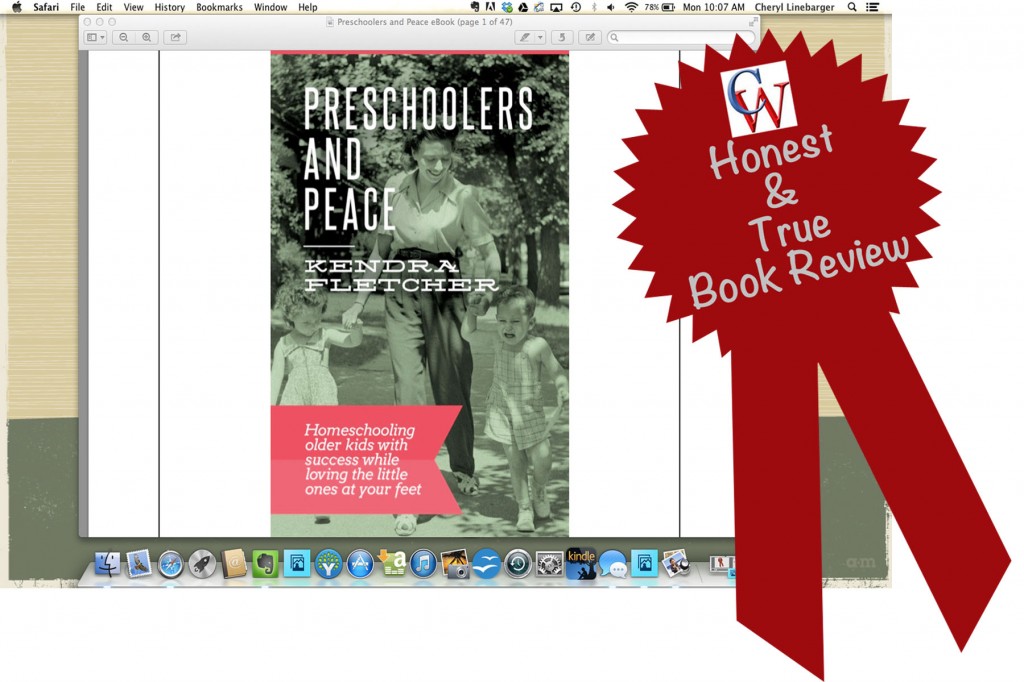 Whether you're homeschooling a small family with only one preschooler, or a houseful with two or three little ones, Kendra's book is loaded with encouragement and practical help for you. Kendra, a homeschooling mom of eight kids, has the experience and wisdom you need to keep your older children on track with their studies while still making your little ones feel loved and valued as members of the family. The book, which is just under fifty pages long, is easy to read, and divided into thirteen short chapters, manageable for even the busiest of moms.
Though it's small, Kendra has filled the book with all of her very best ideas. From planning your homeschool day around preschoolers, to keeping them busy, and even how to get some preschooling done without it being just a way to kill time until they nap, there's some real help for you in this little book. Through it all, Kendra reminds moms that what they really and truly need is not found in homeschooling, or anything else for that matter, but only in Jesus.
Preschoolers and Peace is grace-filled, loving advice from a seasoned mom of many. Her intent isn't to tell you what you must and must not do, but to come alongside you, to encourage you,  and to offer a helping hand.
A couple of my favorite chapters were "Preschool Boys" because, golly! After two girls, my two boys were an eye-opener for sure. God made them differently on purpose! I also loved "When Mama is Worn Out (or Pregnant). We all can become weary and discouraged, and Kendra offers several really good, practical helps for those times, too.
You do know you're indispensable, don't you?

On my worst homemaking/homeschooling days, I don't think I'm anything special around here. But on those rare days when I wonder if I could be doing something more important, my mom has always reminded me that if I were pursuing a career in the "real world", I'd be instantly replaceable if I decided to quit and stay home. But at home, there is no one else who will ever be the mother of these 8 children. ~ Kendra Fletcher
Preschoolers and Peace concludes with a fabulous list of more than one hundred resources, many of which are links to sites that will give you even more information, help and encouragement. What a terrific asset this list is! This little e-book is wonderful, and at just $3.99, it's a terrific bargain.
Just so you know, I received this book, free of charge, from the author in exchange for my review. Though the book was a gift, my review of the book is completely honest and unbiased.  (If you click on the links in this post, and then make a purchase, it may put a few pennies into my pocket. Of course, there is no additional cost to you. I am always grateful to those of you who choose to bless me this way. You can read about how I spend those pennies, and more about how I earn them, in my disclosure policy.)
You can order and download Preschoolers and Peace here.  Or, if you prefer get the Kindle version here.
 You won't be disappointed!
Also by Kendra Fletcher – Circle Time