Sometimes, I think, we can get discouraged when we aren't accomplishing things quite as quickly as we'd like. We're better served to look at what we have accomplished with gratitude.
I was just sure, when I posted last week about my creativity and reading goals, that I would have finished piecing the second of seven quilts for my grandchildren (one for each), and that I would have made great progress on at least one of Dani's dishtowels. As it turns out, I made just a little bit of progress on the dish towel and didn't even touch the quilt. I did get the quilt and the rest of its cut pieces, along with the backing fabric, all gathered together in one place, though. It's a step in the right direction.
I also got caught up a bit with the idea of making a few pretty little things for Valentine's Day. To that end, I cast on for this dishcloth (scroll down to Feburary, 2007), and I bought a few other little things to go along with it, too.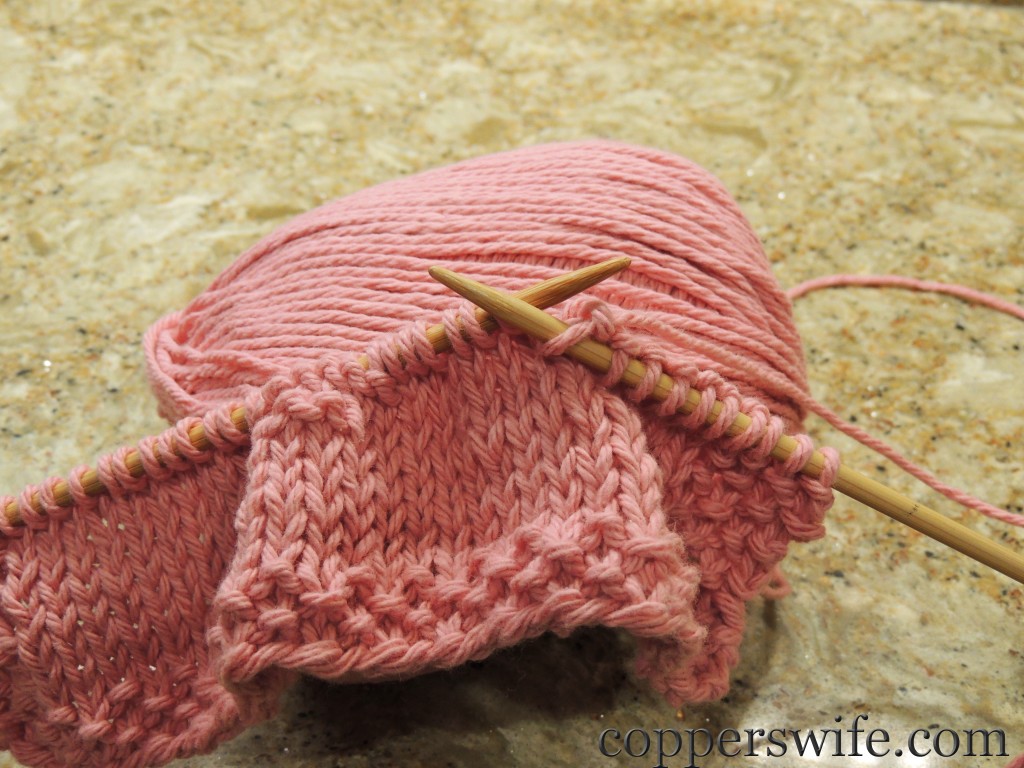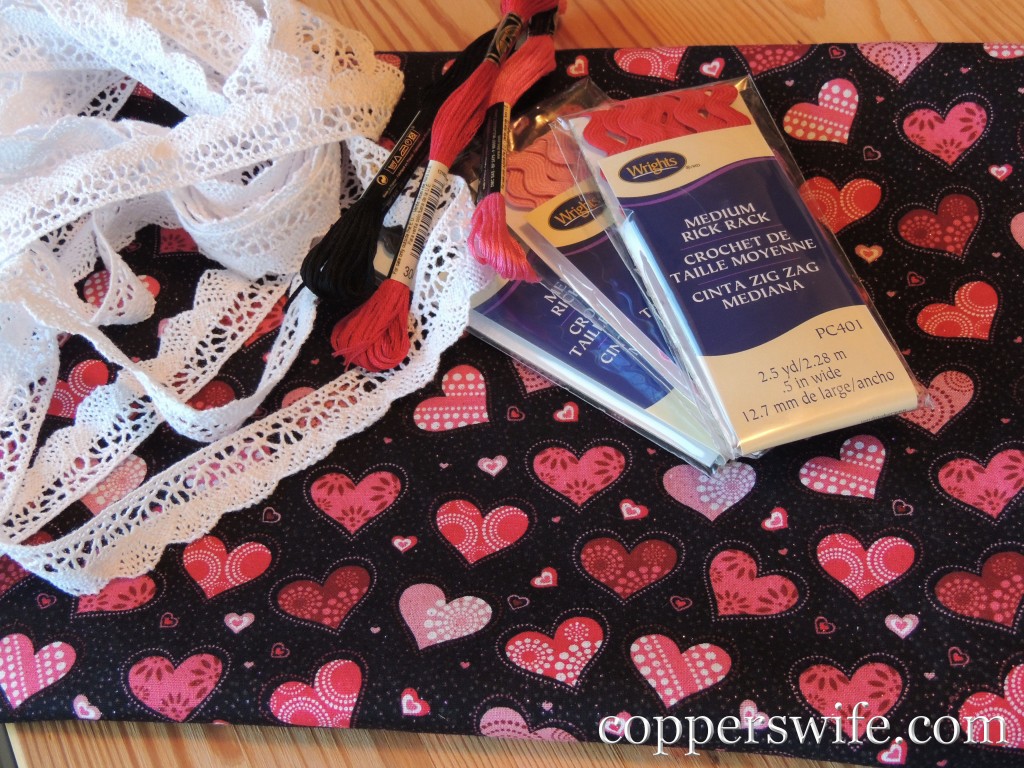 Not sure if they'll be done for this Valentine's Day or next, but I'll be happy with whatever I am able to get done this year. As always, holding my own plans loosely!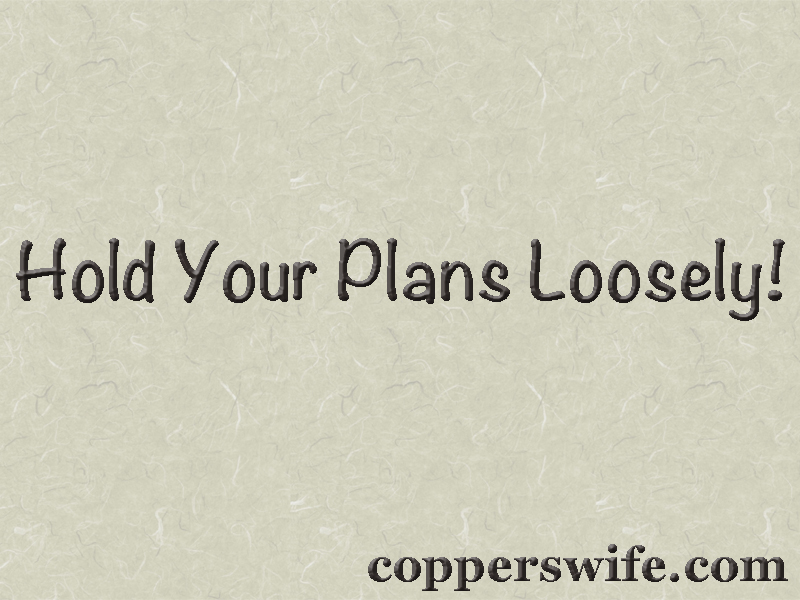 (If you click on the links below, and then make a purchase, some of them may put a few pennies into my pocket. Of course, there is no additional cost to you. I am always grateful to those of you who choose to bless me this way. You can read about how I spend those pennies, and more about how I earn them, in my disclosure policy.)
Sickness entered our house again, leaving me with little time or energy for much sewing or needlework. It did allow for more time to read, though! I finished Winter Solstice,
 which I loved! It was perfect winter reading by the fire.  I got a good start in How to be Lovely: The Audrey Hepburn Way of Life.
 It's full of lovely quotes from Miss Hepburn and loaded with beautiful photographs.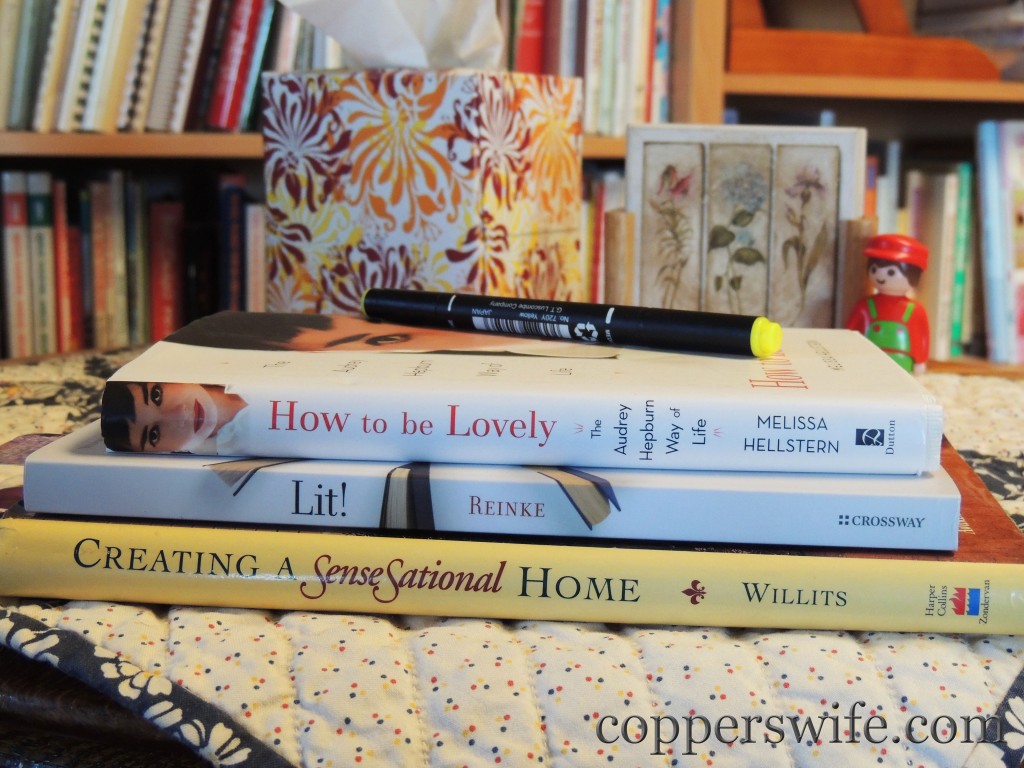 I've also begun re-reading Creating a SenseSational Home.
 I've read, and re-read, this book probably close to a dozen times, and every reading either reminds me of some lovely things that I used to do in my home, or inspires me to try to some new things. Here's a review I did of the book way back in 2008. I'm looking forward to reading through each chapter, one for each of our five senses, and pondering what sorts of things I can do to improve the climate of my home.
So far, I'm only a chapter or two into Tony Reinke's Lit!: A Christian Guide to Reading Books.
 I'm keeping my highlighter handy while reading it. This book-loving gal is finding much wisdom in the "Theology of Books and Reading" that makes up the first third, or so, of the book. I plan to take my time and digest his ideas bit by bit, as I go.
How is your sewing, knitting, or other crafting going? Remember, don't be discouraged if the going is slow. Be thankful! We all have families to care for, and some of us homeschool, and others have jobs outside the home. Any progress at all is still progress!
What are you reading these days? I'm always looking for new-t0-me authors or book titles. Remember, I think it's vitally important that you are reading, even if it's just a few minutes here and there.
I'm joining Elizabeth Foss for Needle & thREAD this week.