I mentioned yesterday  that I'd realigned my personal schedule (it's more of a flow chart, really), to better reflect my personal priorities. As I looked back over the months that were 2013, I realized that I had not read nearly as much as I would have liked, and the time that I was able to spend creatively was almost non-existent.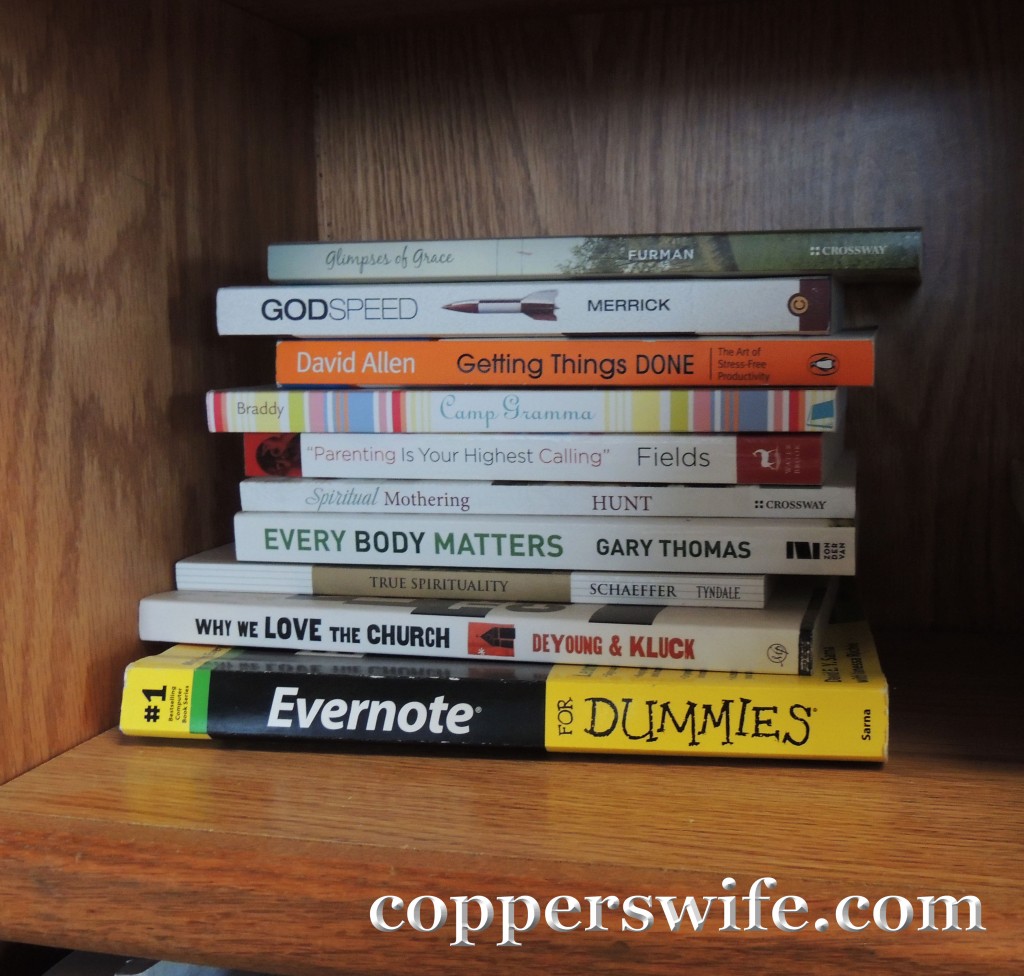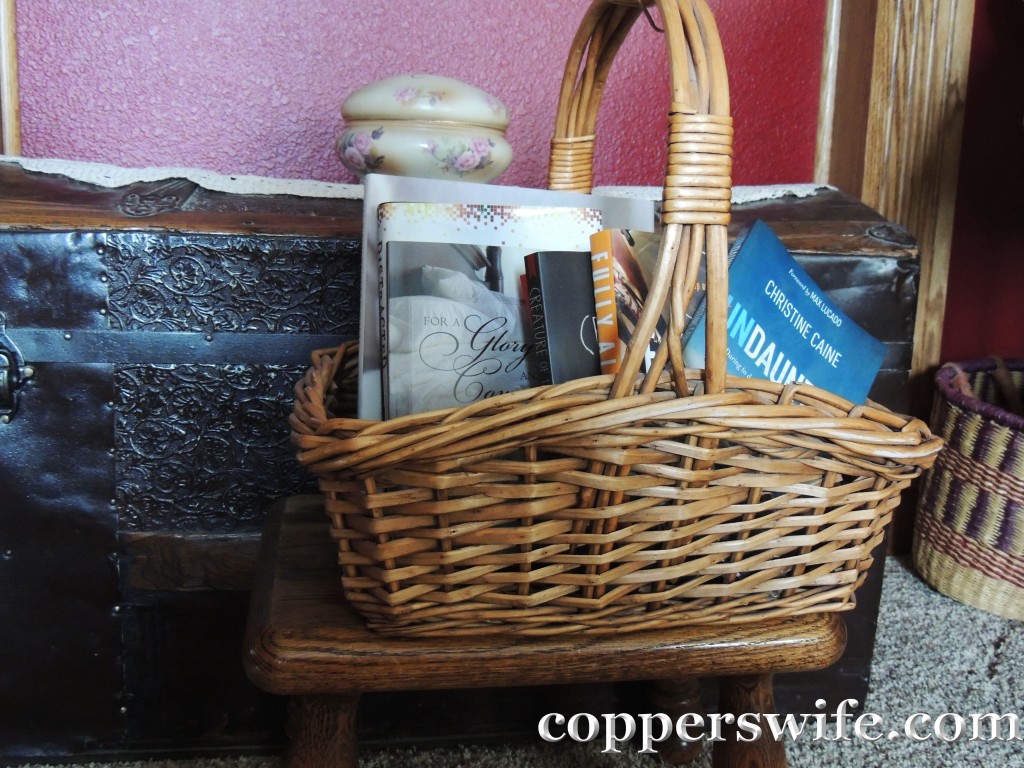 I have quite a few books on my waiting-to-be-read queue, stacked here and there about my home.  Some I've started, and then needed to put aside. Most I've not yet begun. There are dozens more on my Kindle, most of which were downloaded when they were offered for free. Because I read so little last year, looking at all of the books I have around that I want to read was almost overwhelming. Where to start?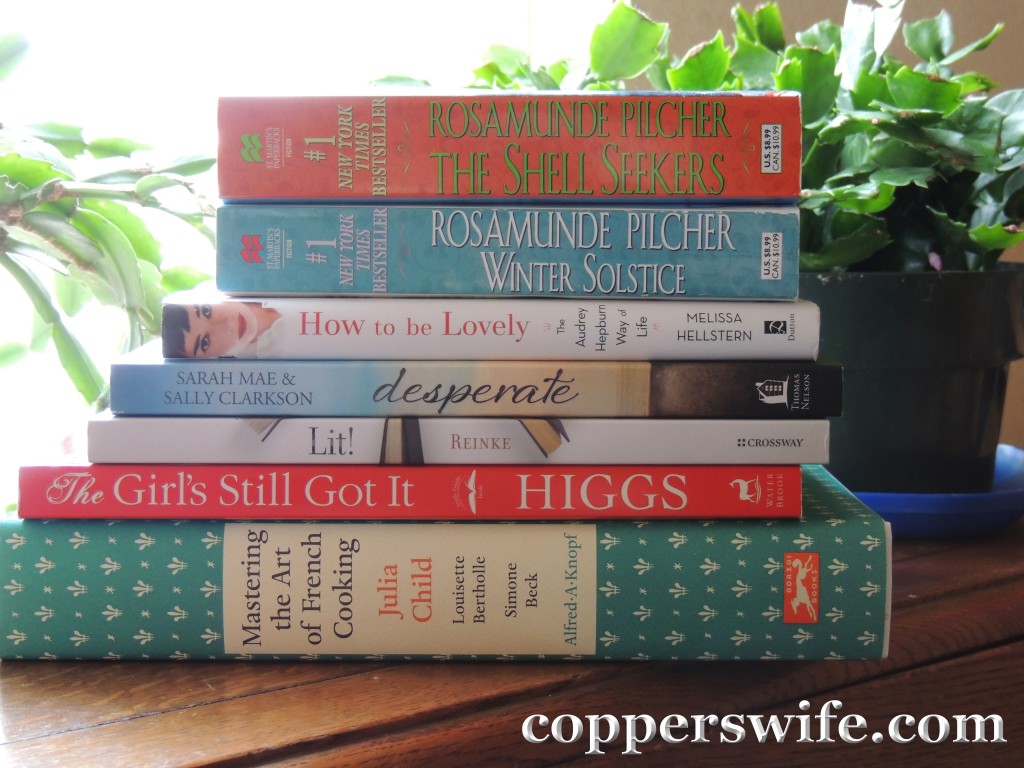 My family blessed me with a few brand new books for Christmas and for my recent birthday. That made it easy! I'll just start with those! I chose three from the stack above, and added one from my Kindle, to fill my reading basket to start the year.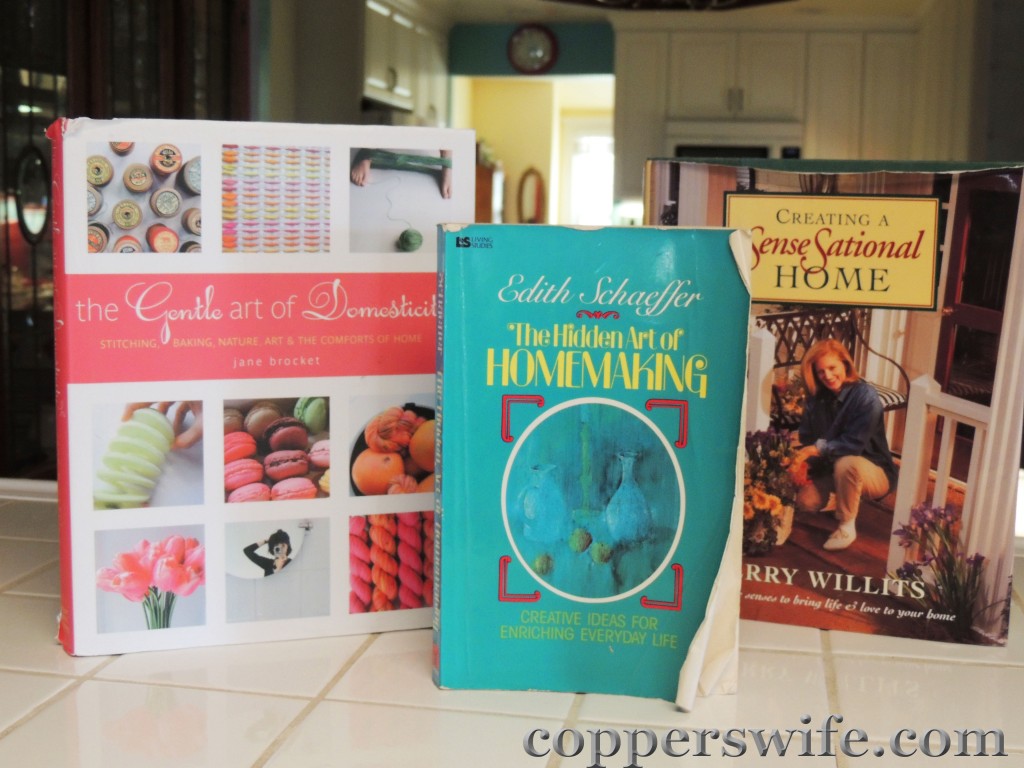 I also determined during the fall that I'd reread three of my favorite homemaking books, taking my time through each one. Each has blessed and encouraged me so much over the years, and I glean new ideas and inspiration with each subsequent reading. Good books are like that, aren't they? In many ways, they're like a good friend. With all the crazy that was my late fall, I didn't get started with that project, but the first of the three is in my current reading basket now.
We are made in the image of the Creator of all things. He has given each of us a tiny portion of creativity, but we are all gifted, creatively, in different areas – music, painting, poetry, drawing, etc.  I love to exercise my creativity in the areas of sewing, knitting and embroidery. Not surprisingly, my skill level soars when I'm practicing these pursuits regularly, and it plummets when I do not.
This past year has seen a few projects begun with great anticipation, only to find them languishing in my sewing nook at year's end. As I  previously mentioned, I've purposely manipulated my daily, and weekly, schedules to allow for more time to work on not only those projects that are already begun, but hopefully to start some new things before the year is out.
Here's where I'm starting.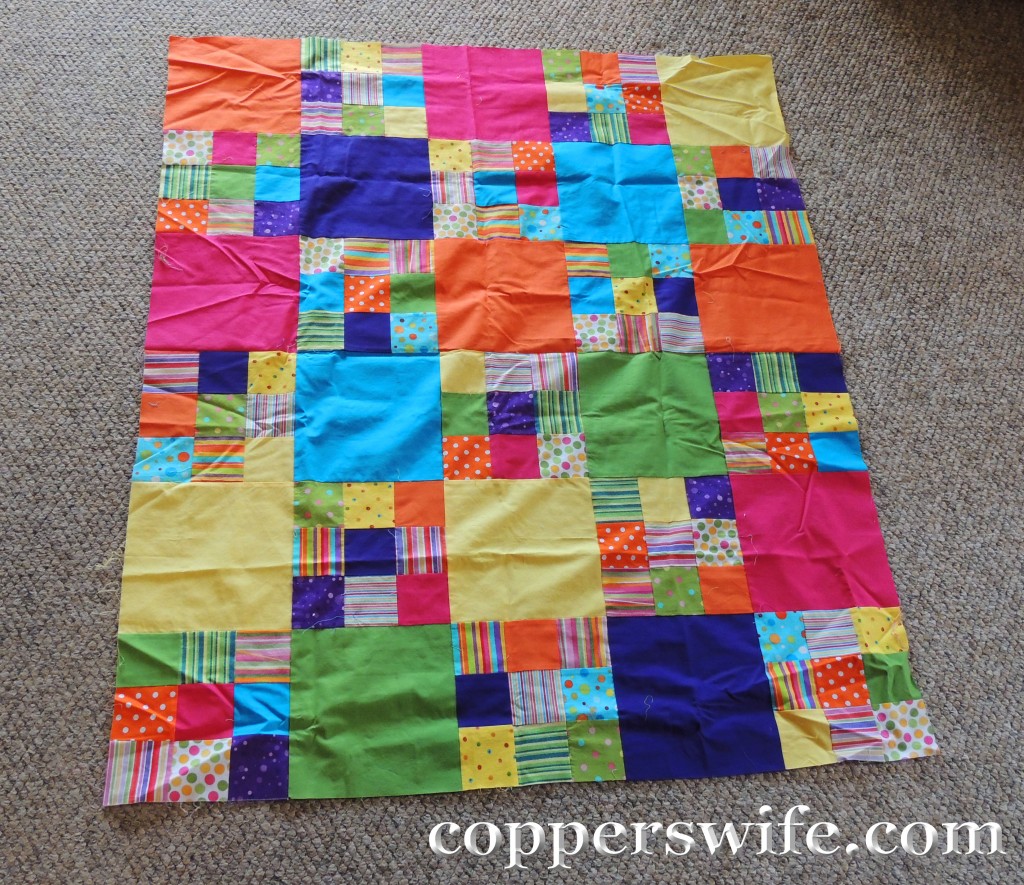 My second (of seven) grandchildren's quilts. The last row still needs to be pieced and added, and then it's ready for the batting, backing and basting. I still have no idea how I want to quilt it.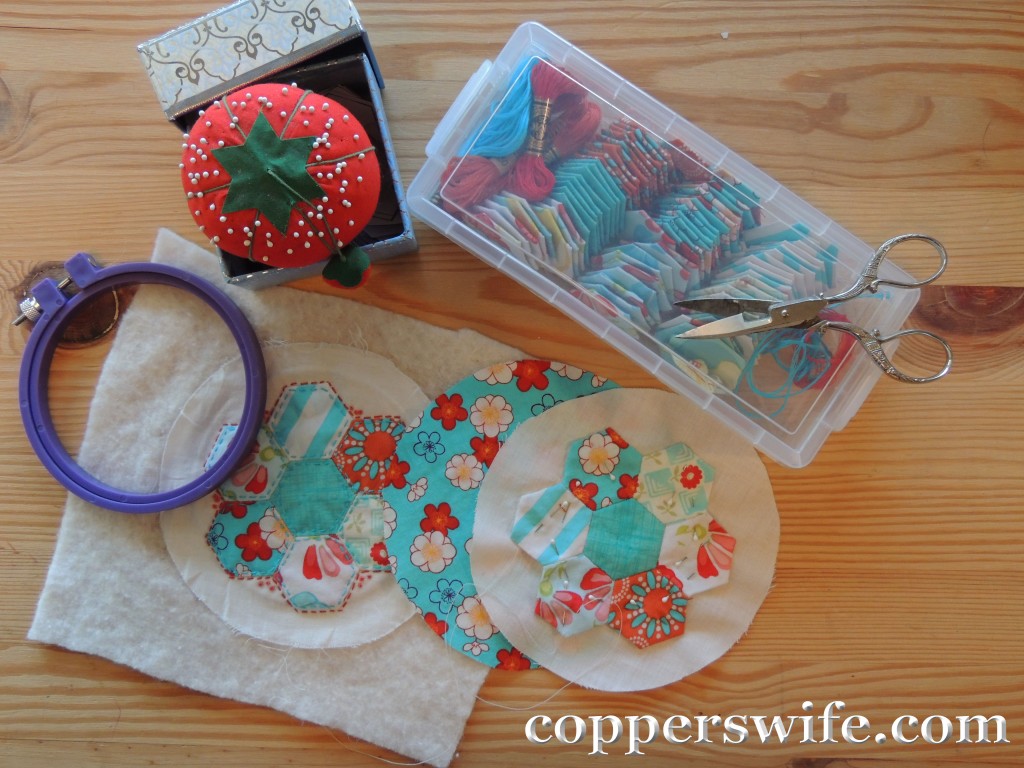 This hexie project begun last summer.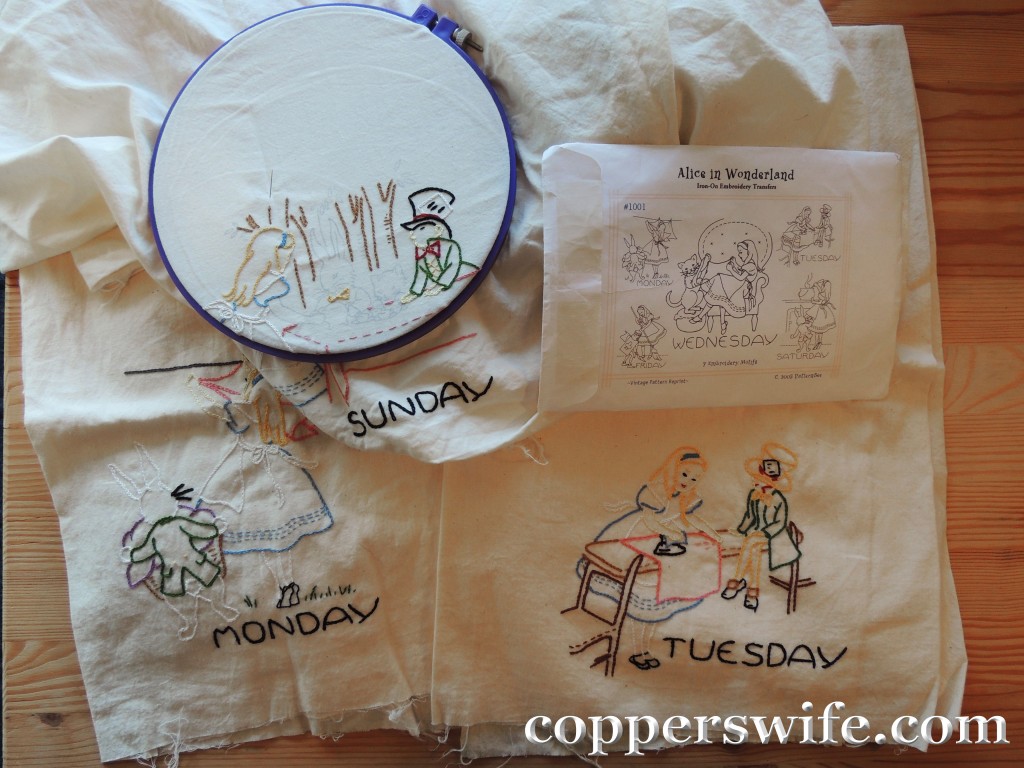 Dani's dishtowels.
I'm looking forward to reading much more this year, and to having a bit more time to enjoy some creative pursuits. How about you? Are you planning for more reading in 2014? What sorts of goals do you have to allow those God-given creative juices to flow?
I'm joining Elizabeth Foss for this week's Needle and THread. Hop on over and see what others are reading and stitching.