Most of us have computers or smartphones that use apps. We have an app for our grocery list, an app for our recipes, an app to keep track of our yarn or fabric stash, an app for menu planning, an app for homeschool planning, and app for this and an app for that. Too many apps! Too much switching back and forth. Too much wasted time. Too much! What if there was on app that could do all of it? Would you use it? How about if it was free?
(If you click on the links below, and then make a purchase, some of them may put a few pennies into my pocket. Of course, there is no additional cost to you. I am always grateful to those of you who choose to bless me this way. You can read about how I spend those pennies, and more about how I earn them, in my disclosure policy.)
 Evernote is the one app that I use all day, every day. I use it to keep track of menu planning, project planning, homeschool planning, sewing and crafting, and so much more. I no longer keep a hard copy of my daily planner or my Homemaker's Journal. All of that information is now on Evernote. I've been using Evernote for several years, and I can tell you that it's easy to use. It's super powerful, too, able to handle anything you want to throw at it – photographs, clippings from web sites, audio notes, pdf documents, scanned documents, e-books, along with any and all notes that you type in yourself, and so much more. And it's completely free! You can add tags to your notes to make them easily searchable, too. There's a web clipper, that allows you to clip articles or entire web pages to your Evernote account. You can even email directly to your Evernote account.
My favorite feature, though, is that Evernote syncs seamlessly across all of your devices – desk top, lap top, tablet and smart phone. I have it, and use it daily, on my laptop, my iPad, and my phone. Better still, if you're completely away from all of your devices (horrors!), you can access your Evernote account on any computer or device with internet access. What could be more convenient? Did I mention that it's free?
If you can manage a file cabinet, you can manage Evernote. Your Evernote app will be made up of notebooks, much like file folders in your cabinet, or the stack of notebooks you keep on your desk. Each notebook will contain all of the "notes" (or pages) that you want in that folder.  For example, I have a notebook called Medical. In that notebook are notes titled "Kaiser numbers" (each of our medical record numbers), "Rx" (an up to date list of our current prescriptions), "blood pressure" (where I record my blood pressure readings every time it's taken),  etc. In fact, as I was writing this and referring to my Medical notebook, I noticed that there was an old note in there from when I was monitoring, on my pediatrician's advice, the very high fever one of my kids ran a year or so ago. That note is no longer necessary, so I deleted it, just as I'd toss out a piece of paper that was no longer necessary.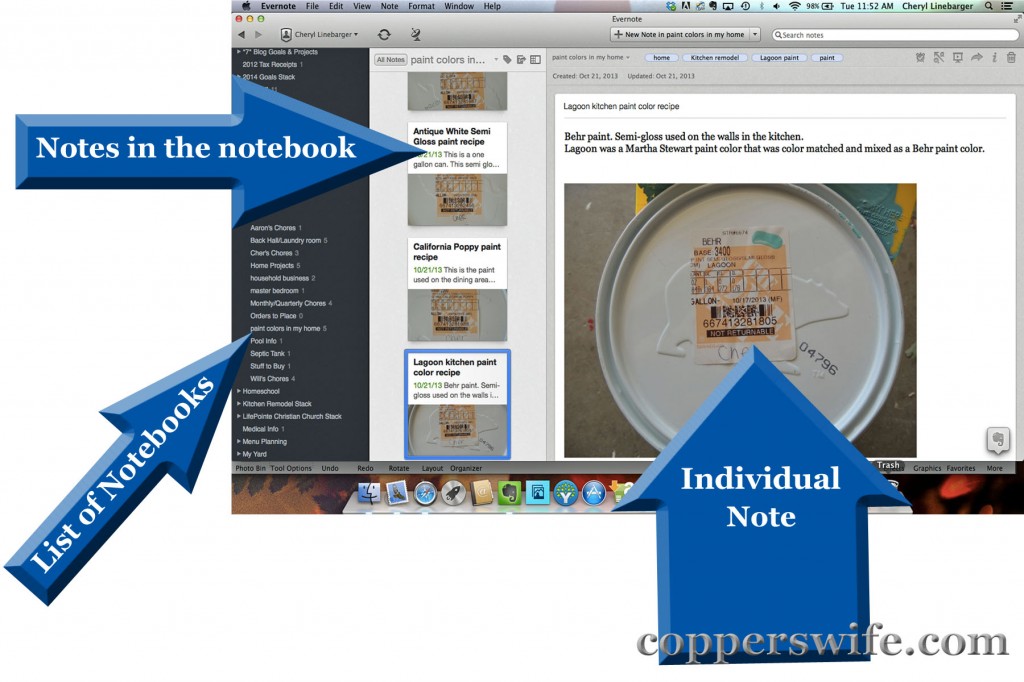 Here's a screen shot of my Evernote account on my laptop. My notebooks are listed down the left side. I have my "Paint colors in my home" notebook open, and all of the notes contained in that notebook are in a column just to the right of my Notebooks list. In the main window, the note that I have open contains the information for the paint that's in my new kitchen.
Menu planning, list making, project planning, homeschool planning, goal setting, clipping articles I want to read in the future, clipping pictures for decorating ideas, personal planners, homemaking journals……There are apps, really good apps, for all of these things, but I love and use Evernote for all of them. I can zip between Evernote notebooks on my phone or iPad much faster than waiting for another app to open, or switching back and forth between apps. In my home, Evernote is essential!
Paperless homemaking is a great way for you to look well to the ways of your household, and Evernote is a huge first step toward reducing the amount of paper used in your home. In the next few weeks, I'll be looking at all the different ways that you can use Evernote in your home, and sharing more about paperless homemaking. Check back soon!