A little more than a year ago, my daughter, Corin, gave me a sweet gift basket filled with all sorts of goodies. It was meant as a wedding recovery gift for the days right after Dani's December 29 wedding. Included in the basket was a new-to-me crockpot cookbook. That cookbook has totally changed the way I use my crockpot!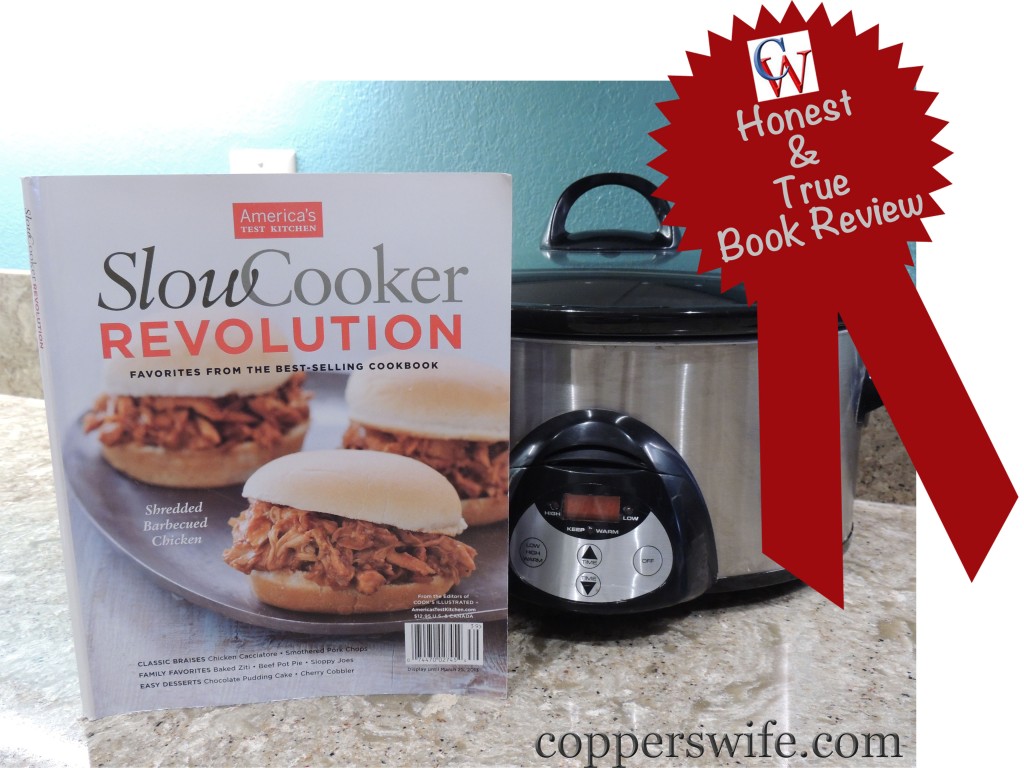 (If you click on the links below, and then make a purchase, some of them may put a few pennies into my pocket. Of course, there is no additional cost to you. I am always grateful to those of you who choose to bless me this way. You can read about how I spend those pennies, and more about how I earn them, in my disclosure policy.)
Slow Cooker Revolution
, by the folks from America's Test Kitchen, is not your mother's crockpot cookbook. Nosirreebob! In fact, very few of the recipes resemble the dump it all in and cook on low for 8 hours directions from the past. These recipes require a bit more prep work, but the results are so superior, it is time well spent.
I've tried several recipes during the last year, and none of them have tasted like they cooked all day in a crockpot. This is a good thing! The techniques that make the difference here include browning meat and partially cooking the aromatics, or some of the heartier vegetables,  before putting them into the slow cooker, although this varies by recipe. Some common ingredients, like soy sauce, pop up in recipes, giving a huge boost of flavor in a dish where its use would not be expected. There are also some great ways of using foil in your slow cooker that make a huge difference in the way a dish turns out. Pure genius!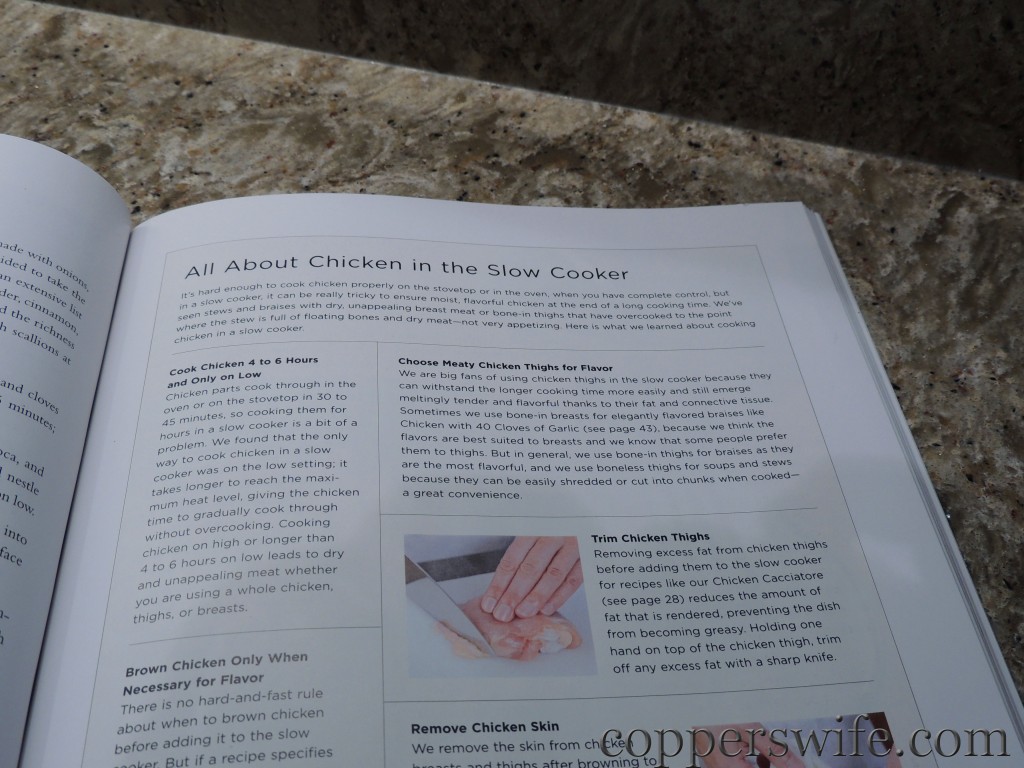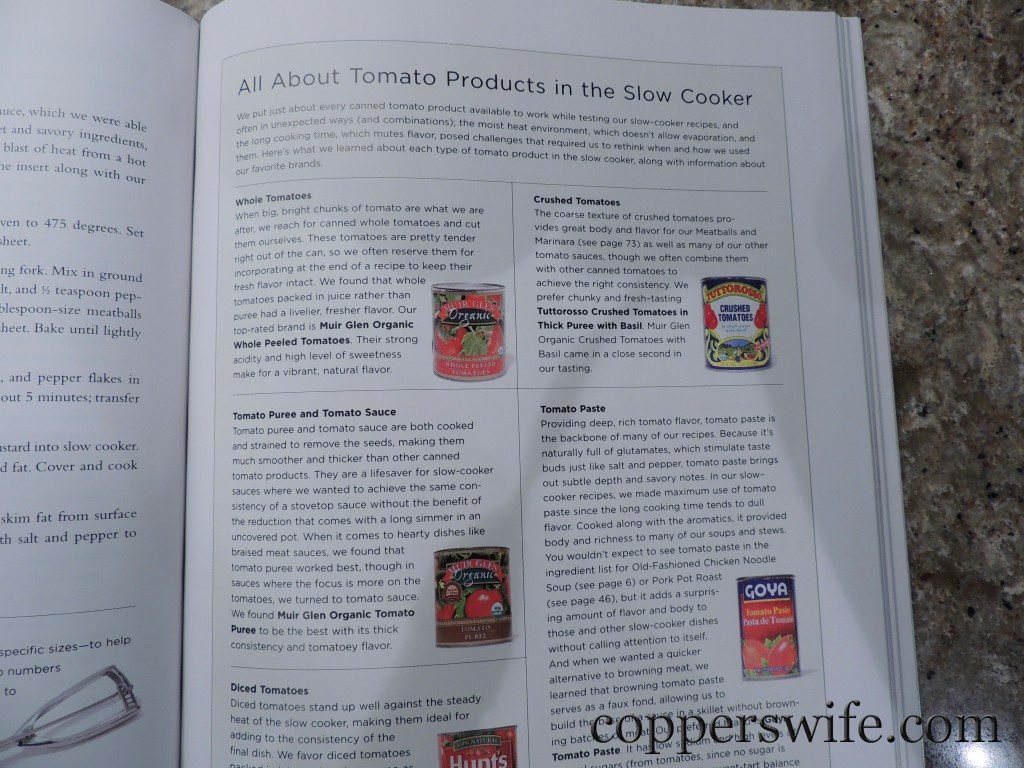 In true America's Test Kitchen style, Slow Cooker Revolution
 is filled with lots of great "how to" information, accompanied by full color photos, so that you can see just how to trim a roast, the proper way to skin chicken, or how to slit pork chops to keep them from curling. There are also the buying guides and "All About" sections that make the America's Test Kitchen cookbooks such a huge benefit in the kitchen, and that, in my opinion, make them a bargain, as well.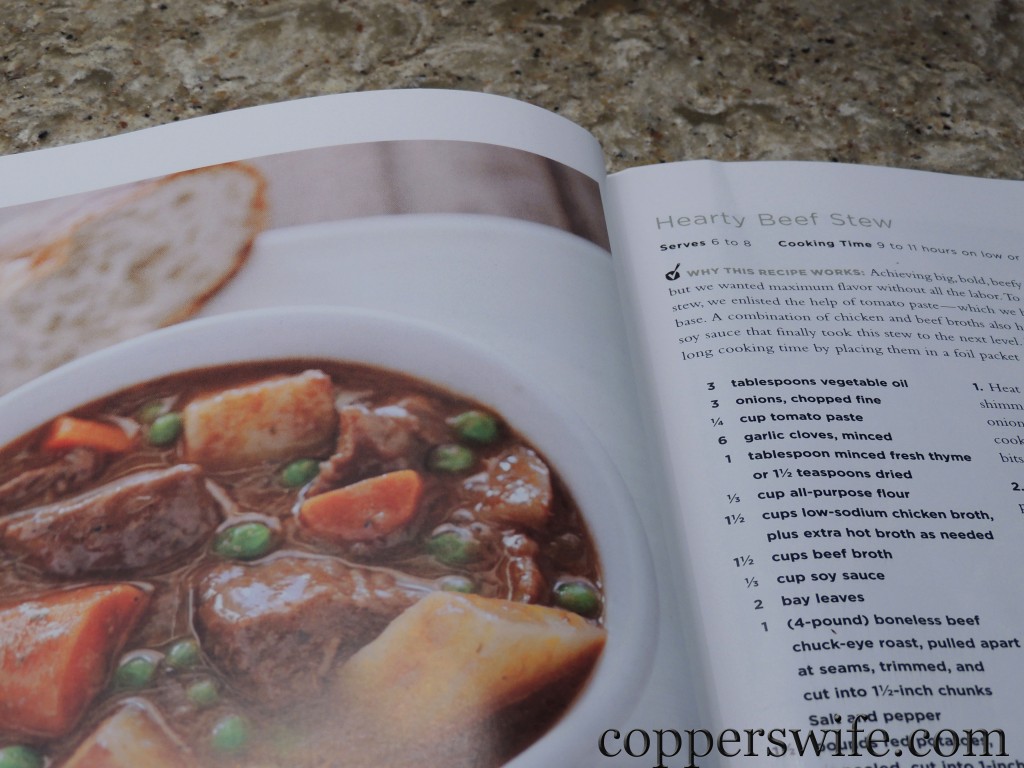 Slow Cooker Revolution
 is replete with recipes for delicious main dishes (everything from soups and stews, to casseroles and chili, to meatballs and meatloaves, to hearty braises), side dishes, breakfast and even dessert. Our favorite recipe, so far, is the Hearty Beef Stew, which was amazing! The potatoes and carrots were cooked through without being mushy, and the flavors of all of the ingredients blended nicely, as they should in a good stew, without everything in the pot tasting exactly the same. As I mentioned before, there is a bit more prep time (maybe thirty minutes in the morning), but the aroma as it cooks all day, and the flavor on the table in the evening, made the little bit of extra effort a pleasure.
Slow Cooker Revolution
 isn't your mom's slow cooker cookbook, it's something far better!