I recently rediscovered my recipe for Almond Poppy Seed Bread, and I've been making it fairly often ever since. This bread is good to serve, spread with butter, as a side dish to almost any meal, and it's texture and stability make it a good sandwich bread when a slightly sweet bread enhances the filling. However, my very favorite use of this bread is to toast it, spread it with real butter, and enjoy it alone, or alongside of scrambled eggs for breakfast. Or lunch. Or Whenever.
(If you click on the links below, and then make a purchase, some of them may put a few pennies into my pocket. Of course, there is no additional cost to you. I am always grateful to those of you who choose to bless me this way. You can read about how I spend those pennies, and more about how I earn them, in my disclosure policy.)
Almond Poppy Seed Bread makes the best toast ever. Slightly sweet with lots of great almond flavor. Great texture that holds up well in the toaster.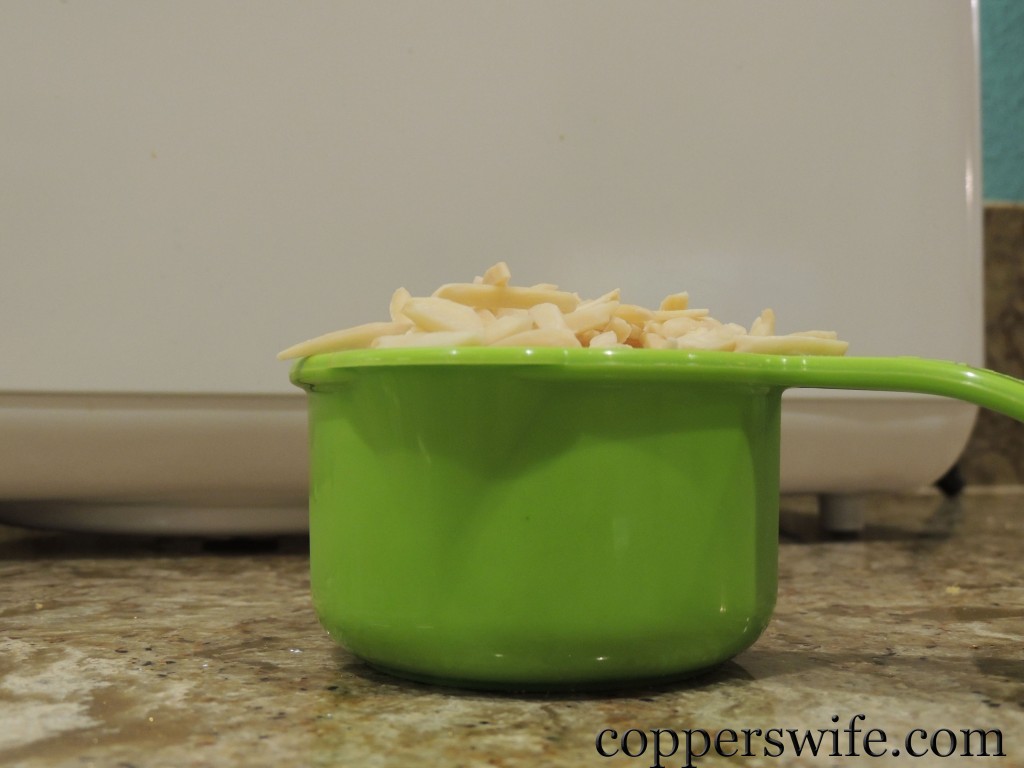 The thing that makes it extra great, though, is the addition of the slivered almonds. They add a bit more flavor, and a lot more crunch, and all in all are what I think makes this such a terrific loaf for toasting. My recipe says 2/3 cup of slivered almonds. I make that a heaping 2/3 cup because I love them so much.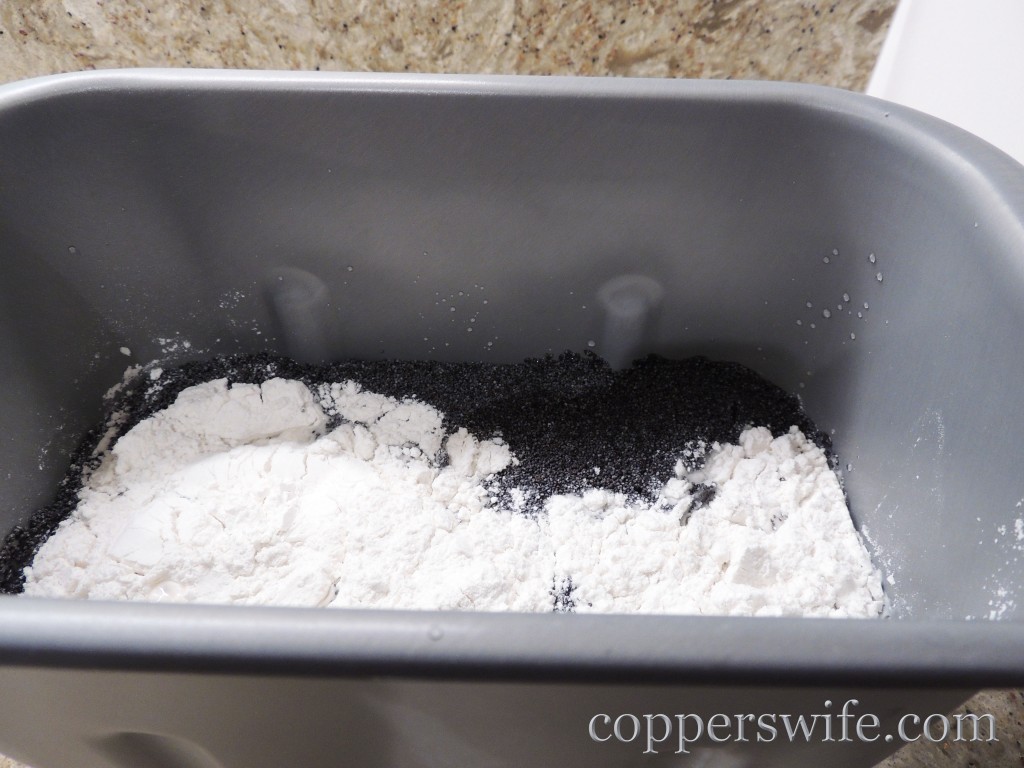 There are also two Tablespoons of poppy seeds in this loaf. They look like a lot floating around in the pan, but as they're mixed in and the bread rises, it ends up being just the right amount.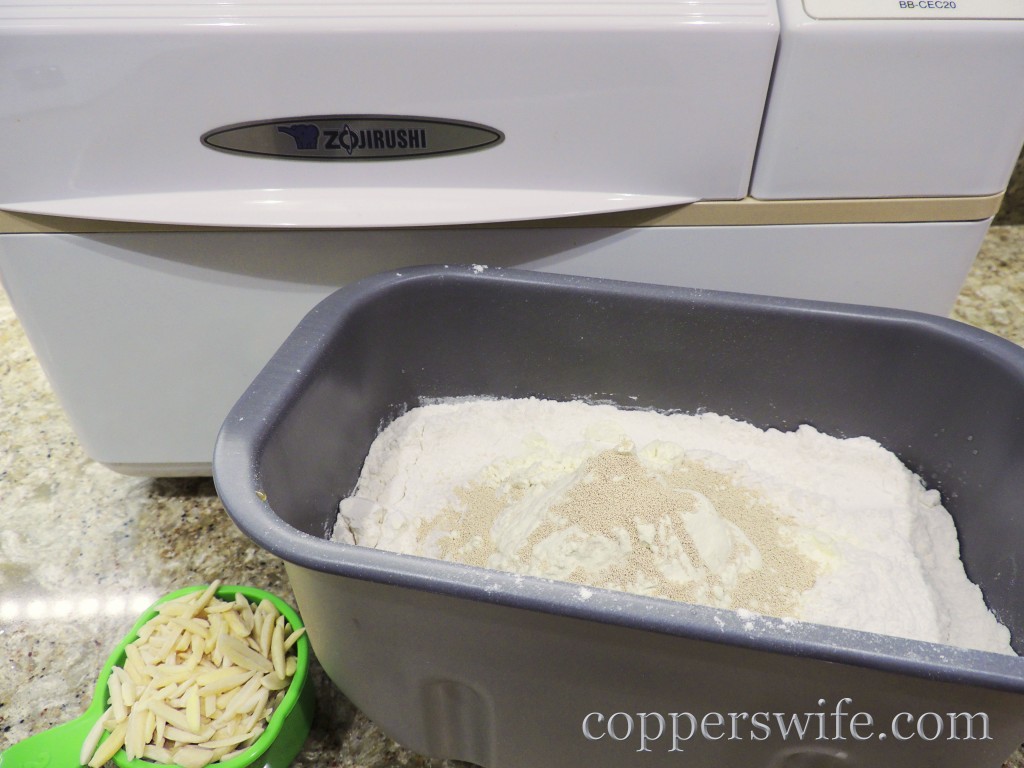 That's yeast on the top, in the picture above, but the slightly creamy color under the yeast is buttermilk powder. I use Saco Buttermilk Powder
exclusively in all of my recipes that call for Buttermilk. I like Saco brand because it blends in beautifully and the results in the final product are every bit as good as they'd be from liquid buttermilk. The trick is to add the Buttermilk Powder to your dry ingredients, and then add water with the liquid ingredients in the same amount as the buttermilk called for the in the recipe.
The ratio of Buttermilk Powder
is 1 Tablespoon of Buttermilk Powder for each 1/4 cup of Buttermilk called for in your recipe. The water ratio is cup for cup the same as the buttermilk used. In this recipe, I added 1 – 3/4 cups water at the beginning (instead of 1 – 3/4 cups buttermilk), and then added 7 Tablespoons of Buttermilk Powder with the bread flour. Super easy, and those directions are printed right on the container if you forget.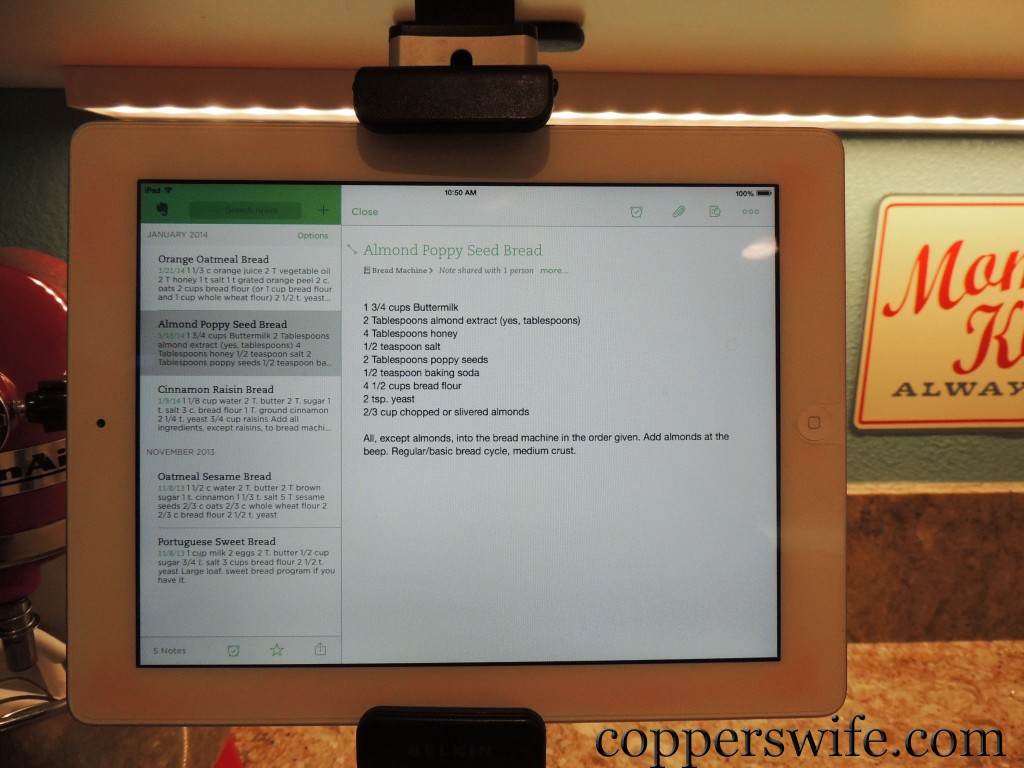 My Almond Poppy Seed Bread recipe is on Evernote, which makes it super easy for me to find every time I want to make it.  Lord willing, tomorrow will be the day that I tell you how to use Evernote as your recipe box as I continue my Paperless Homemaking Series.
This is one of my current favorite recipes. It's delicious, but because it's made in the bread machine, it's quick and easy to make, too. Delicious, quick and easy is always a good combination!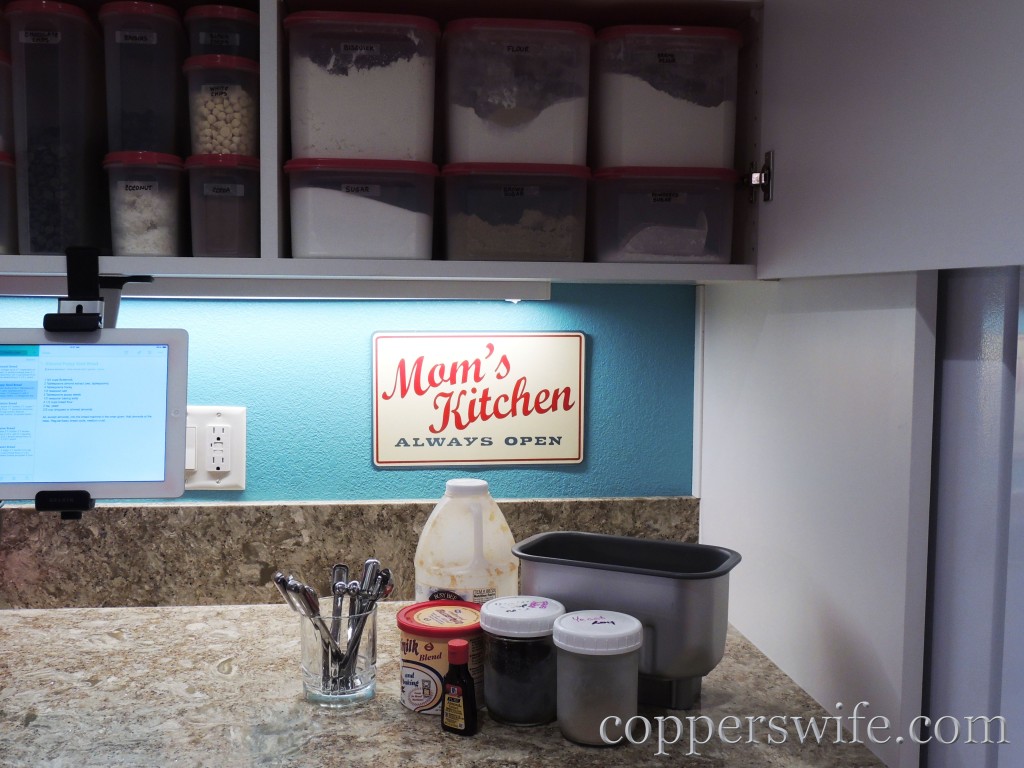 ALMOND POPPY SEED BREAD
1 3/4 cups buttermilk (or 1 3/4 cup water if you use Buttermilk Powder)

2 Tablespoons Almond Extract (yes, TABLESPOONS)
4 Tablespoons honey
1/2 teaspoon salt
2 Tablespoons poppy seeds
1/2 teaspoon baking soda
4 1/2 cups bread flour (if you're using Buttermilk Powder, add 7 Tablespoons Buttermilk Powder
with the flour)
2 teaspoons yeast
2/3 cup slivered almonds
Add all ingredients, except the slivered almonds, into the bread machine pan in the order listed. Set machine for basic, or regular/white bread cycle. Add almonds at the beep. Enjoy the wonderful aroma as it bakes!
I currently own, and love, my Zojirushi Home Bakery, and feel it's worth every penny. Dani has the Zojirushi, too.  However, I also really liked  my old Breadman Ultimate, and my daughter, Corin still has hers, and she and my grandkids use it several times a week. I recommend both of these bread machines.