I used to participate in The Simple Woman's Daybook on a regular basis. With so much going on right now, I thought it might be fun to use her daybook platform, with a few of my own changes, to catch up a bit!
(If you click on the links below, and then make a purchase, some of them may put a few pennies into my pocket. Of course, there is no additional cost to you. I am always grateful to those of you who choose to bless me this way. You can read about how I spend those pennies, and more about how I earn them, in my disclosure policy.)
FOR TODAY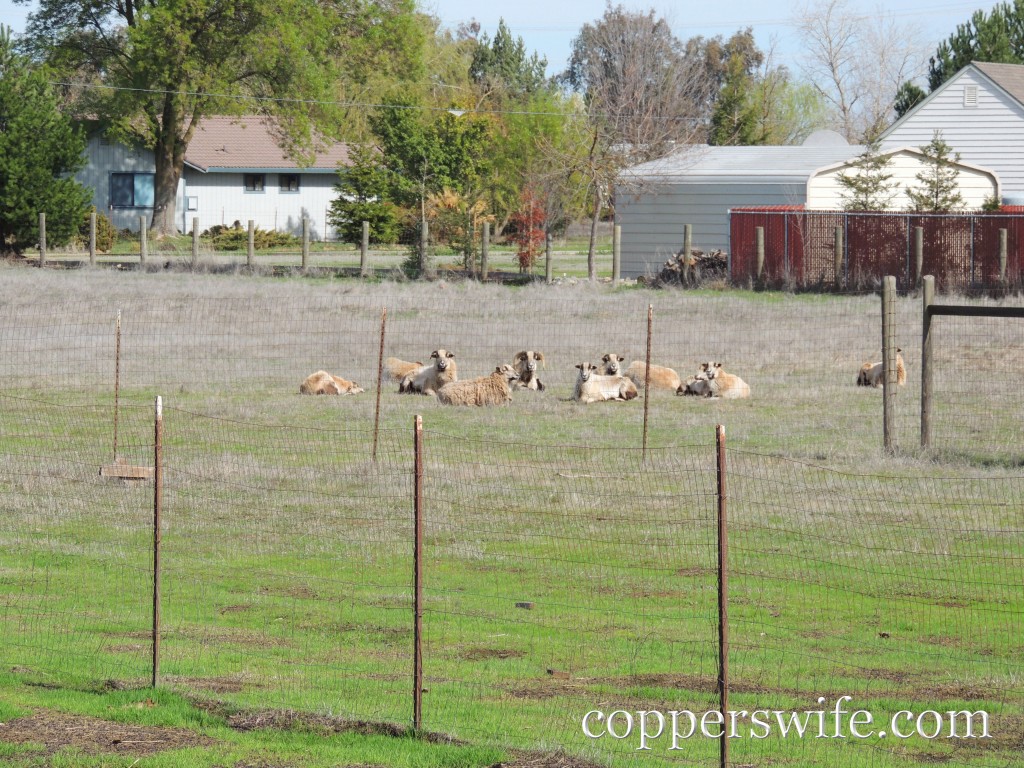 Outside my window – It's greening up a bit after the rain last week. The areas closest to my house are green, but the pasture where we run our sheep isn't looking so good. Two dry years in a row have taken their toll and I'm afraid that there may not be anything alive out there to grow.  We had two or three inches of rain last week, but that is just a tiny drop in the bucket of where we should be this time of year. The farmers around us have wells, and they've been irrigating already, but the underground water table is falling, too. Our California drought will have a negative impact on the economy nationwide.
I am thinking – How glad I was to see Will this afternoon! He's been away at winter camp with the youth from our church since Friday. It's way too quiet around here when he's not around.
I am thankful – For grace.
In the kitchen
– Waffles this morning. A caramel macchiato mid-morning, lattes in the late afternoon.  
Salisbury Steak
, Garlic Mashed Potatoes and Green Beans with Bacon for dinner.
I am wearing – Black Land's End knit pants, given to me as hand-me-downs years ago, and they're still going strong, a grey Disneyland sweatshirt, pink and white striped socks, and my favorite Chuck Taylor's with the hot pink laces. Nine earrings, too. Always.
I am creating – A quilt for Grand #2, and the fabric has been purchased for Grand #3's quilt. There are seven of those grands already, and I'm determined that each of them will have a fun quilt from this grandma to just knock around in while watching movies, etc. I'm a beginning quilter, but it's good practice for me, and the kids don't mind mistakes. I also have a pair of socks on my knitting needles, and Dani's days-of-the-week dishtowels in my embroidery hoop. Plenty to keep me busy! (And now that I see this picture, I'm going to have to rip out my sock back to that boo-boo in the ribbing.)
I am wondering – if I can pull off a weekend away with Copper in the near future. He's working on call a couple of days a week, and he's been doing lots of home improvement stuff the rest of the week. He is, after all, retired, and a couple of days of rest and relaxation would do him good.
I am reading – Several books right now, but honestly? I'm watching the Winter Olympics every night, so my reading time is pretty limited until they end next week.
I am hoping – That I can reclaim my normal routine next week once the Olympics are over. These late nights, and therefore, late mornings, are not giving me my most productive days.
A quote for today – Hold your plans loosely!  For each time that I say it to you, I've said it to myself at least a hundred times. My days, and my time, are really not my own. They belong to God and it's up to me to manage that time wisely. Sometimes I do, sometimes I don't, but it's all His, in any event. His grace when I blow it is so sweet to receive.
I am looking forward to – Baseball! Tryouts are later this week, and the season begins in early March. Will has moved up a division this year, and we're playing in a different city, with all new coaches, parents and players, and we're pretty excited to see how the season shapes up.
I am learning
– To quilt. In fact, I've signed up for three classes at the quilt shop in one of our closer cities. I've learned a lot on my own, and I've had a lot of help from afar from 
a good friend
, but it just felt like time to take a few classes. The classes start in mid March.
Around the house – Copper is in the midst of rebuilding my pantry! New, deeper shelves, that will take full advantage of the pantry's depth and some space that is wasted in the current configuration. Shelves that are spaced more evenly, which will make room for one more shelf – that's six extra feet of shelf space. Six feet! He's also wiring the pantry for lighting. Lights! In the pantry! Yay!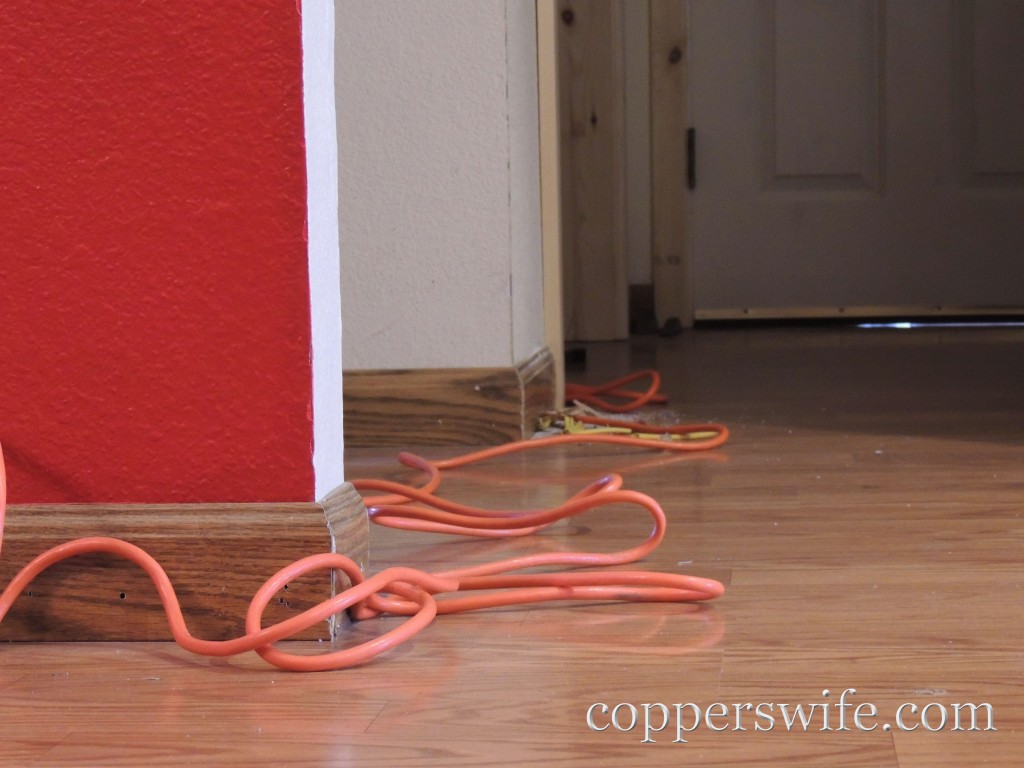 A peek into my day – electrical work happening in the pantry.
I am praying for – My father-in-law who has inoperable cancer. A very dear friend who recently lost her husband. Another dear friend who struggles with chronic, and often debilitating, pain. A lovely young woman from my church who is training to go to South Africa as a biblical counselor.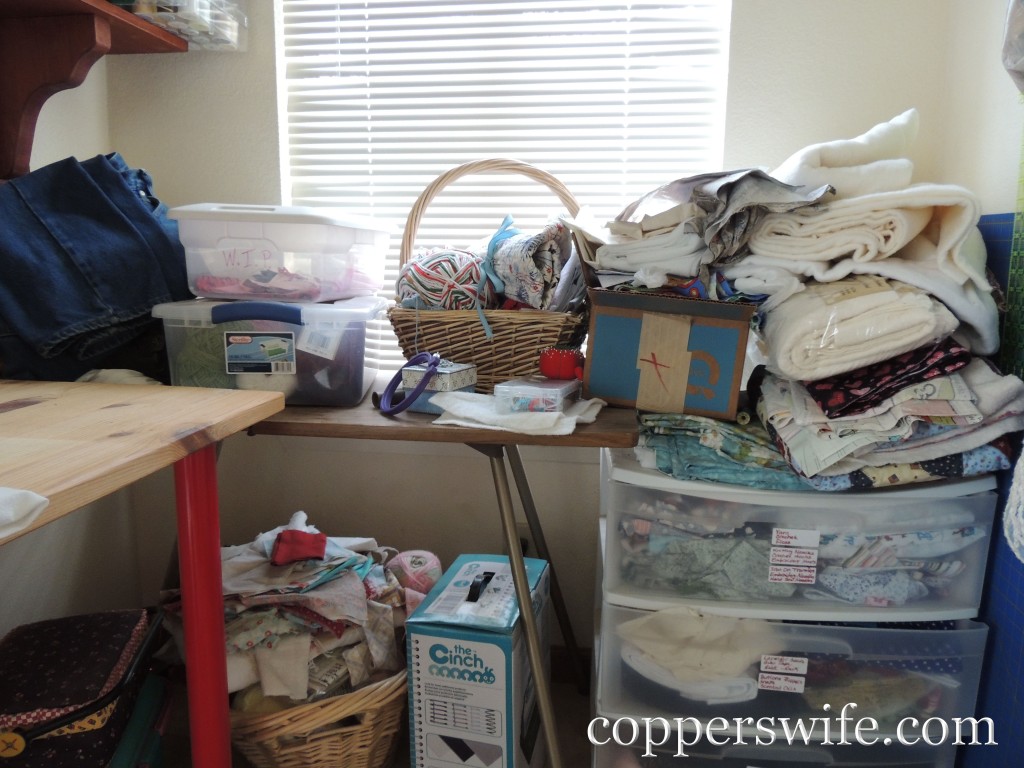 A few plans for the rest of the week – I really want to get my sewing nook cleaned up, cleaned out and organized. When Dani and I began sharing the space, I sort of just piled my stuff up at one end. She's been married for more than a year, and I now have the space all to myself, but I still have the jumbled up mess at the window end of the space. It's time to clean up! My plan is to spend 15 to 20 minutes a day in there and see how much I get done.That's my plan, but, you know….I'm holding my plans loosely.