Winter Olympic viewing has been fun for the last week or so, but I kind of miss reading. Actually, I miss it a lot! The excitement of the games has been fun, but I'm actually longing to settle into my chair, put my feet up, and spend some serious time in a book. Next week it will happen.
(If you click on the links below, and then make a purchase, some of them may put a few pennies into my pocket. Of course, there is no additional cost to you. I am always grateful to those of you who choose to bless me this way. You can read about how I spend those pennies, and more about how I earn them, in my disclosure policy.)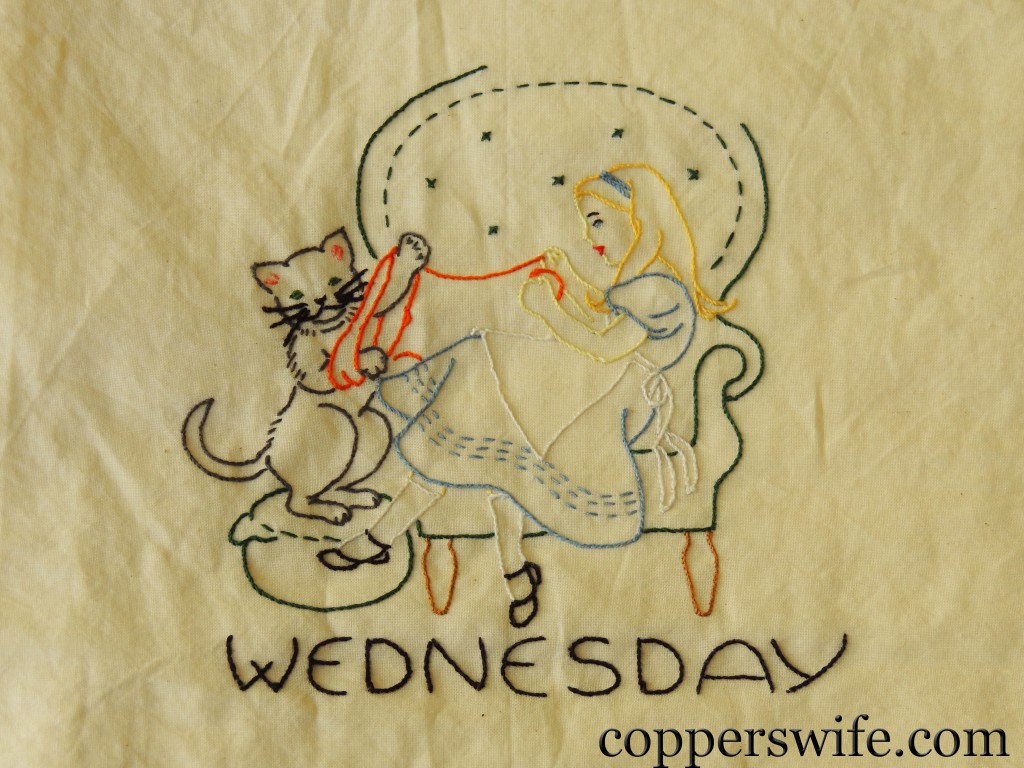 In the meantime, though, all that time in front of the TV has been productive. I finished Dani's Wednesday dish towel. Four down, three to go. I was in a bit of panic last Sunday evening because I couldn't find the last three dish towels in the set. After a bit, I realized that I'd only applied the iron on transfers to the first four towels.  I'm hoping to get the transfers applied to the last three towels before the weekend.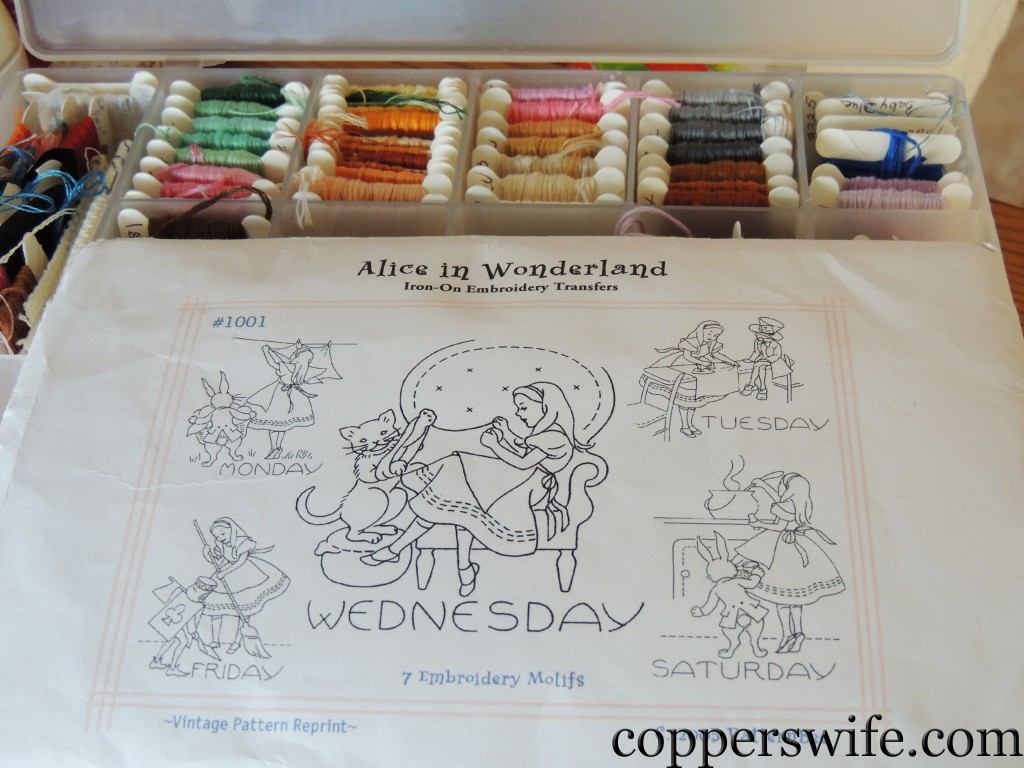 There's a story behind the dishtowels, of course, and it's bittersweet to work on them. I've procrastinated on these terribly, and I think part of it is because it's the last little service that I can do for my mom. It will be good to have them done, but the story behind them will always be with me. (The transfers are a vintage reproduction from Pattern Bee.)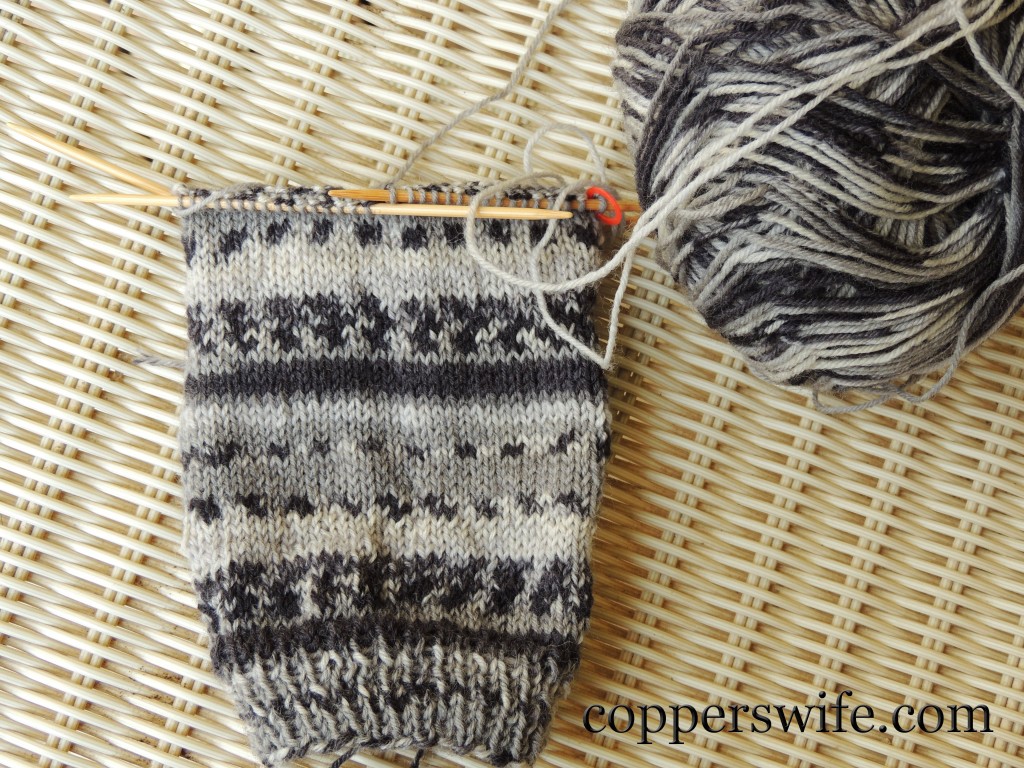 With nothing in my basket to work on during our evening Olympic viewing, I looked through my yarn stash. I found a partially knit sock, started, and forgotten, eons ago. I pulled it off the needles, rewound the yarn, found an easy toe down sock pattern, and started all over. It's been awhile since I've knit on double point needles, or with such fine yarn. I had to tear the ribbing out once, but then my hands remembered their way and I've been happily knitting in the evening all week. (The yarn is a very inexpensive washable wool blend from Jo-Ann Stores that is, apparently, no longer available.)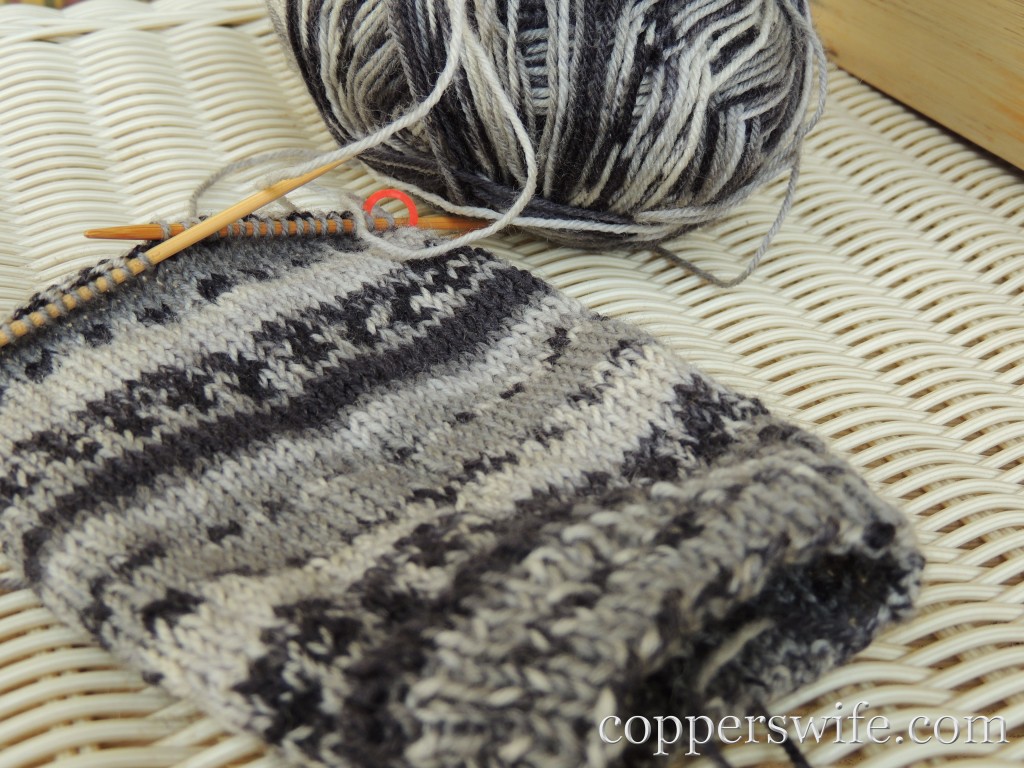 I love patterned sock yarn, and I'd forgotten how addicting knitting socks can be!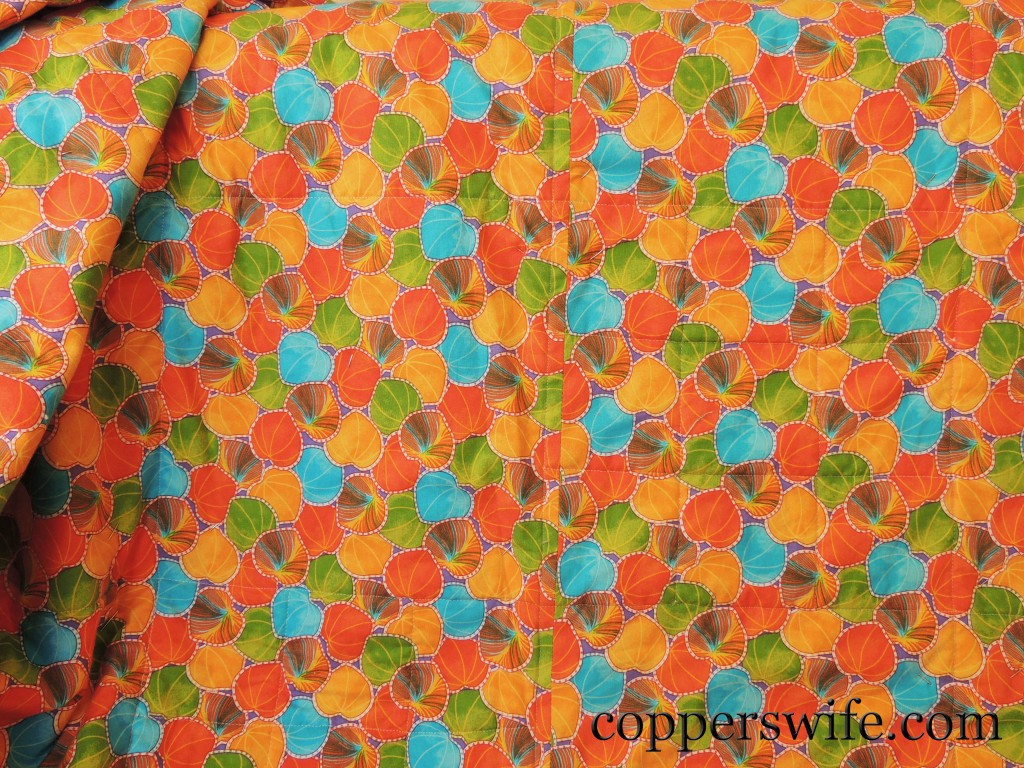 I added quite a few more rows of machine quilting to my grandson's quilt this week, too. My "stitch in the ditch" technique is improving with every sitting; and I've done enough quilting that there's a bit of the quilted pattern evident on the back side of the quilt, too. The print is busy, I know, but you can just make out the outlined 9″ squares, alternating with the 3″ x 3″ nine patch blocks.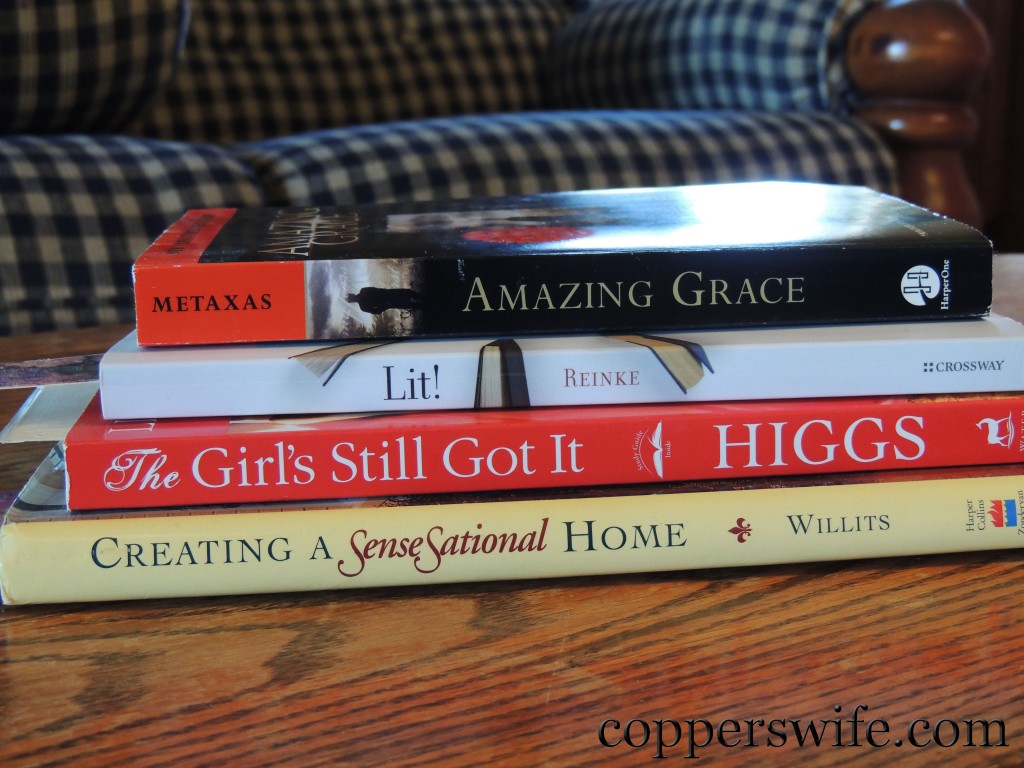 I've enjoyed having these extended periods of time to do some handwork in the evenings, and I'm hoping that I'll still continue with that to some degree, but I am very much looking forward to getting back to reading again, too. The only reading I've done this week has been a chapter or two in Amazing Grace: William Wilberforce and the Heroic Campaign to End Slavery
 while waiting for Will during piano lessons and during some time at the batting cages. Batting cages! It's that time of year again. Baseball tryouts are this week!
What are you reading? Have a good book, or a favorite author to share? What sorts of sewing, knitting or stitching projects are you working on? I'd love to hear about them.