Evernote is my go to app for everything. As I work towards making my home, and my homemaking, as paperless as possible, Evernote is proving to be just the right tool for the job. I'm now using Evernote as my paperless homemaker's journal, my recipe box, and my filing cabinet for a hundred other purposes. Today I want to help you get started using Evernote in your own home.
(If you click on the links below, and then make a purchase, some of them may put a few pennies into my pocket. Of course, there is no additional cost to you. I am always grateful to those of you who choose to bless me this way. You can read about how I spend those pennies, and more about how I earn them, in my disclosure policy.)
Before we can get to the fun of actually using Evernote to help us in our homes, we need to learn the basics of using it. Though my explanation below might seem complicated, I promise you that it isn't. Just follow my instructions, step by step, and you'll see just how easy it really is. If you already use, and love, Evernote, feel free to just skip over this information and join us next week when we start learning to use Evernote in our homes.
To begin, of course, you will need an Evernote account. Evernote is free, and setting up your own account is quick and easy. All you need to get started is an internet connection and your email address. Go to Evernote.com, enter your email address, and follow the instructions. Super easy. Super fast. Absolutely free. If you use my links to Evernote, you will get one free month of Evernote Premium to try, but you don't need to continue with the premium service. For almost everyone, a free standard Evernote account is more than enough.
Once you have your Evernote account set up, you'll want to add the Evernote app to all of your devices – laptops, smart phones, tablets, etc. The thing that makes Evernote such a terrific asset for the homemaker is its ability to sync seamlessly across all of your devices. Also, if you're ever without all of your own devices, you can access all of your Evernote notes on any computer with an Internet connection, just by signing into your account.  (If you ever decide to use Evernote Premium, the apps on your devices will automatically update to function with your premium account.) I have Evernote installed on my laptop, iPhone and iPad. Copper uses it, too. Okay, so get the Evernote app added to all of your devices now. Again, it's quick, easy and absolutely free.
The first time you sign into your Evernote account, Evernote will have already set up your first Notebook for you. Inside that Notebook will be one or two notes from Evernote welcoming you to their service. Read through these notes to familiarize yourself with Evernote.
Now I want you think about how you want to set up your Evernote account. A simple way to understand Evernote is to think of it like a file cabinet with a brain. A really smart, powerful brain. Each separate thing that you add to Evernote is called a "note".  You can just toss all of those notes into one big pile in Evernote, or you can set up a file folder system. In Evernote, your file folders are called "notebooks".  Because of that really smart, powerful brain I mentioned, either system will work well for you. Here's a brief explanation of how it all works.
When you add information to Evernote, you do so by adding a new note. It's as simple as clicking the "Add a new note" button.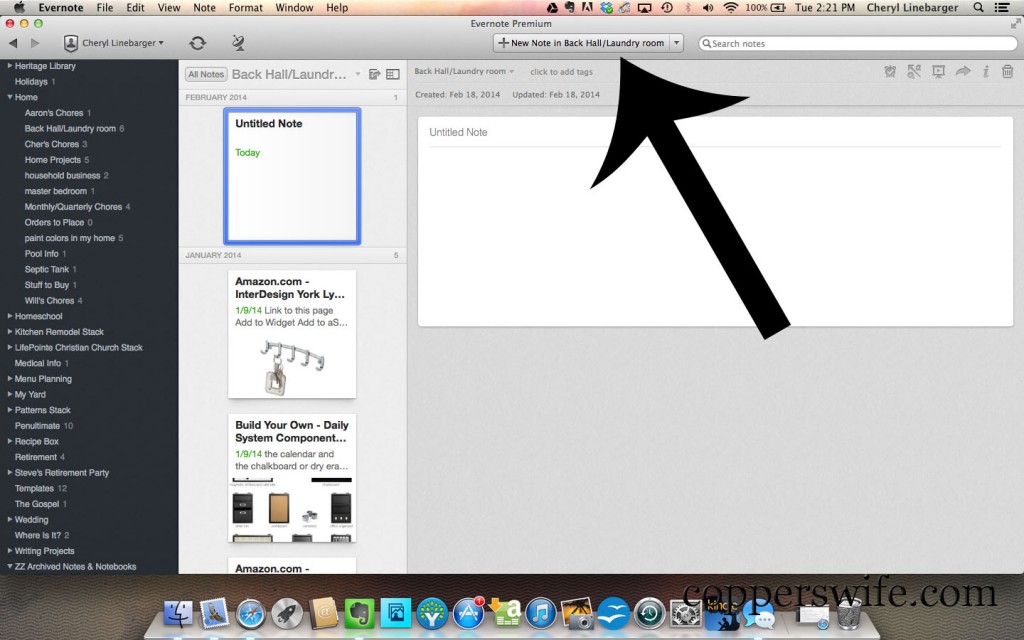 In this photo, you can see the list of all of my notebooks on the far left side. The notebook I have open is my Back Hall/Laundry Room notebook.  (We'll add a notebook in just a minute.)  For now, try adding a new note of your own to the notebook that Evernote created for you when you opened your account. This is just for fun and to get the hang of things, so it doesn't matter that the note is added to that notebook. Click the name of that Notebook to open it, and then click "New Note" button at the top of the screen.
Now, please don't worry if your screen does not look exactly the way mine does. Evernote displays differently on different computers, and there are also individual settings that you can use to customize Evernote to suit yourself. I'm using Evernote on a MacBook Air. It will look different on a PC, and the display will also look different on your phone or tablet. Don't worry, it all works the same way.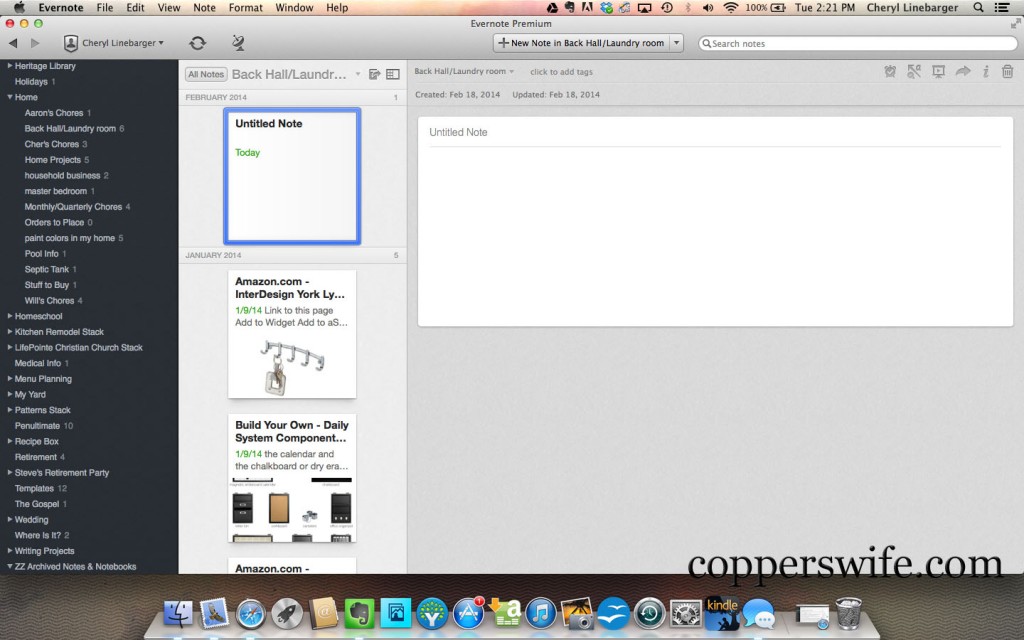 Your new note will look something like this.  It will be titled "untitled note", but we can fix that.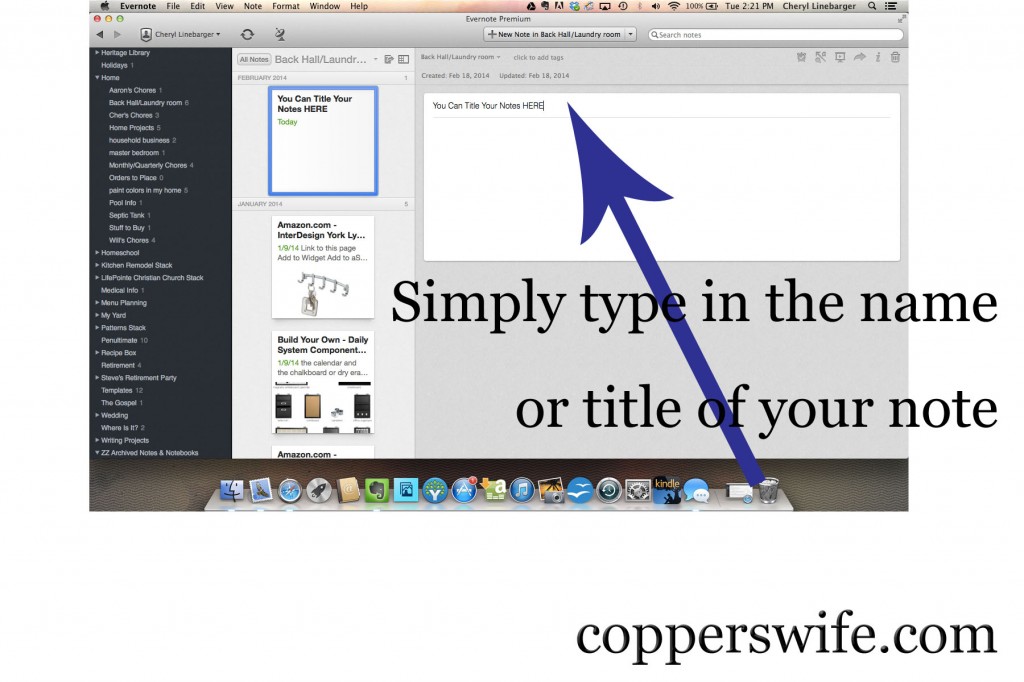 You'll notice that the name of the note displays in the main pane on the note itself, but it also displays in the note card view on the side bar just to the left of the main note.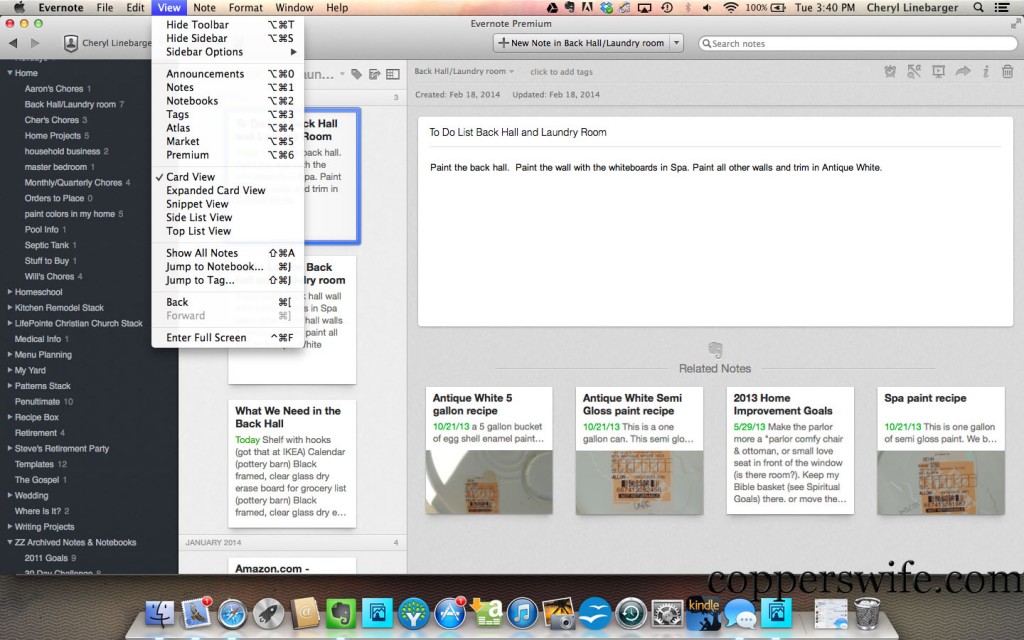 At the top of your Evernote screen, click the "View" tab. A menu with various options for how you want to view your notes will drop down.  The options, as seen above are card view, expanded card view, snippet view, side list view and top list view.  Click the various options on your computer and see which you like. You can change them any time you want. I use "card view" most of the time.
Now that you have your first note opened and titled, you can add anything you want to that note. Just type in whatever you want. Evernote automatically saves everything you type. No need to manually save anything.
Now, let's add a new notebook. It's every bit as easy as adding a new note.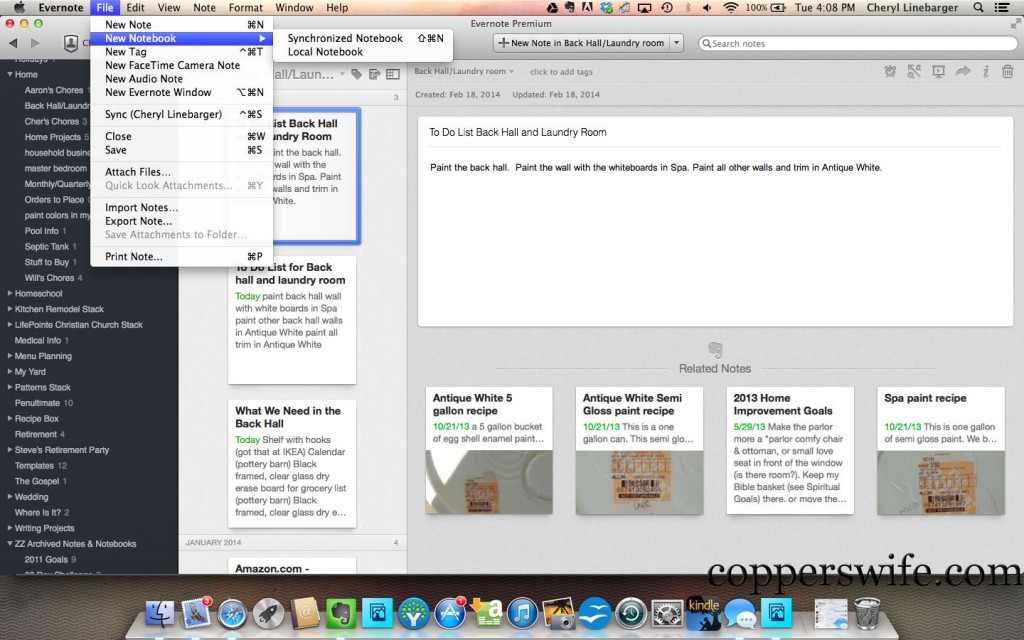 At the top of your screen, click the "File" tab. Then click "new notebook".  This next step is very important. You want to be sure to click "Synchronized Notebook". A Synchronized Notebook will be available to you everywhere – On your computer, on your smart phone, on your tablet, any place, any time, or anywhere that you have access to any computer with an Internet connection. Local notebooks are available ONLY on the computer that you use to first set them up, and you cannot change the way a notebook is set up once it has been done. I use Synchronized Notebooks exclusively because I want to know that my information will always be available.
Go ahead and click "Synchronized Notebook".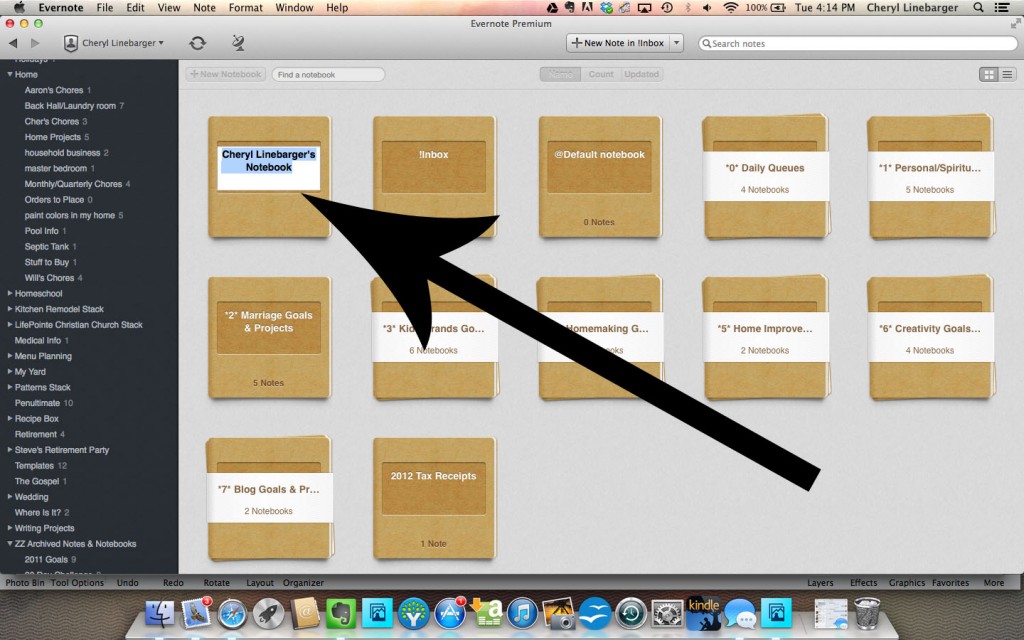 Your new notebook is now created. Again, your notebooks may display differently than mine. You can, again, click the "view" tab at the top of your screen and decide if you want to view your notebooks in "grid view", as they appear here, or in "list view". I change the way I view my notebooks frequently when I'm doing a lot of work in Evernote. Choose whichever view you prefer, and change it any time you want. You can click the new notebook and rename it as you wish.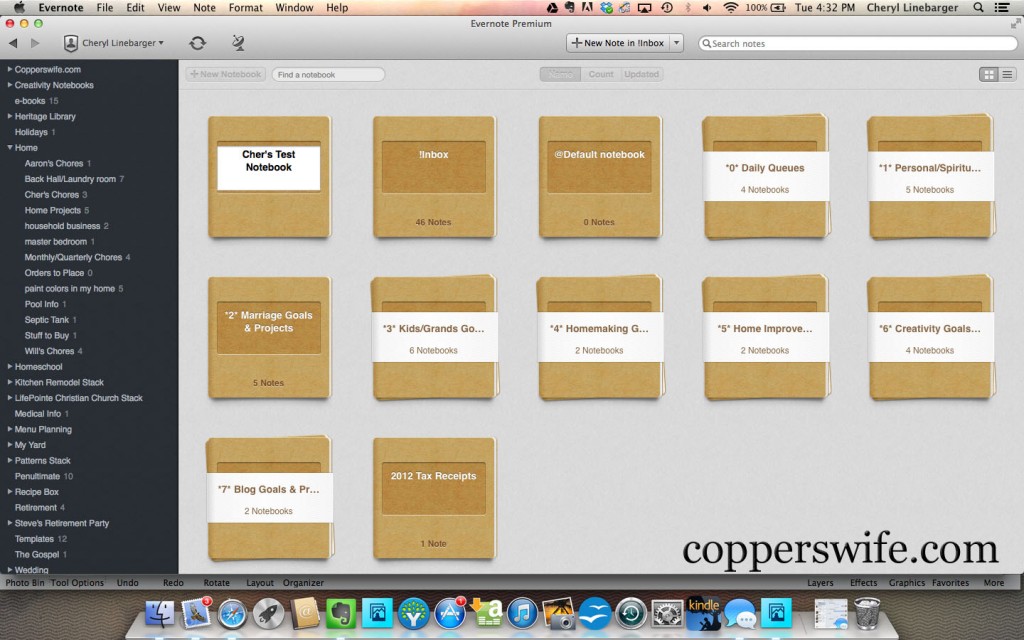 I renamed the new notebook "Cher's Test Notebook.".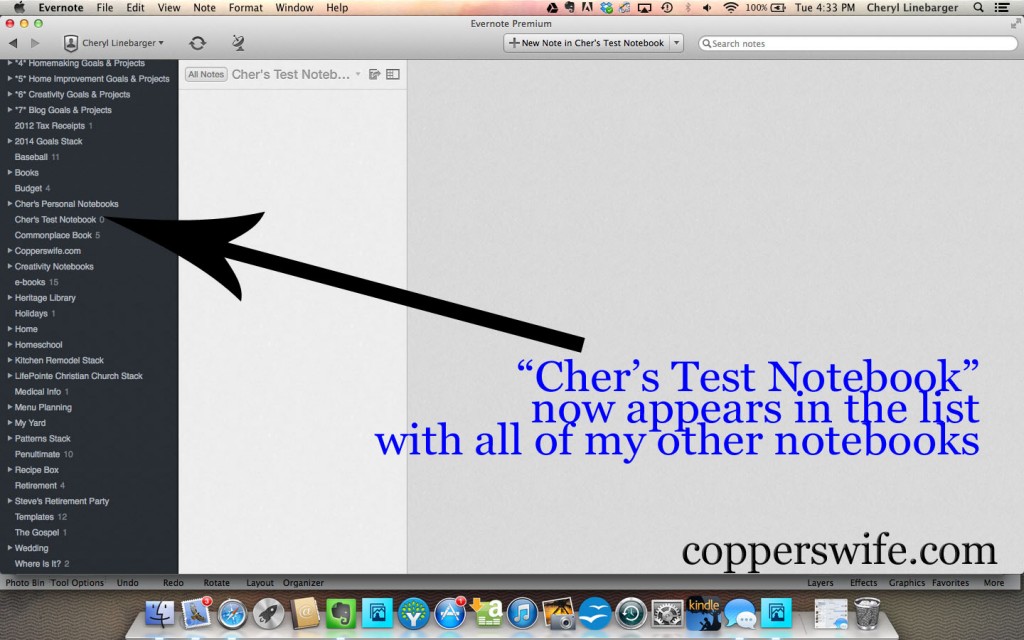 Cher's Test Notebook is now shown in the list with all of my other notebooks. The "0" after the notebook name shows that there are zero notes currently in that notebook. (Having the number of notes appear after the notebook name is also something that you can choose to see or not, as you prefer.)
Now, I'll open a new note in Cher's Test Notebook.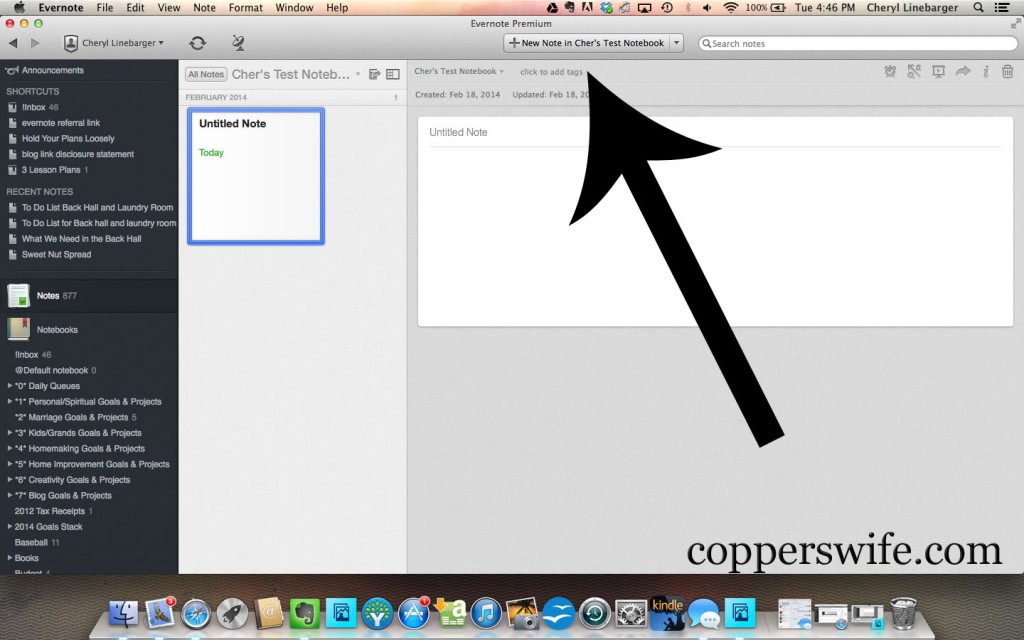 Here's the new, untitled note. See my arrow? It's pointing to text that reads "click to add tags".  That "click to add tags" button is one of the most important keys in taking advantage of all of Evernote's brain power.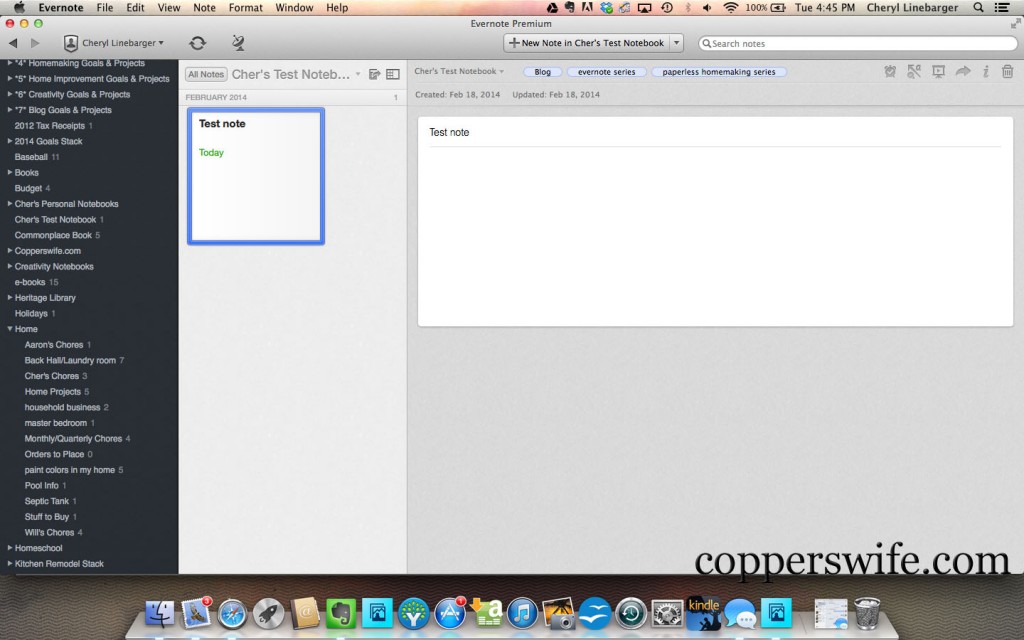 If you will tag every note with all of the ways that you might ever need to look for it, Evernote will always be able to find that note for you. You create your own tags, and you can label a note with as many tags as you'd like. Here, I've tagged this note with "blog", "evernote series" and "paperless homemaking series".   I'll be covering this in a lot more detail in the weeks to come, but being able to search for notes, by the way they are tagged, has saved the day for me more than once. I might not remember, for certain, what notebook I created a note in, but if I tagged it properly, I can always find it.
That was a whole lot of information, I know. I'm sorry for the lengthy post. Some of you might already be familiar with Evernote and this was probably information you already knew. For others, this might have been your first introduction to Evernote. For you, let me just say that it's not hard. You just need to get in there and give it a try. You'll soon get the knack of using it, and you'll be hooked on what a tremendously helpful tool it can be.
Now that everyone understands how to set up their Evernote account, we can really dive in and start using Evernote. Once we begin to use it in more practical ways, it will become very easy to use. You'll soon be finding all sorts of new and unique ways to use it all on your own.
In the very next post in this series,  I'll show you (finally!) how to use Evernote as your recipe box. We'll add favorite recipes, learn how to save recipes we've found on the web, and even how to share individual recipes, or even our entire recipe box, with anyone. I'll even show you how, and why, I'd rather save recipes found on the Internet in Evernote rather than on Pinterest!
It's going to be fun to share all of that with you, and then we'll just keep on going with ways to use Evernote in all sorts of areas. I'm excited!