I'm moving all of my hundreds of recipes to Evernote. Let me tell you why.
I've been married and cooking for two or more people for more than thirty-five years. I've collected a lot of recipes during that time and I've had various ways of keeping them so they were easy to use – binders, notebooks, old-fashioned recipe cards, etc., and there were problems with all of those methods.  Finding the recipe I wanted, when I wanted it, was sometimes an issue. Thirty-five years of recipes do not fit into a single recipe card box or binder! Which recipe box was it in? Or is that recipe still in a binder? Or is the recipe in the notebook my mom put together?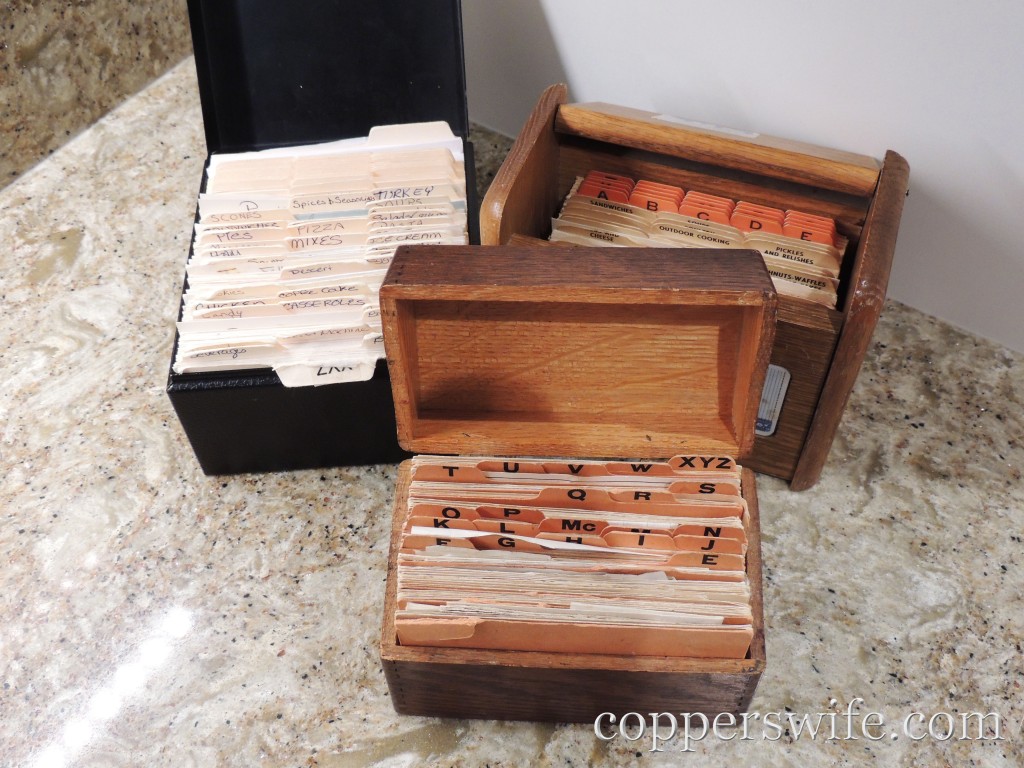 Recipe cards were easily misfiled, and sometimes the filing system was inadequate. Should I file that chicken dish under Main Dishes, Casseroles, or Crockpot? In fact, I have a lot of recipes that can be filed under more than one heading, but trying to remember which heading I filed it under was sometimes a problem. It also meant that favorite recipes were sometimes overlooked. For example, I might have been looking for something that could be cooked in the Crockpot, but that great recipe, the one everyone loves, was filed under Soup or Casserole and not discovered while looking through my Crockpot recipes. No one has time, or recipe box space, to be duplicating and cross filing recipes.
I think recipe cards that are a bit splattered with the process of cooking, or yellowed with age, are charming, but what happens when that card falls into a sink full of water, or finds itself drowning in liquid spilled on the counter? The ink can run or fade, and part, or all, of the recipe can be lost.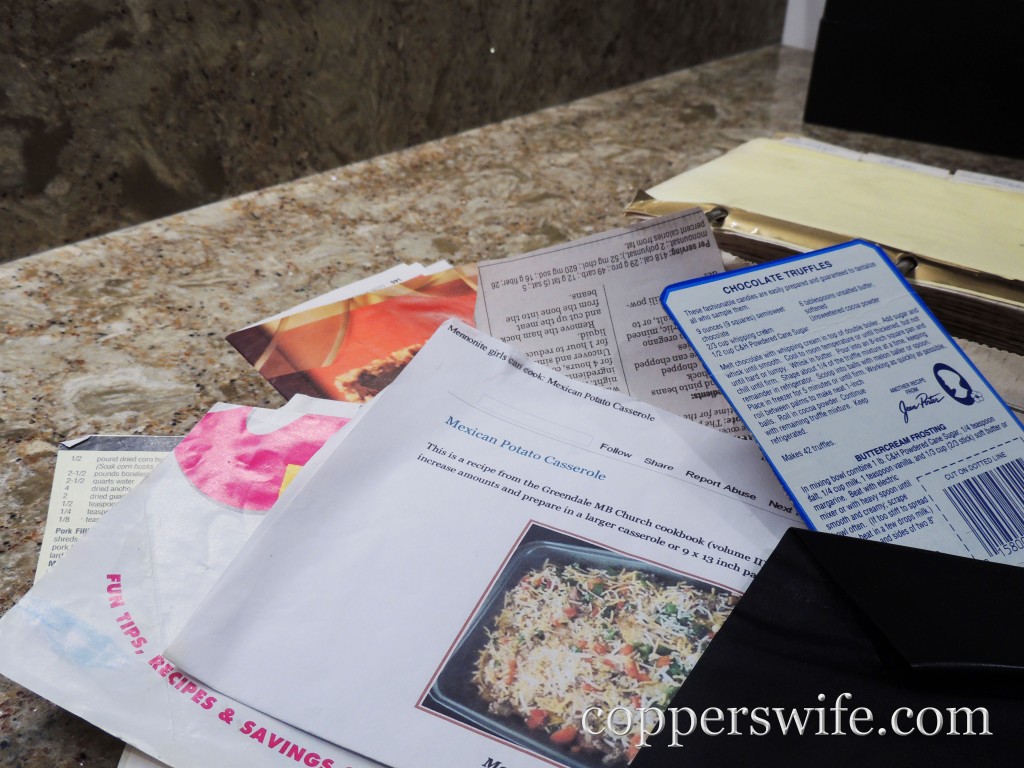 And what about all of those recipes that you find in magazines, on web sites, or on Pinterest? If you are anything like I was, you printed them out, stashed them in a file folder or binder to try later, and quickly forgot about them. I had several folders full of printer paper, torn out magazine pages, and clipped recipes from the outside of food packages, and that was way too much to weed through when I was looking for a new recipe to try. Who has that kind of time? Not me.
With all of my recipes moving to Evernote, all of those problems are being eliminated. No matter how many recipes I add, there is always room for more. The free version of Evernote provides more than enough upload allowance for most people.
All of my recipes are in one place – Evernote! No more weeding through recipe boxes or binders or folders. I just open Evernote, and there they are! Better still, all of my recipes, every single one of them, are available to me anywhere that I can access the Internet. They're on my phone when I'm at the grocery store, and they're on my iPad when I'm working on my menu plan at the coffee shop. If I'm at a friend's house and she'd like a copy of one of my recipes, I can give it to her right away by opening Evernote on my phone, or using her computer.
And what about those cross filing problems? Gone with Evernote! Every recipe entered into your Evernote account can be given as many tags as you want, so go ahead and "file" that chicken dish under Main Dishes and Casseroles and Crockpot. Evernote will find it for you no matter how you look for it.
Recipes cannot be damaged by cooking splatters or spills because they exist in the cloud. No more rushing to try to dry off that beloved recipe card, written out by your grandmother, before it's ruined.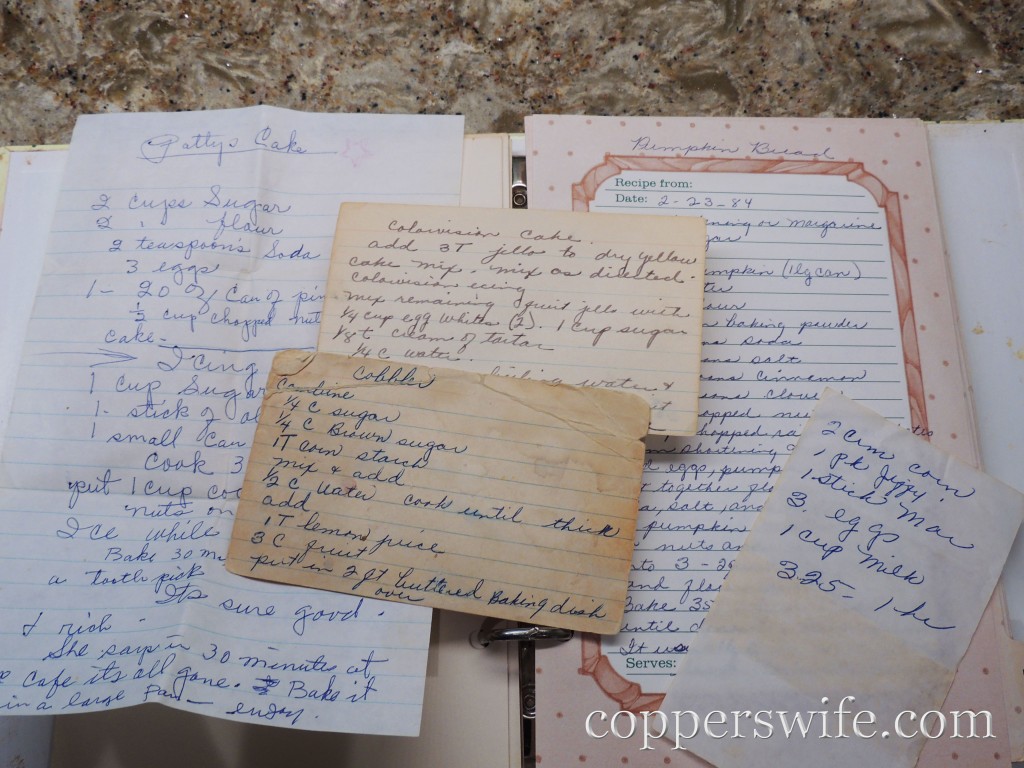 Which brings me to one more, very important reason to use Evernote. Those heirloom recipe cards or pages can be saved into Evernote. I love being able to cook, using one of the recipes written out in my mom's handwriting, knowing that there is no way that I'll accidentally ruin the card, or the piece of paper that the recipe is written on.
Transferring all of my recipes to Evernote is an ongoing process, but one I'm excited about completing. I love the convenience of being able to pull up my recipes any time, anywhere. I love still being able to see recipes written out by family and friends knowing that those recipes are safe from damage. I love being able to find all of my chicken recipes, no matter how they were filed, simply by searching for the tag "chicken" on Evernote. What could be easier?
Next week, I'll show you, step by step, how you can begin to get all of your own recipes onto Evernote, including those precious heirloom recipe cards. I'll share lots of tips on organizing and tagging them, too. It's easy, I promise, and you'll be so glad that you did!
All of the posts in the Paperless Homemaking Series can now be found in one place.
If you haven't already, head on over to Evernote and set up your free account. If you use my Evernote referral link, Evernote will give me one point, which I can use in the future toward added uploads, Premium service, etc. It's still absolutely free for you, and super simple to do. Head on over to Evernote right now and set up your account so you'll be ready to start adding recipes with me next week!