It's been a long, long time since I've had a general, all-purpose cookbook that I've absolutely loved. That long wait makes this find all the sweeter!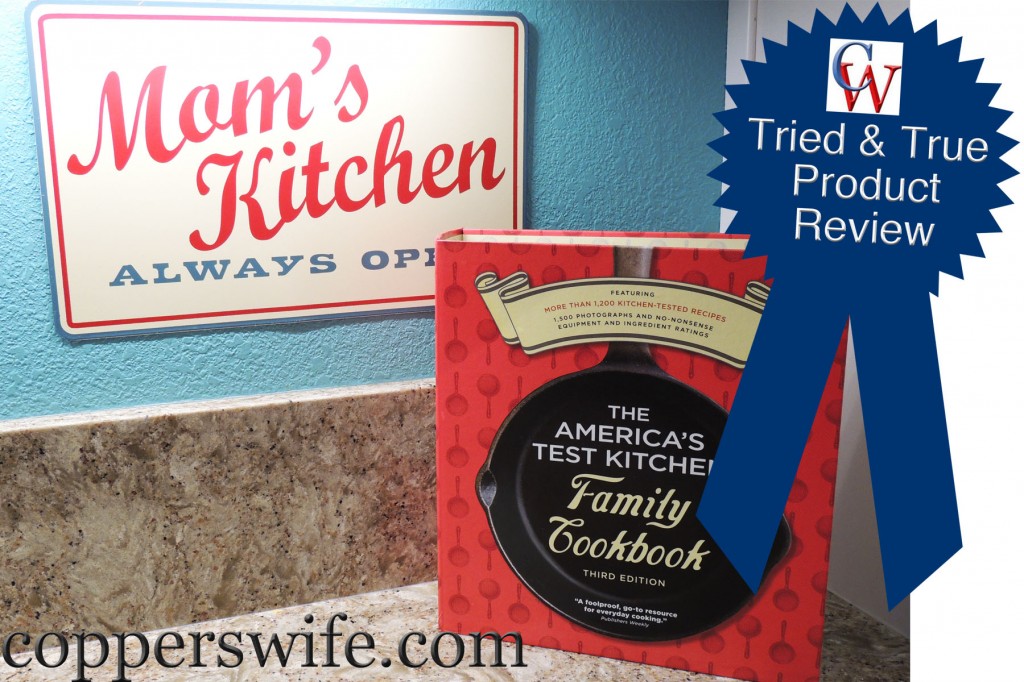 (If you click on the links below, and then make a purchase, some of them may put a few pennies into my pocket. Of course, there is no additional cost to you. I am always grateful to those of you who choose to bless me this way. You can read about how I spend those pennies, and more about how I earn them, in my disclosure policy.)
I really can't take any credit for discovering this cookbook. Last fall, while my kitchen was being remodeled, I asked several folks, who enjoy  cooking and baking as much as I do, to share some of their favorite cookbooks and/or cooking resources with me. I had several great responses, and I'll be checking out all of them in the coming months.  However, my daughter, Dani, said that she loved The America's Test Kitchen Family Cookbook,
 and I chose her recommendation as my first purchase.
In the last few months, I've prepared dozens of recipes, from almost every section of the cookbook. The recipes have all been delicious, family friendly, and, best of all, completely made from scratch. You won't find any prepackaged mixes or overly processed ingredients in these recipes! Where canned, or frozen, ingredients are used, the editors of the cookbook are careful to tell you just why that is the best choice for the dish you are preparing.
That "why" is a good portion of the reason why I love this cookbook so much. Learning why something works, goes a long way toward making you a better cook. I've learned several techniques that I'll use beyond the recipes in this cookbook. A few examples are: how to keep breaded, pan-fried meats crispy during and after frying; proper herb mincing technique and which knife to use for the job; and how to keep the pasta or vegetables in a long simmering soup from becoming mush.  An old dog really can learn a new trick or two! It's important, to me, to not just keep doing things the same way I've always done them when there may very well be a better way to do it. I plan to be a life-long learner, and cooking is a good place to keep that spirit alive.
The recipes all have terrific, step-by-step instructions that make preparing a new dish easy. Quite often, there are clear photographs to go along with the instructions. Not sure if the white bread and buttermilk mixture you're making for the Easy Spaghetti and Meatballs is quite the right consistency? Just look at the picture!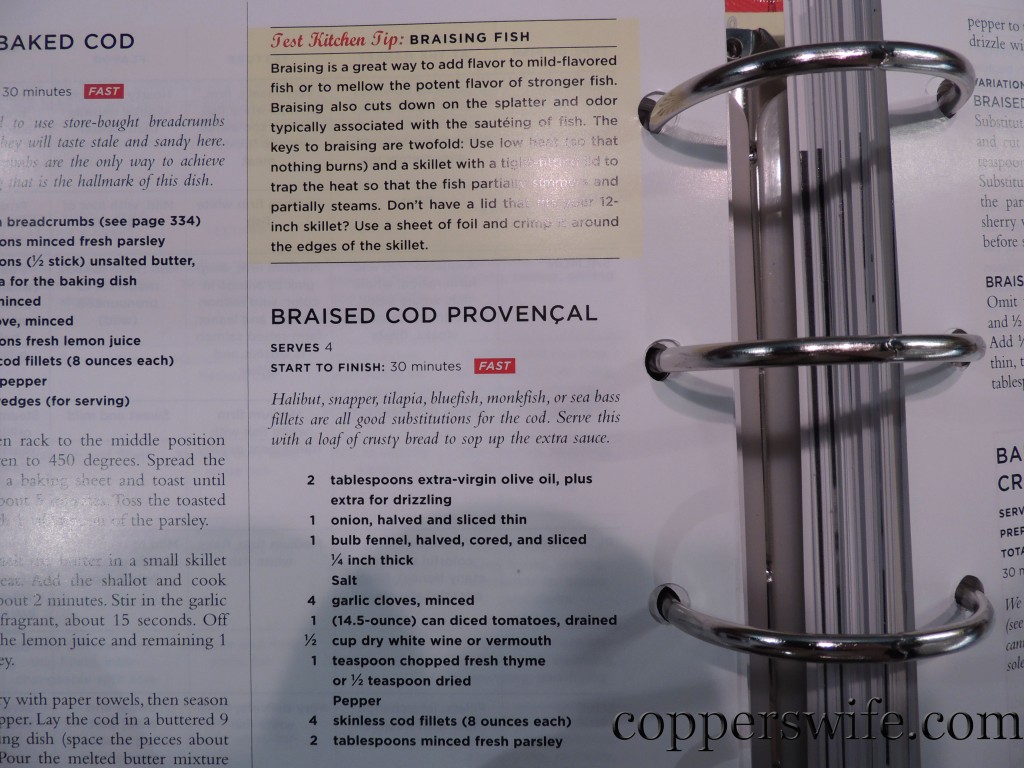 There are lots and lots of helpful tips about ingredients, techniques and equipment scattered throughout the cookbook. There's almost one on every page.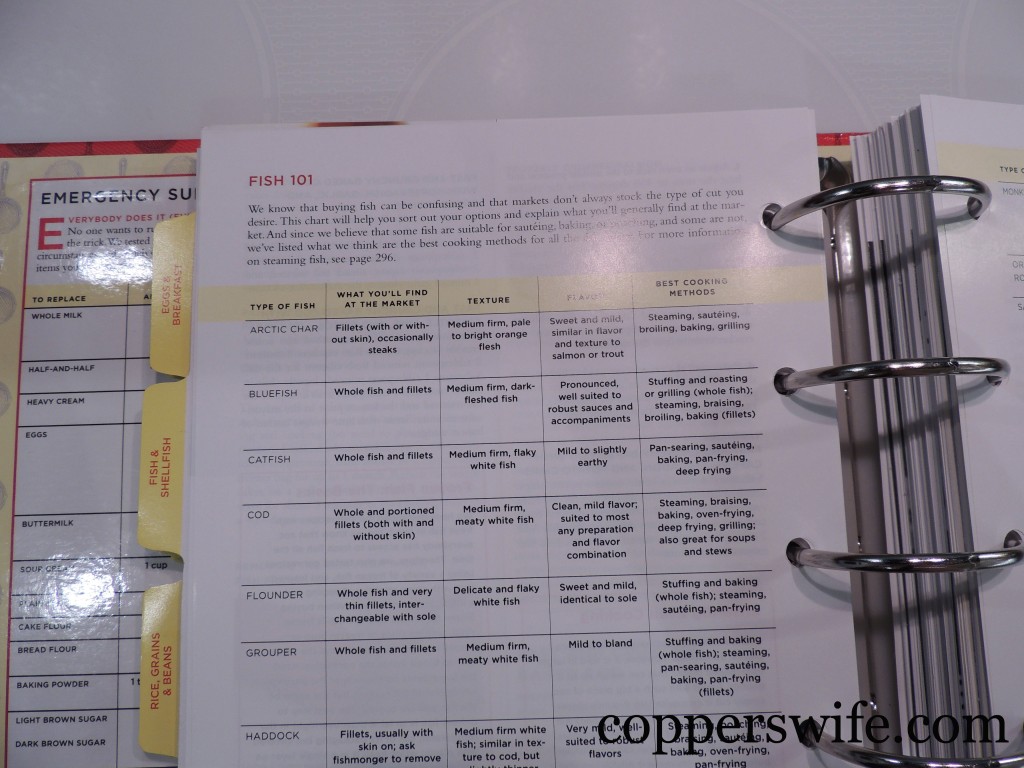 I also appreciate the special sections that help you figure out which cut of meat, or piece of fish, can be used in place of the cut called for in a recipe.
This particular edition of The America's Test Kitchen Family Cookbook
 contains a  thirty-two page guide to kitchen cookware and equipment, which covers everything from measuring tools, to pots and pans, skillets, mixers, bakeware and even grilling gear. That's all followed by a fifteen page buying guide which will help you select the best bets for new, or replacement equipment for your kitchen. They even share their favorite plastic wrap with you!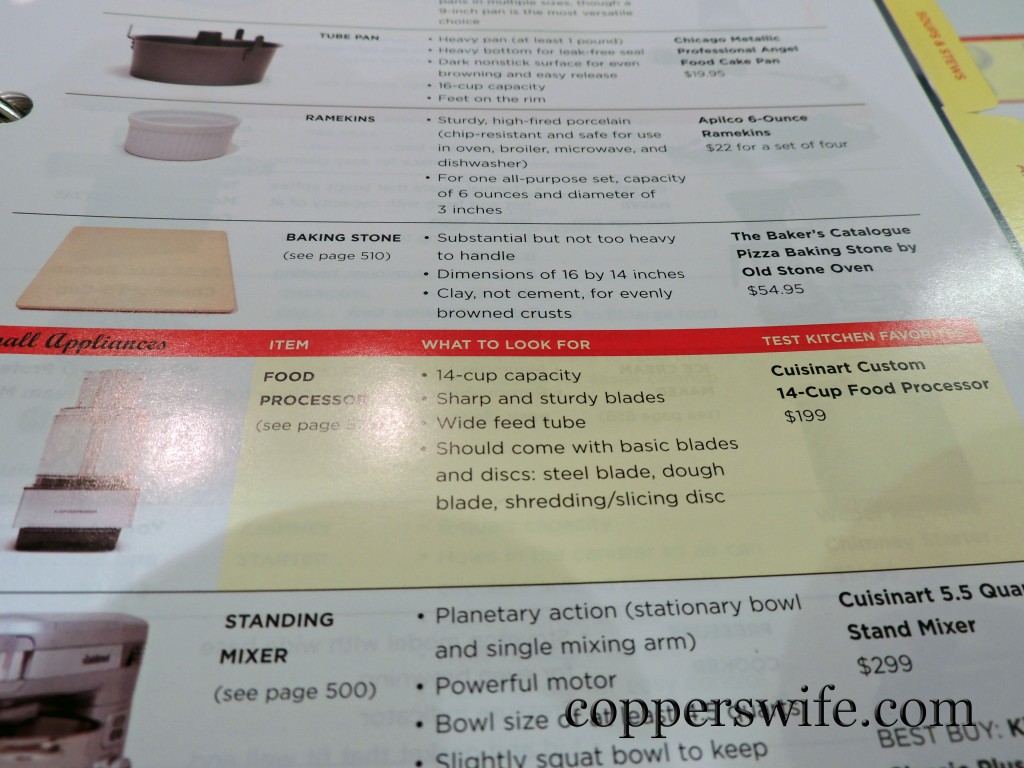 Most of us can't afford to buy all new kitchen equipment all at once, but it's nice, when it's time to purchase a new skillet, small appliance, or even a whisk, to know which are the best on the market, and which are the best buy. I was recently in the market for a good quality baking stone
to use for pizza and rustic breads. It was great to see that America's Test Kitchen
recommended the the very stone
that I've had my eye on. By the way – even though this cookbook, which was published in 2010, has fairly current pricing information, be sure to check around. The baking stone
I bought retails most places, and is listed in the buying guide, for $54.95; but I purchased it from Amazon for $40.22.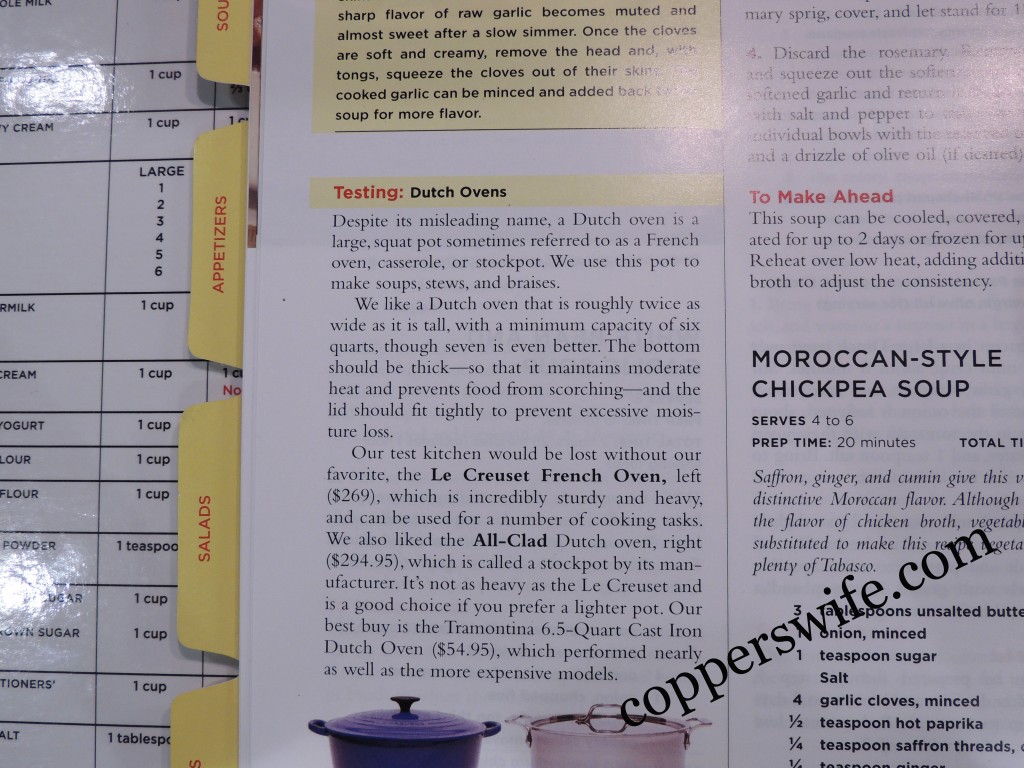 There are also product tests and recommendations scattered throughout the cookbook. I like that even though the folks at America's Test Kitchen might prefer the super expensive Le Creuset, they let you know that there's also a more reasonably priced alternative.
I was also pleased to see that a good number of the recipes have a "make ahead" note (see the photo above), letting you know how to use your time more efficiently by prepping a dish hours, or even days, ahead of time, and how to safely keep it until you're ready to finish the dish to serve.
While I've not found any printing errors, Dani alerted me to the fact that the double crust pie recipe triples the fat from the single pie crust recipe, rather than simply doubling it. I have no way of knowing if this was an error that the editors missed, or if the published double crust pie recipe is just the way they make it. I followed Dani's lead, though, and just doubled the single crust pie recipe and it turned out beautifully.
The recipes include fairly accurate serving, prep and cooking times, which I find very helpful when planning my meals. I did notice that my "prep" times tended to run longer than those listed by America's Test Kitchen
, but I've gained speed as I've become more familiar with, and gained confidence in, the new-to-me techniques. My prep times are now pretty consistent with those listed.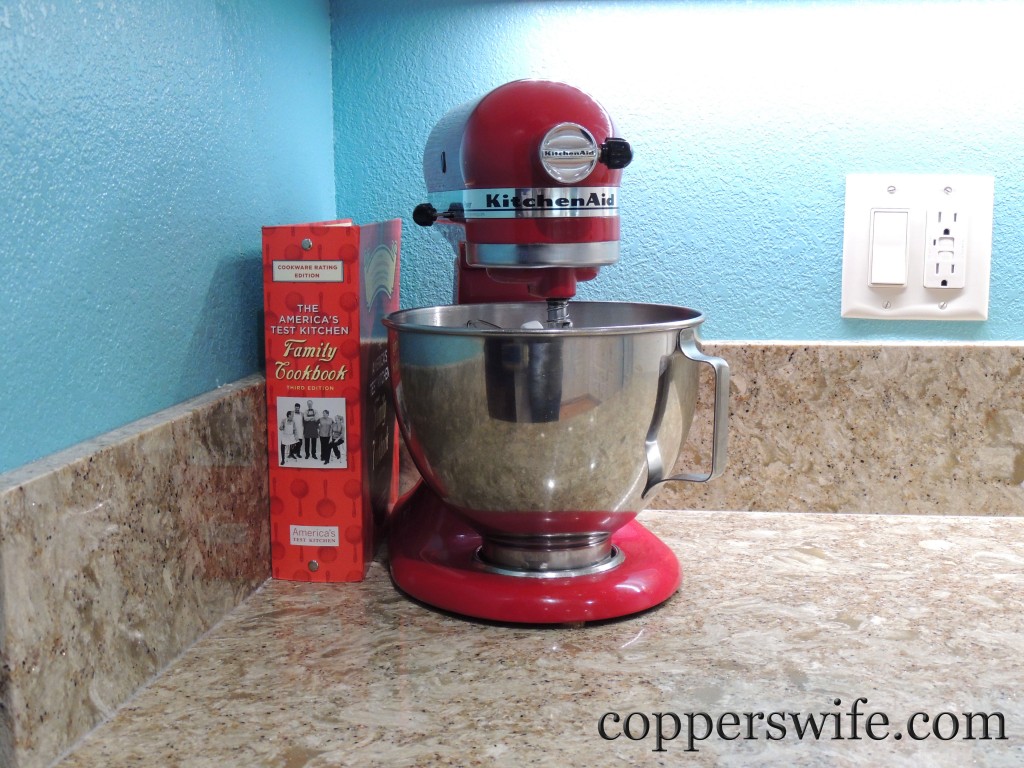 The America's Test Kitchen Family Cookbook
 contains hundreds of recipes that will provide years of wonderful cooking experiences for your family. There are great family recipes, as well as wonderful company dishes. This particular edition,
with the Cookware and Buying Guides, would make a terrific wedding or bridal shower gift, too. I love this cookbook. It will have a permanent place in my kitchen for years to come.