Evernote is a great way to keep track of all of your recipes. In fact, Evernote is now my primary recipe box. It's the one app I use all day, almost every day.  Here are some suggestions for you so that you can get started using Evernote for your own recipes.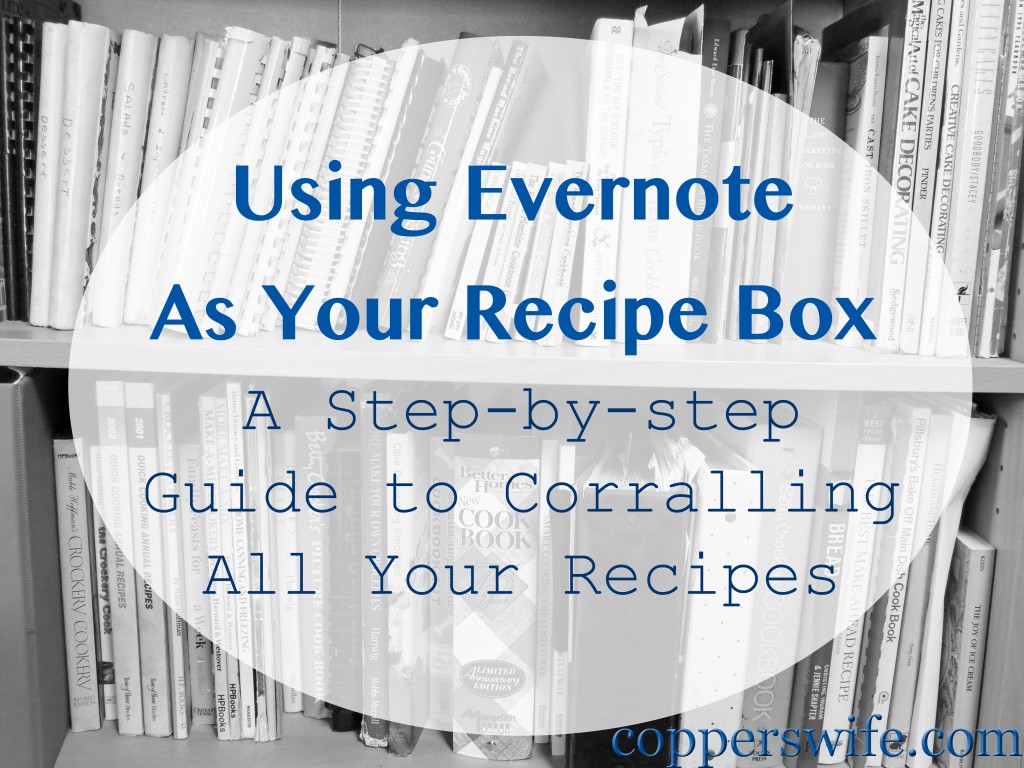 (If you click on the links below, and then make a purchase, some of them may put a few pennies into my pocket. Of course, there is no additional cost to you. I am always grateful to those of you who choose to bless me this way. You can read about how I spend those pennies, and more about how I earn them, in my disclosure policy.)
Before we add that first recipe, you'll want to decide how you want to use your Evernote account …notebooks, notebook stacks, or just tagging everything.  I started out with notebooks, and then built stacks, and then I discovered the wonders of tagging.  (Stacks are a just a group of notebooks that you can lump together under a common title.)  I now use a combination of notebooks and tagging, and I'm constantly adding tags to old notes that don't have them. 

I want you to set up your recipes in Evernote in a way that makes sense to you. You might just want to add all of your recipes into one "Recipe" folder. If you choose this method, be sure to add plenty of tags to each recipe so that you can find it later. You can also choose to set up separate notebooks for each category of recipe – main dishes, desserts, etc.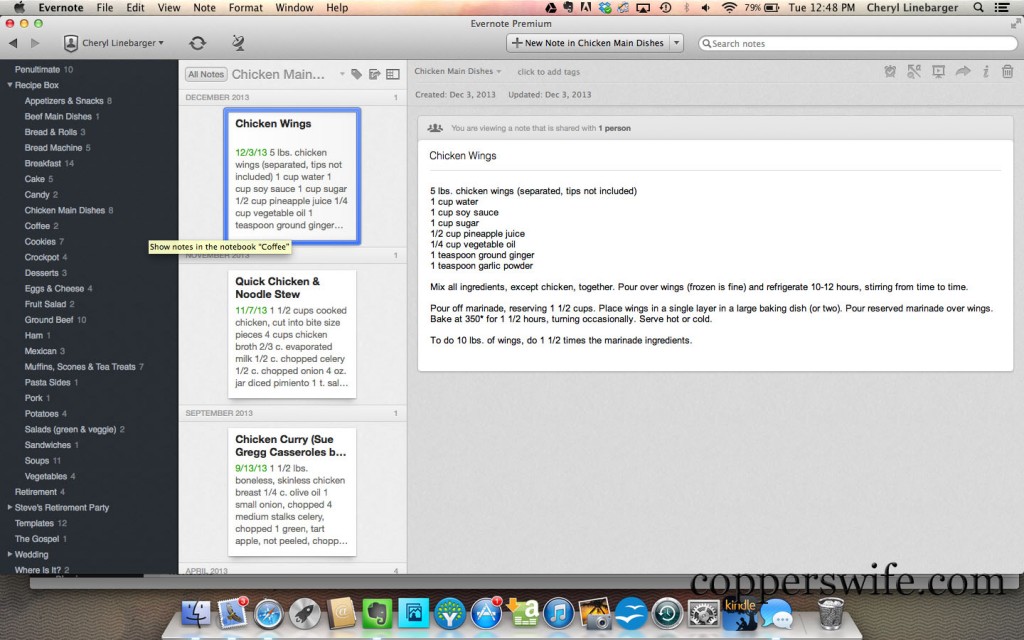 In the picture above, you can see my "Recipe Box" stack, with all of the notebooks contained in that stack listed immediately underneath. I have my Chicken Main Dishes notebook open. Again, you set up Evernote in the way that will work best for you.
Evernote Tip: Remember, to set up all new notebooks as "Synchronized" notebooks, so that you can access them on all of your devices, or on any computer with an Internet connection.
There are several ways that you can now begin adding your recipes to Evernote. Today, I'll give you two basic methods, and we'll cover other methods next time.
First, you can add a recipe by typing it in as a new note. Open the notebook that you'd like to hold the recipe, then click "New Note" at the top. Title your note with the recipe's name, and start typing. Easy! In the photo above, I have my Breakfast notebook open, and the arrow is pointing to "New Note in Breakfast".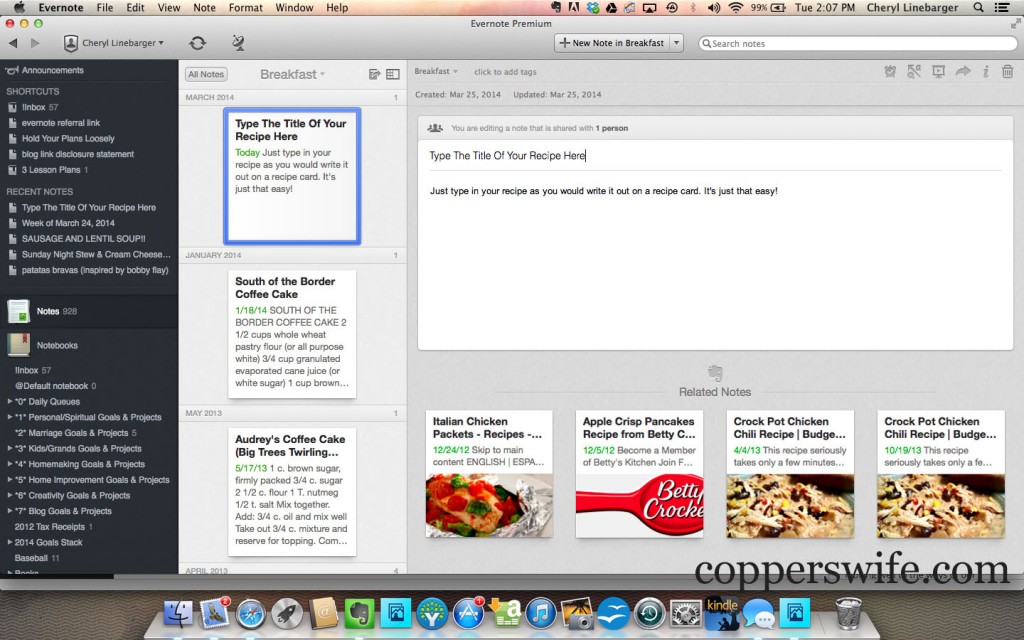 Once I click that box, a new note will open and I can begin typing in my new breakfast recipe.  Add the title of the recipe in the title box, and then just type in your recipe the same way that you'd write the recipe out on a recipe card.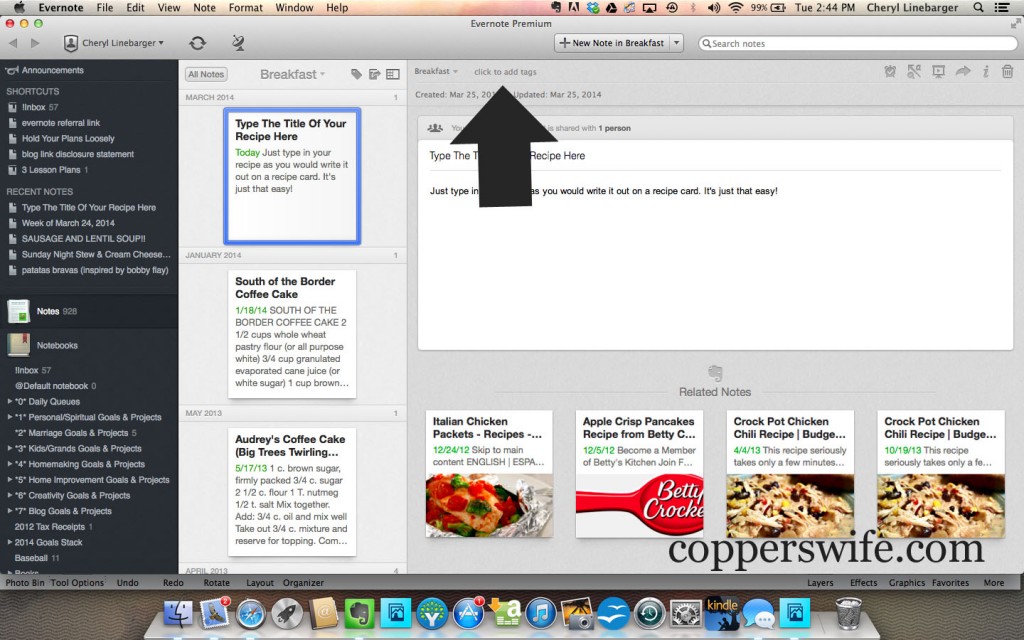 You want to be sure to add tags to all of your recipes. Tagging them really gives you access to one of the most valuable features of Evernote – the ability to search for a recipe even if you don't know what it's called or what notebook it's in. Tags are your very best friend in Evernote. Use them! If you're not sure if you should add a particular tag or not, go ahead and add it. You'll never regret having too many tags. To add tags to your recipe, or to any note, click the "Click to add tags" button.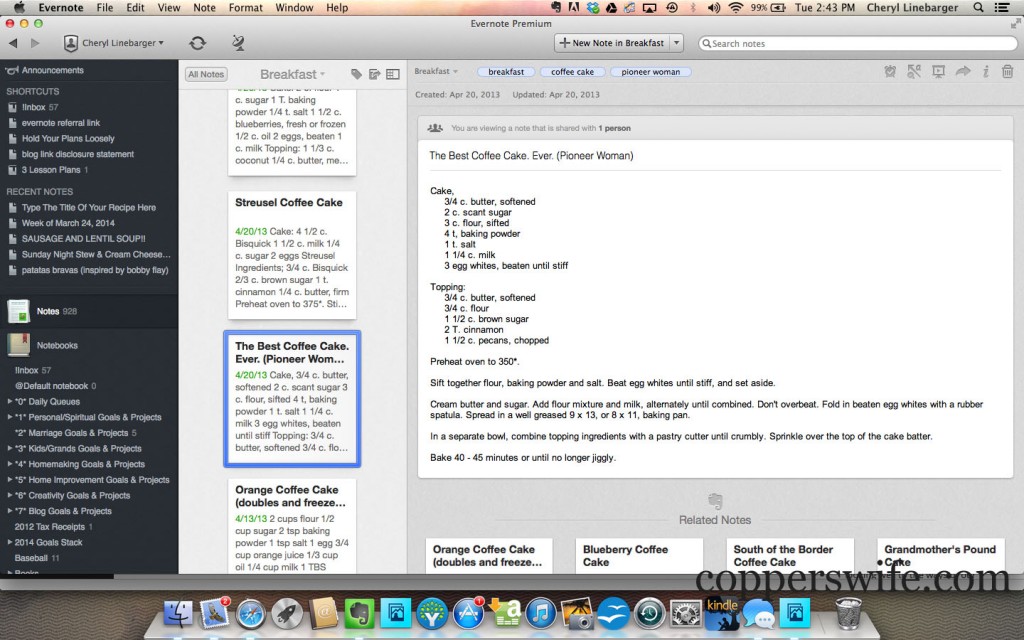 Now you can add all the tags you'd like. Evernote will save your tags, and once you've used a tag once, it will start popping up for you so that you don't have to type it all the way out. You can just click it to add it.  In the photo above, I've tagged this recipe with "breakfast" "coffee cake" and "Pioneer Woman".
If this were a main dish recipe, I'd include the meat used as a tag (beef, ground beef, chicken, pork, meatless, etc.).  If it's a recipe that feeds a crowd, I include a tag for that, too. If the recipe can be cooked in a slow cooker, I tag it with "crockpot". If the recipe can be frozen and served later, I tag it with "freezer" or "freezer meal". Make the tags your own. You want to be able to find your recipes, and the best way to do that is to tag them with words that make sense to you.
If you've forgotten some of the tags you've used, don't despair. Evernote remembers them for you.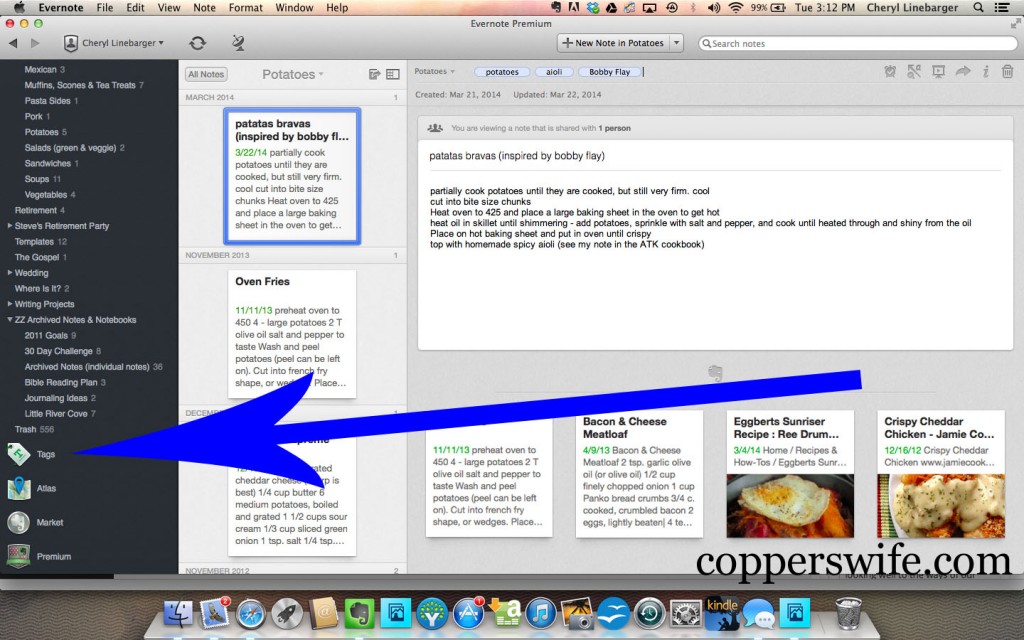 You can scroll down to the little "tags" icon on the left sidebar. If you click that icon, a page will open with all of the tags that you've ever used.
-OR-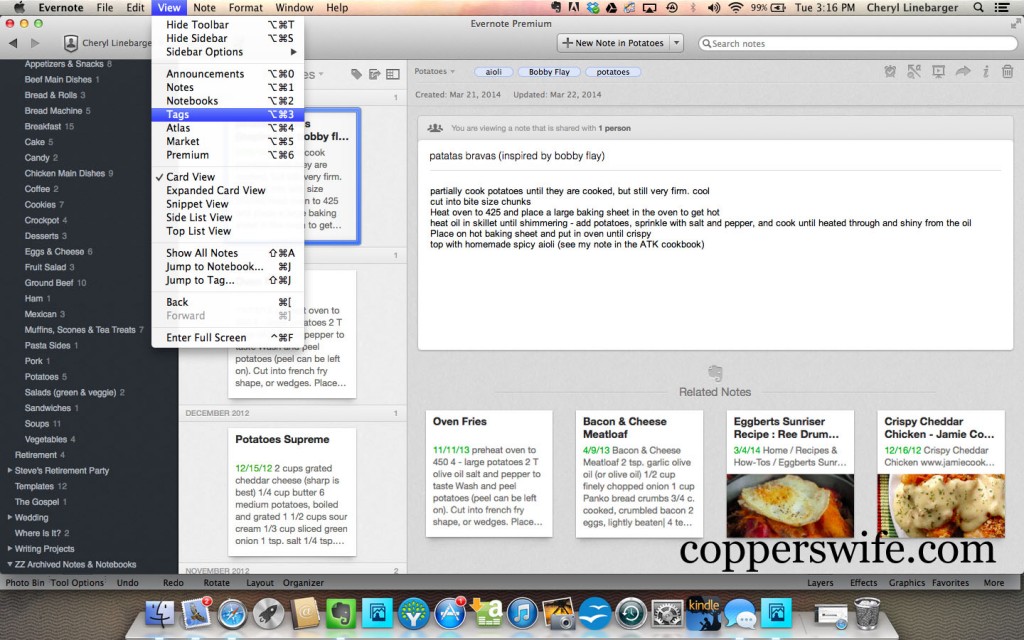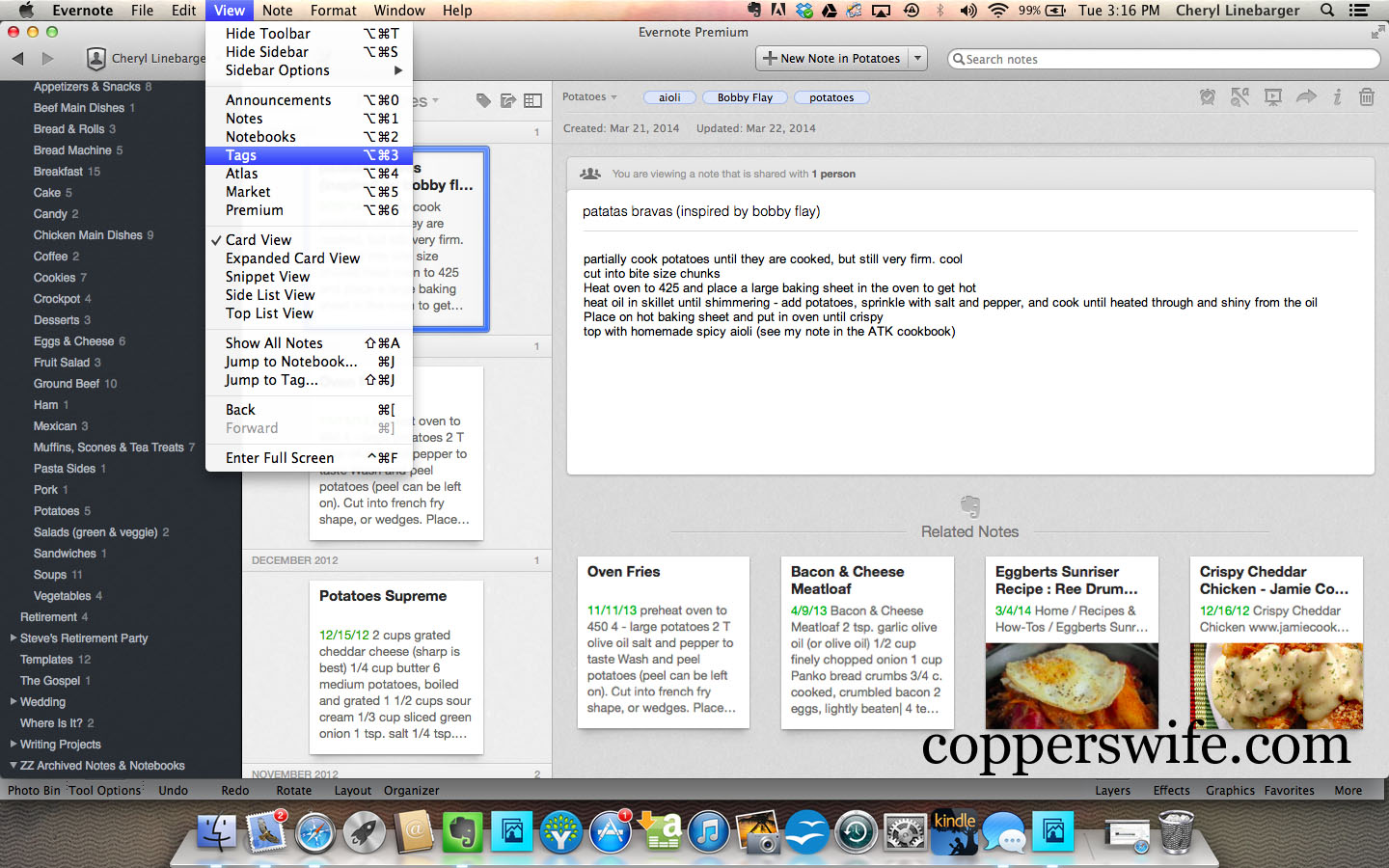 You can also open up that same page of tags by clicking "view" at the top of your screen, and then clicking "tags" from the drop down menu.
Second, you can email recipes right into your Evernote account. Evernote set up a private Evernote email address for you when you set up your account. To find that address, open up your account information. You can do that by finding the little drop down arrow next to your name at the top of your screen (see the photo above), and then clicking the arrow for the drop down menu.  You'll then see  "Account Info". Click "Account Info".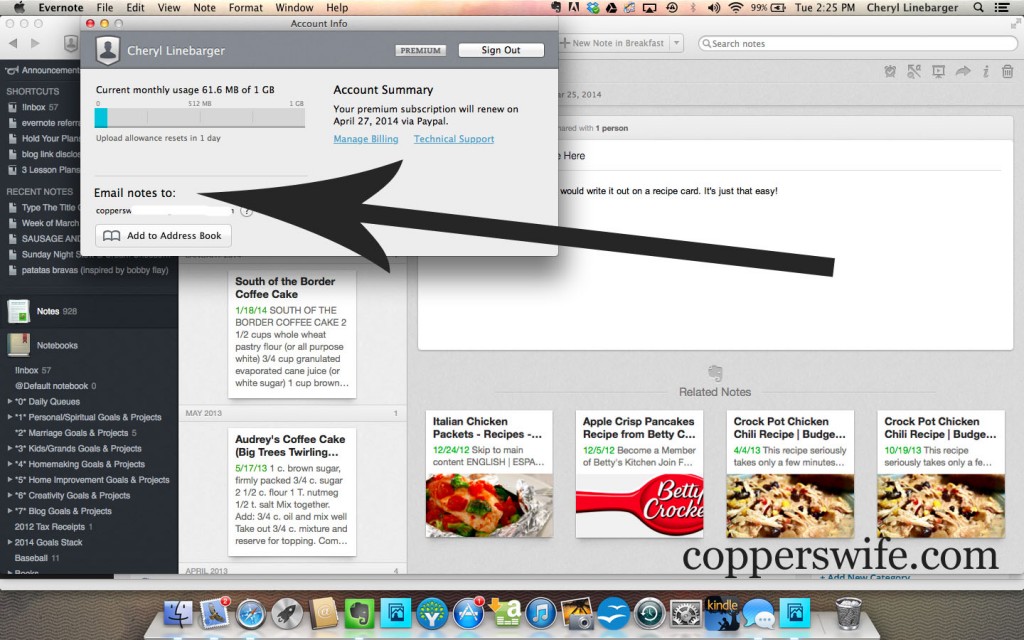 When your account information window opens up, you will see a line that says "email notes to" and your private Evernote email address will be given there. Evernote will automatically save any notes you email to your account directly into your Default Notebook. You can forward emails that contain recipes into your Evernote account, or you could even share your Evernote email address with a friend who is sending you a recipe. Another fun thing is to use your phone to take a good, sharp picture of a friend's recipe card and then email that to your Evernote account.
EVERNOTE TIP: Add your Evernote email address to your contacts list on your computer and your phone. That way, you can send pictures, notes, and all sorts of information directly to your Evernote account no matter where you are. Take a photo with your phone, or type in a quick note, and email it to Evernote! Nothing could be easier.
There you have it – two ways that you can begin, right now, to add your recipes to Evernote. The first method is the one that I'm using to get most of the recipes from all of my old recipe boxes and binders into Evernote. I'm adding a few a week, as I have time or as I pull them out to use them. Slowly but surely, I'm getting all of them saved into Evernote.
Next time, hopefully sometime toward the middle of next week, I'll share with you how I save recipes, and all sorts of other great stuff, from all over the Internet to Evernote. It's fun,  it's easy, and it's a great way to keep and organize all of those recipes you want to try.
You'll find all of the posts in my Paperless Homemaking Series here.