You know, in many ways, these last couple of years have been a very hard season; but it's all been wonderful and good and I am blessed by all of it. In the course of about three months time, Dani got married and moved an hour or so away, Aaron graduated from high school and started working a full time job, and Copper retired. Those were three BIG changes and they all happened at once. It was all wonderful and joy filled and good, and God blessed us mightily in all of it. But it was a lot of change in my home, and that change, no matter how good, left some chaos in its wake.
All at once my two biggest helpers, and errand runners, were gone. My husband was home more, but he had his own agenda of long awaited projects to get to. The house was way too quiet, and the lists of chores way too long. My time to spend online was severely limited, so not much was written in this space for the last couple of years. That's not the whole of the reason why this space has been so quiet, and I'll share more, by way of explanation soon. In the meantime, here's what's happening.
I'll apologize, right here at the beginning, for all of the photos and the length of this post. I wanted to catch up in one fell swoop – so here goes!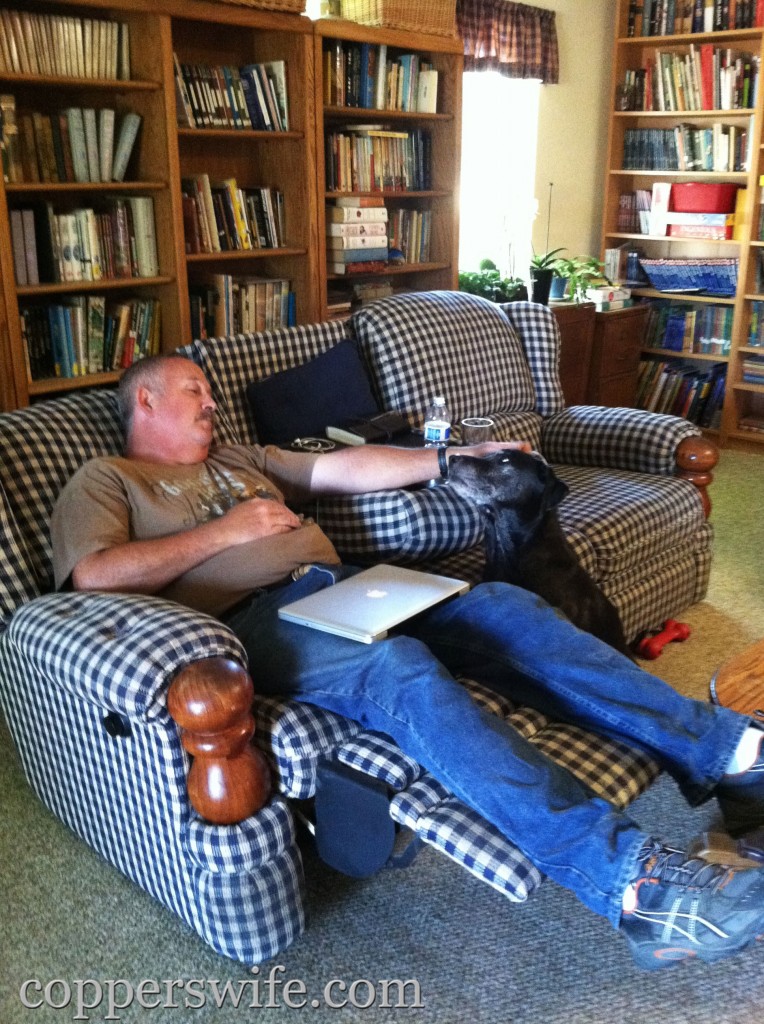 Though he's retired, Copper doesn't spend a lot of time resting! In fact, he's working as an "on call" deputy several hours each week. He has several goals for that extra income and we are blessed by his ability to provide for extra stuff this way.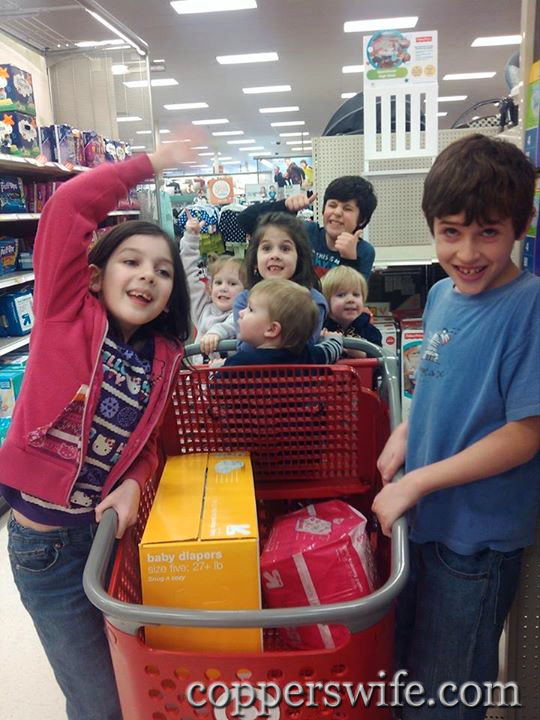 Corin, her husband, and their seven kids are all swell. The kids are growing up so fast, and the "baby" is two, which sort of takes away his "baby" status. They are 12, 11, 9, 7, 5, 4, and 2! Between their homeschool schedule and ours, we don't see them every Thursday like we used to, but I do see them most Sundays.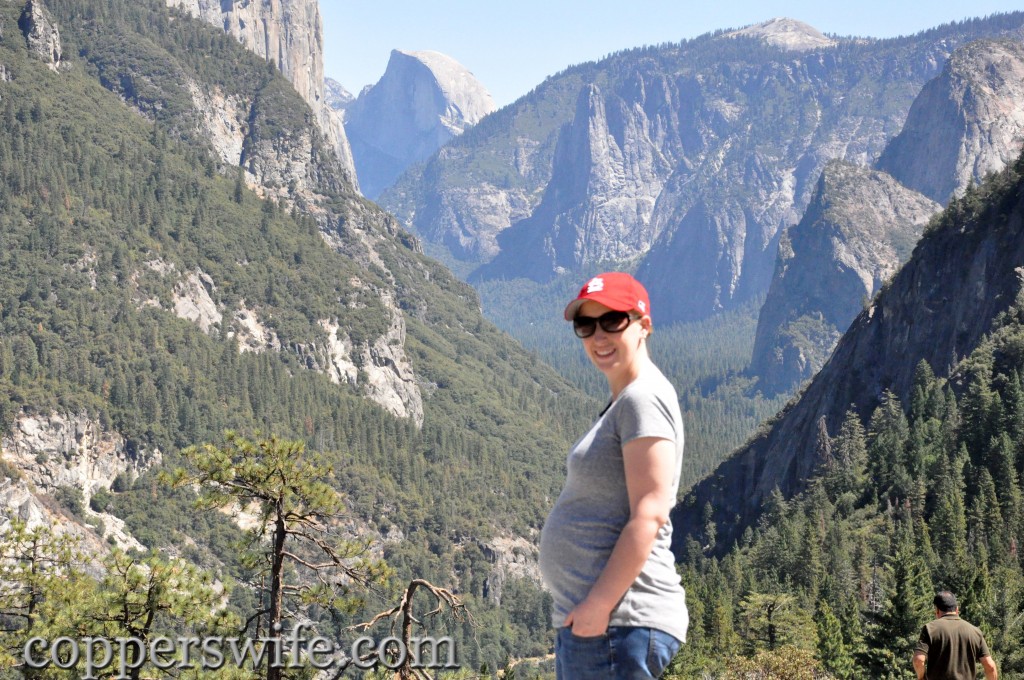 Dani is doing great, and she's the cutest pregnant person I know! Baby boy, my eighth grandchild, is due toward the end of November, and we're all super excited to meet him. Eight grandbabies! I have EIGHT grandbabies! I am so so so blessed!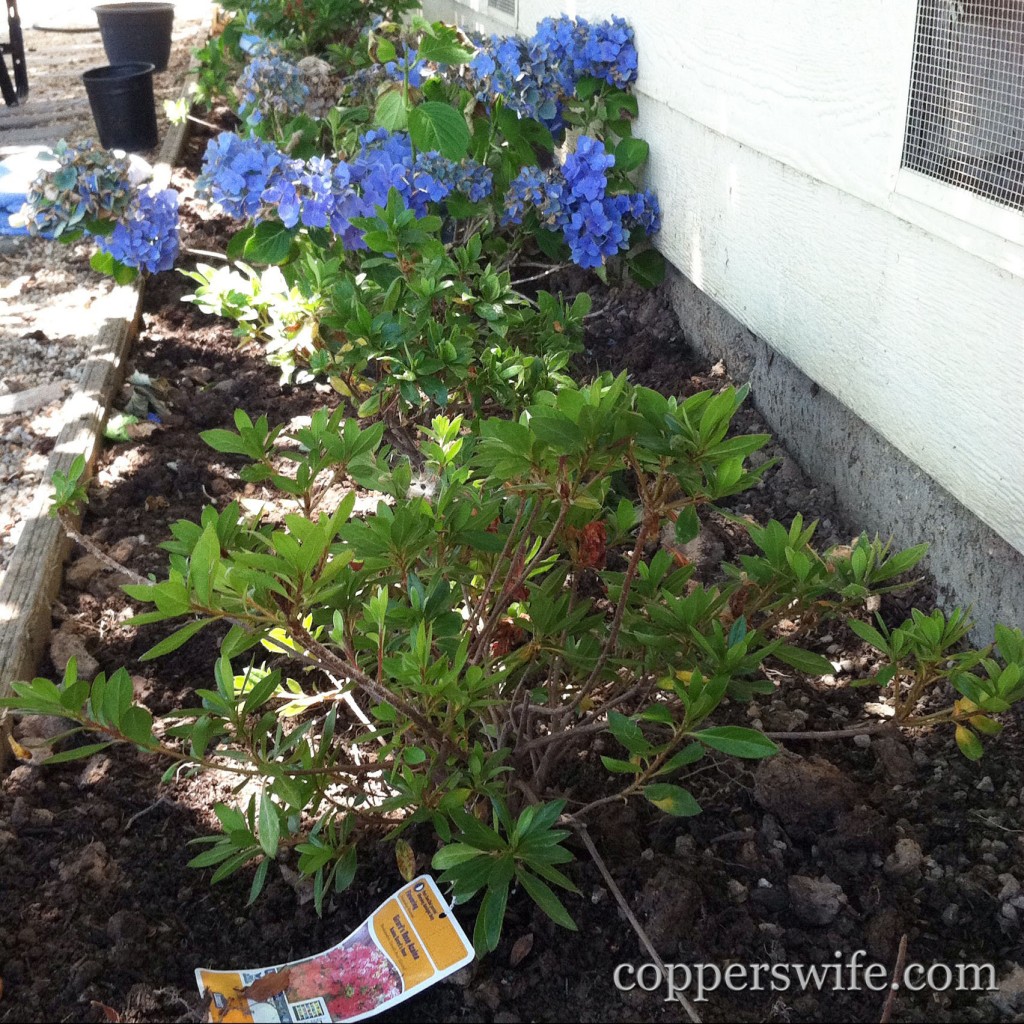 After sixteen years on this piece of property, we finally decided to put in a real backyard. We dug out all of our long-unplanted flower  beds, mixed in lots of good compost and rich soil, and then filled them with plants. I love that the back of our schoolroom is now planted with azaleas and hydrangeas. Next spring and summer, this bed should be glorious.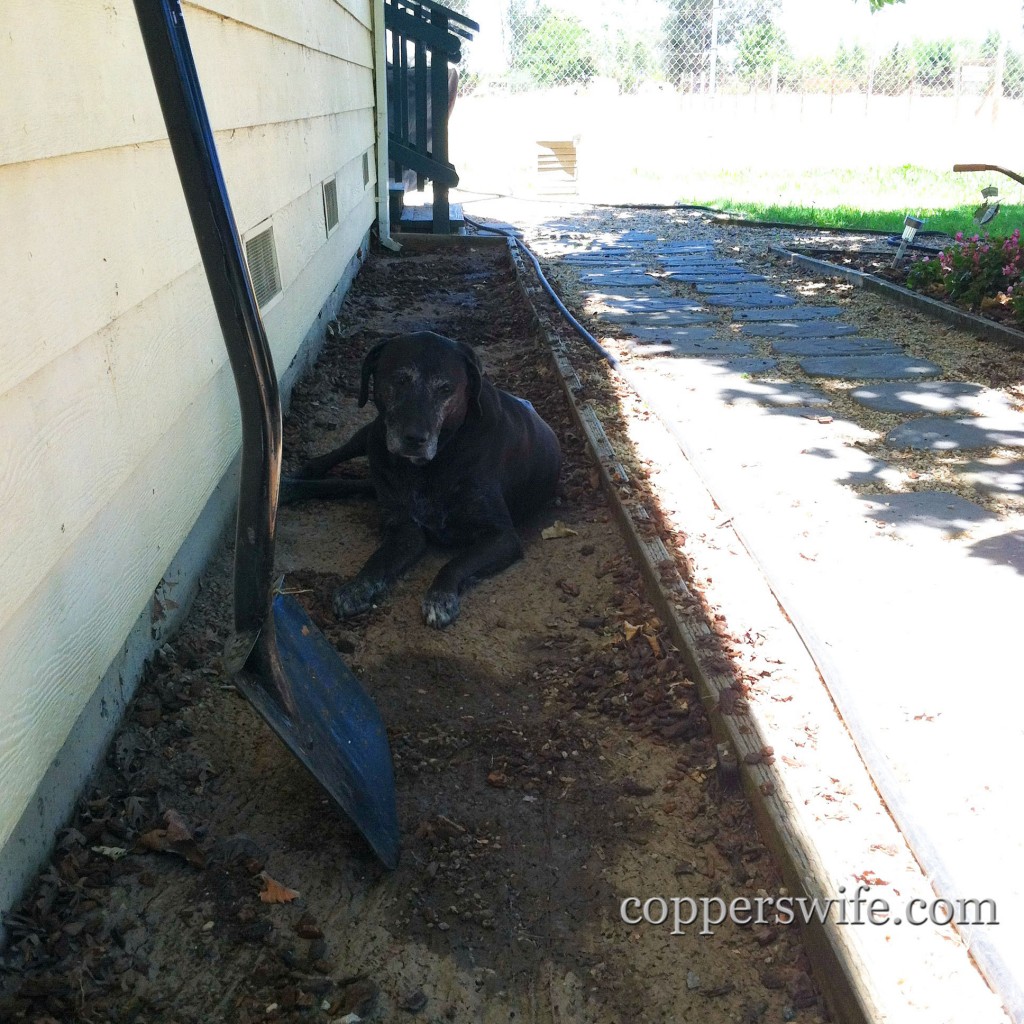 Dixie helped, of course. Our sweet, old dog is ten years old now. She may be gray, but there's still a lot of life left in the old girl. Kinda like me!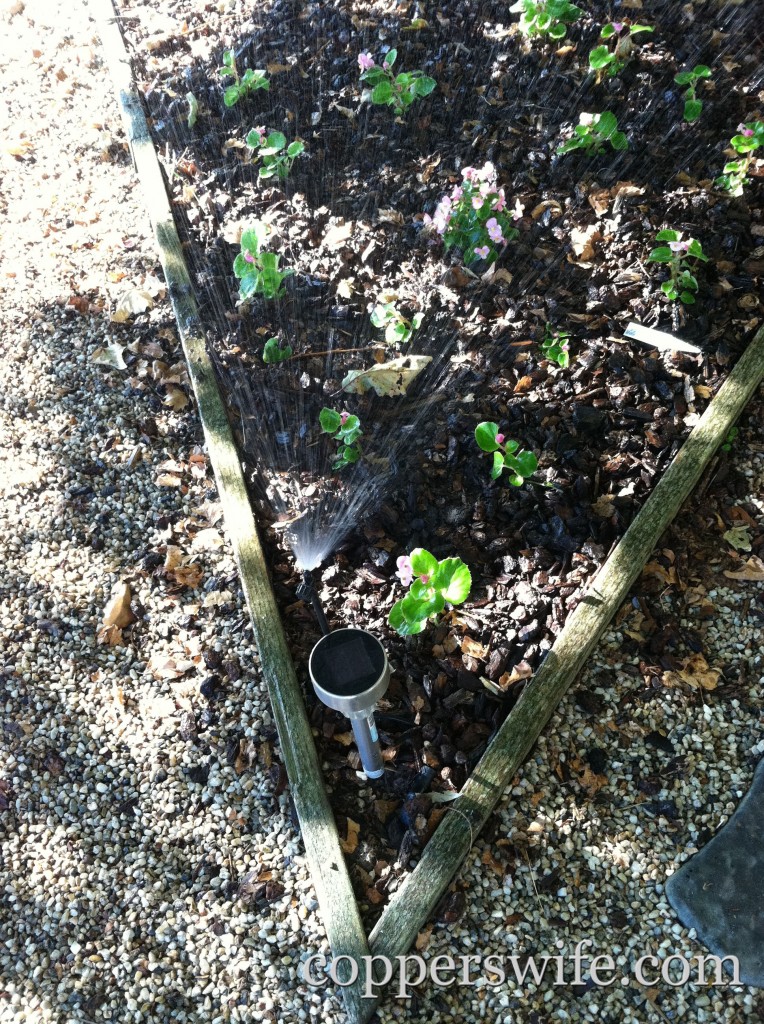 Copper trenched and laid sprinkler and drip lines for all of the flower beds, and he put them all on timers. It makes me smile to look out early in the morning and see the sprinklers working. After sixteen years of dragging hoses, this is a huge blessing!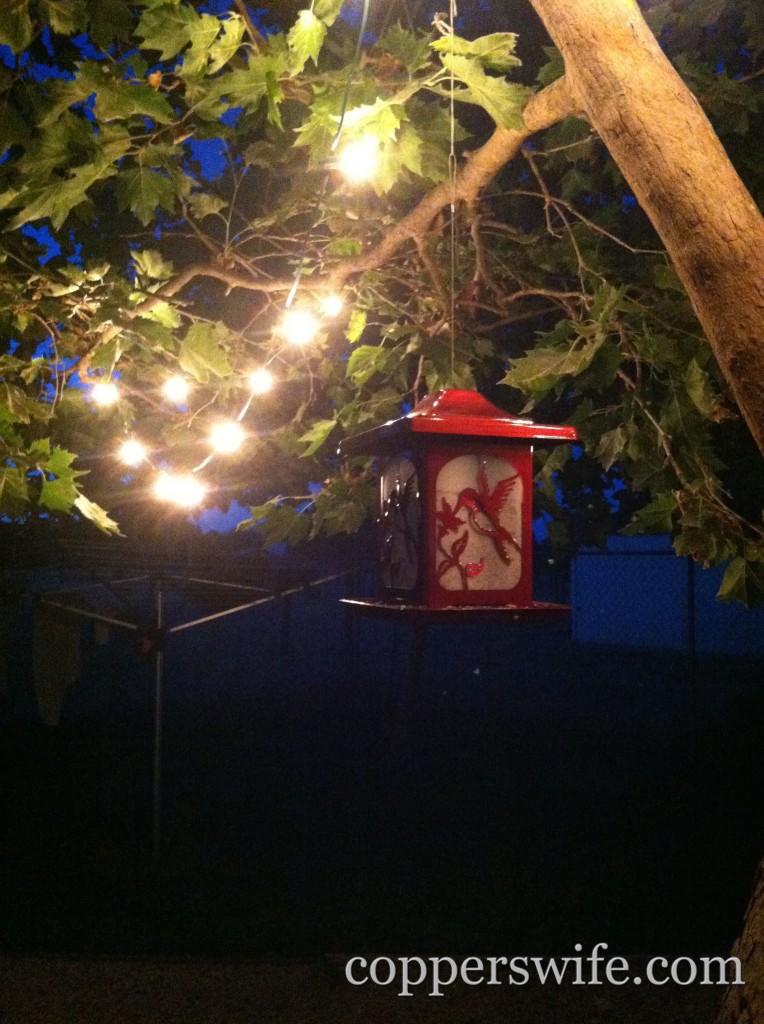 I have a lot of solar lights around the backyard, but we hung a few strands of electric lights in the big tree. We call it our "hobbit party tree"! It's been nice swimming, or just sitting out and reading, with the lights on after dark.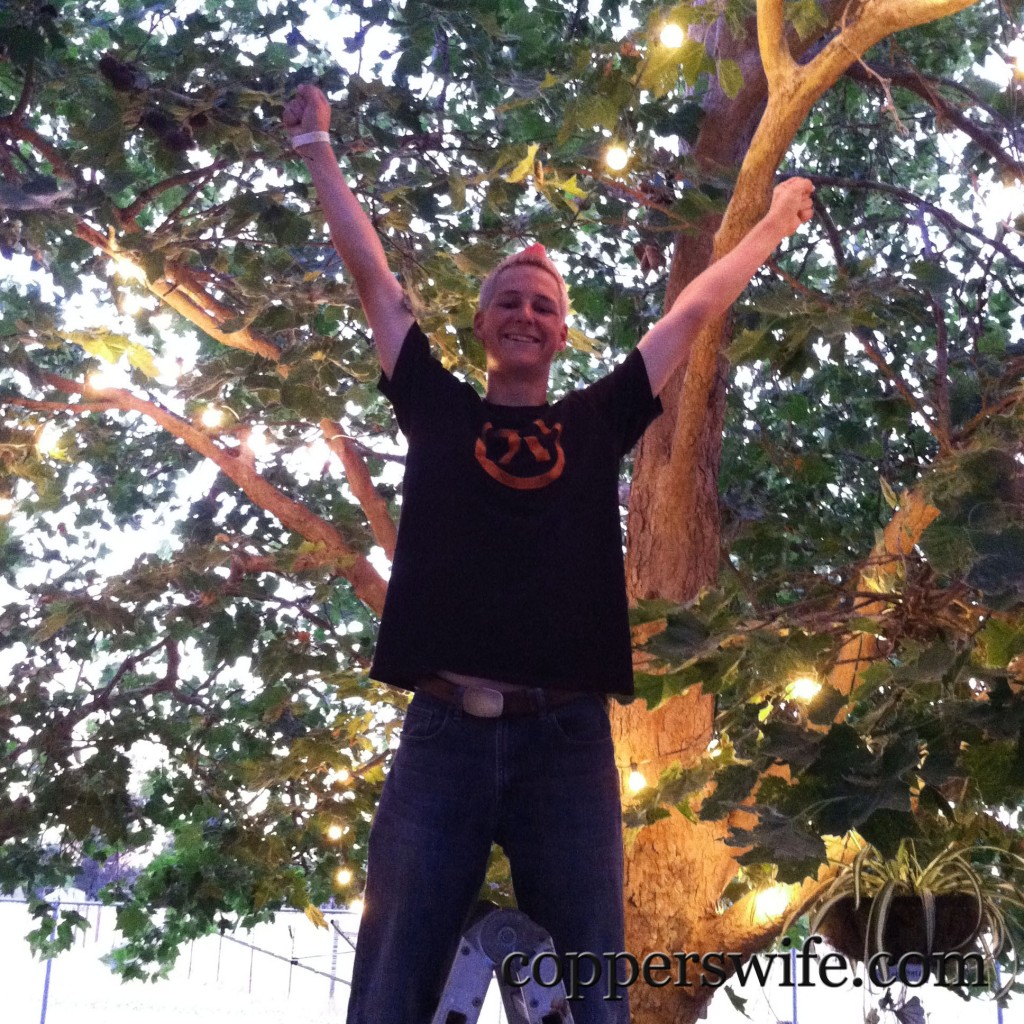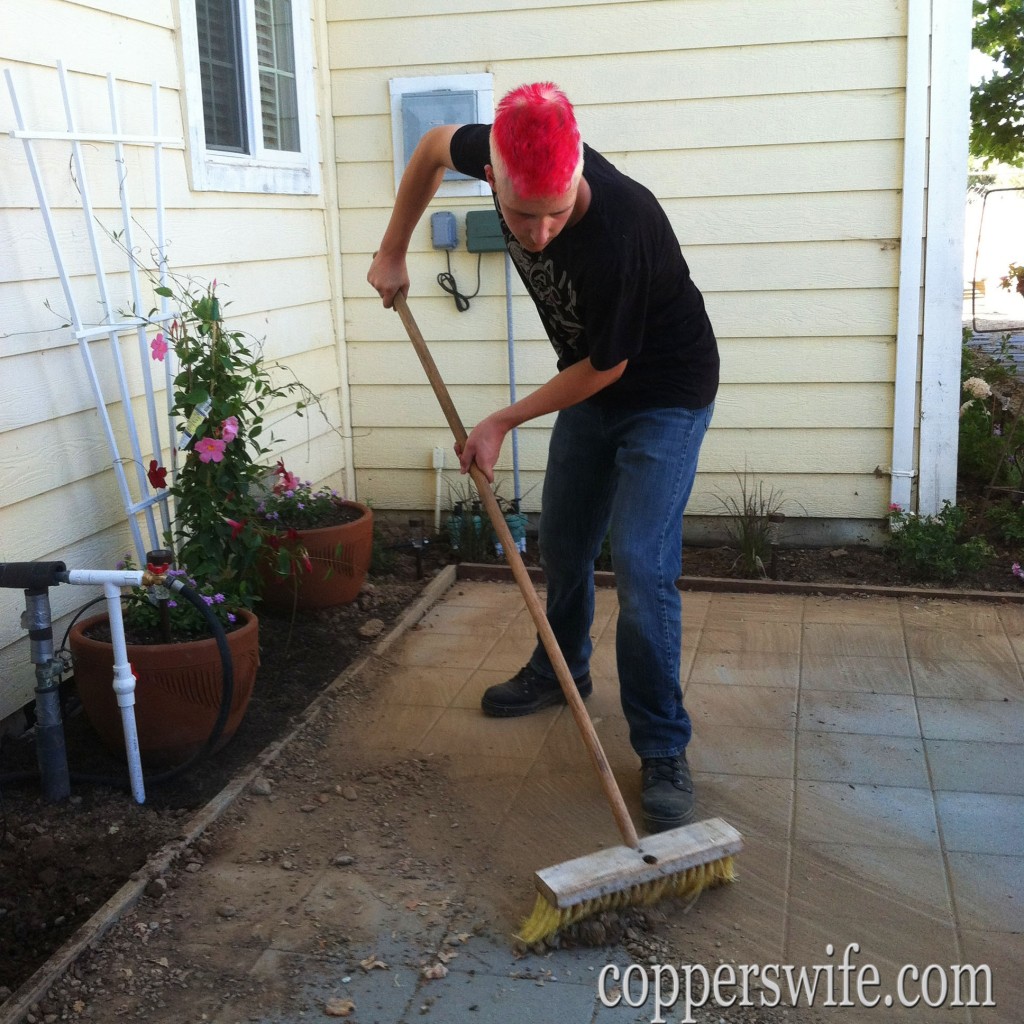 Will helped a lot with the backyard. It took all six feet and two inches of him, at the top of a ladder, to hang those lights in the tree for me; and he did a fabulous job helping clean up the patio after we filled and planted the flower beds. Gosh, those plants have grown a lot since these pictures were taken!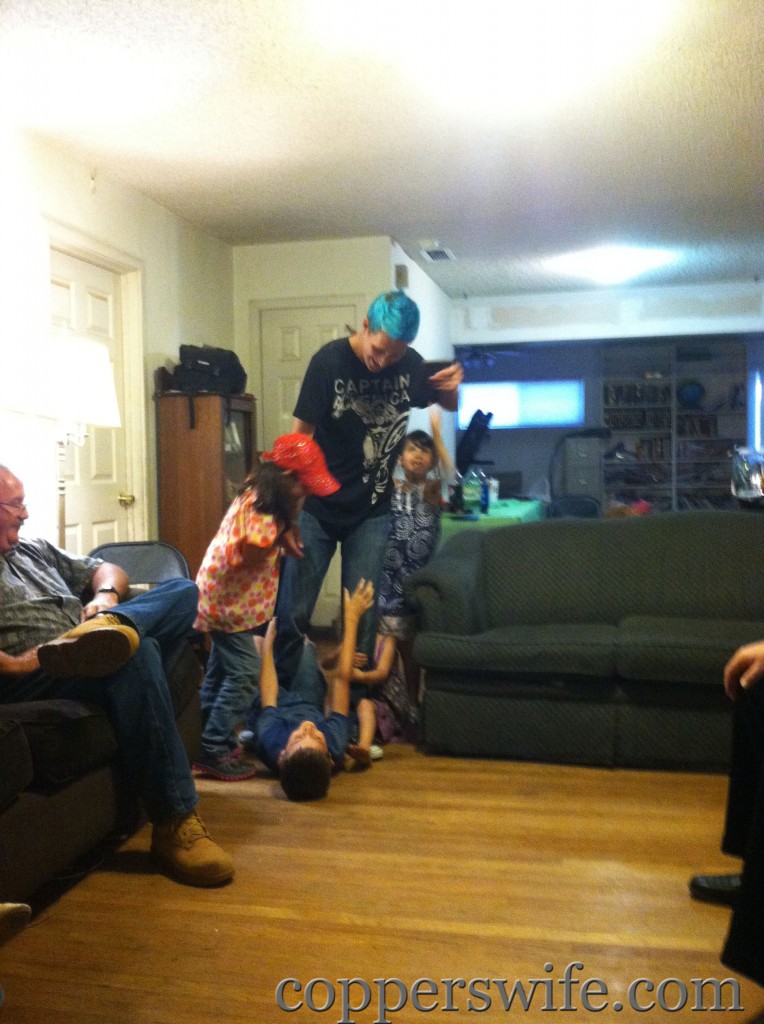 He's such a fun kid! At a recent birthday party, he had three nieces and one nephew all hanging onto him as he made his way through Corin's living room. They love him, and he loves them right back. And yes, his hair was super bright red earlier this summer, and then it was bright blue.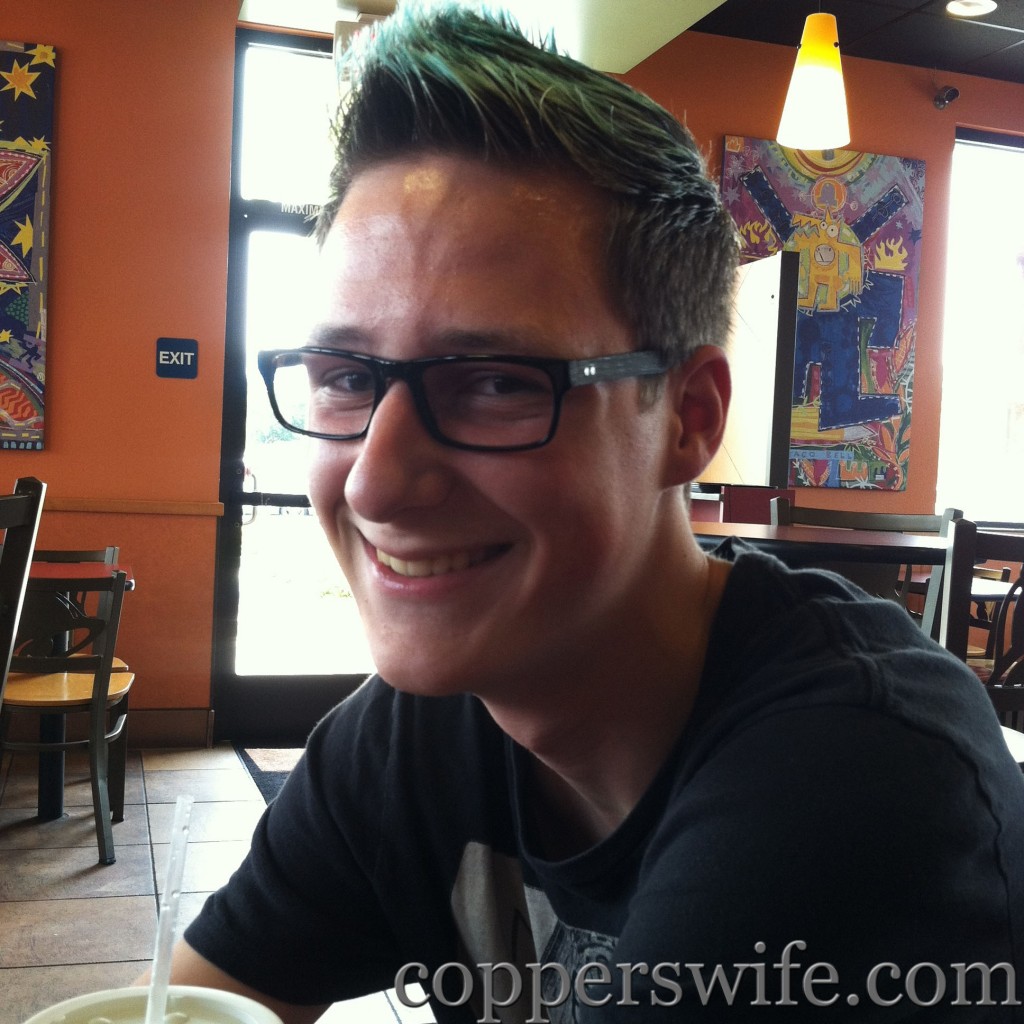 These days it's mostly his natural brown, with light blue highlights still hanging on.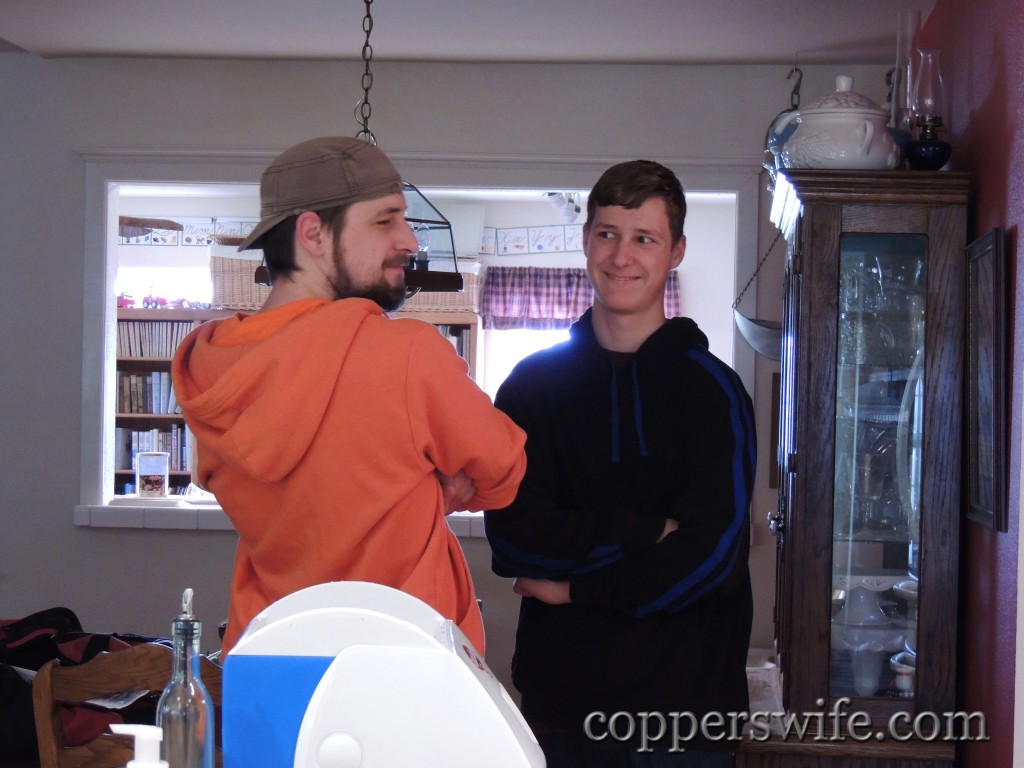 And then there's Aaron. He's being goofy here, with Will, as he's packing his lunchbox/ice chest for work. Aaron works swing shifts, and he has an almost hour long commute to work. He leaves the house in the early afternoon, and doesn't get home until the wee hours of the morning.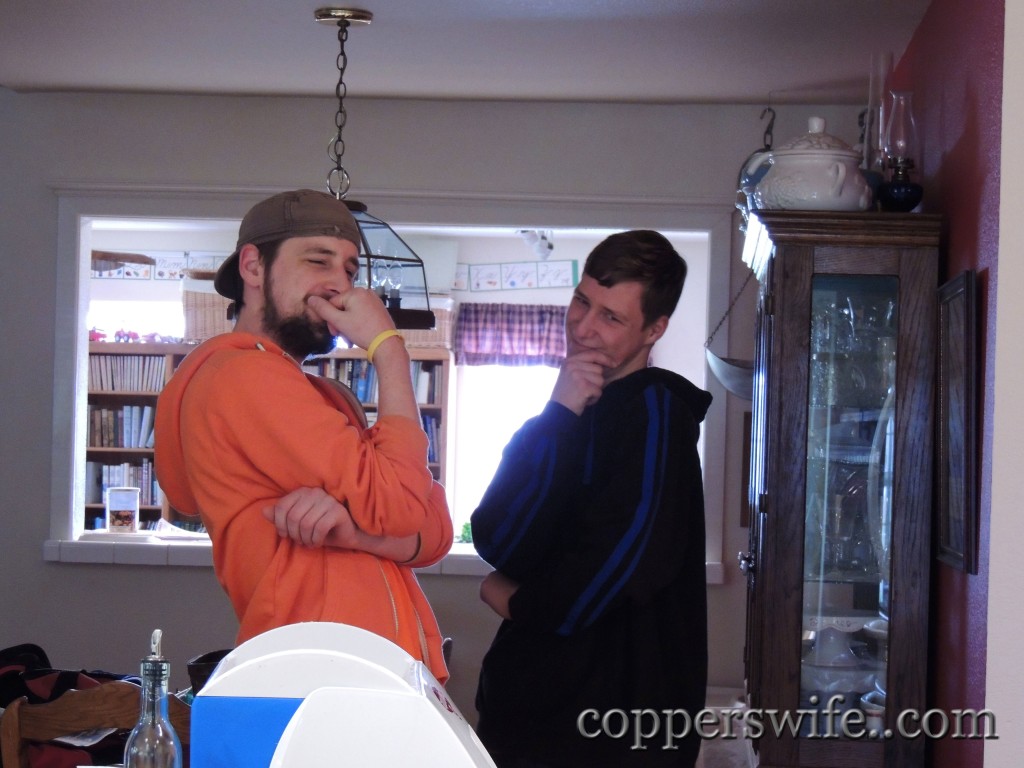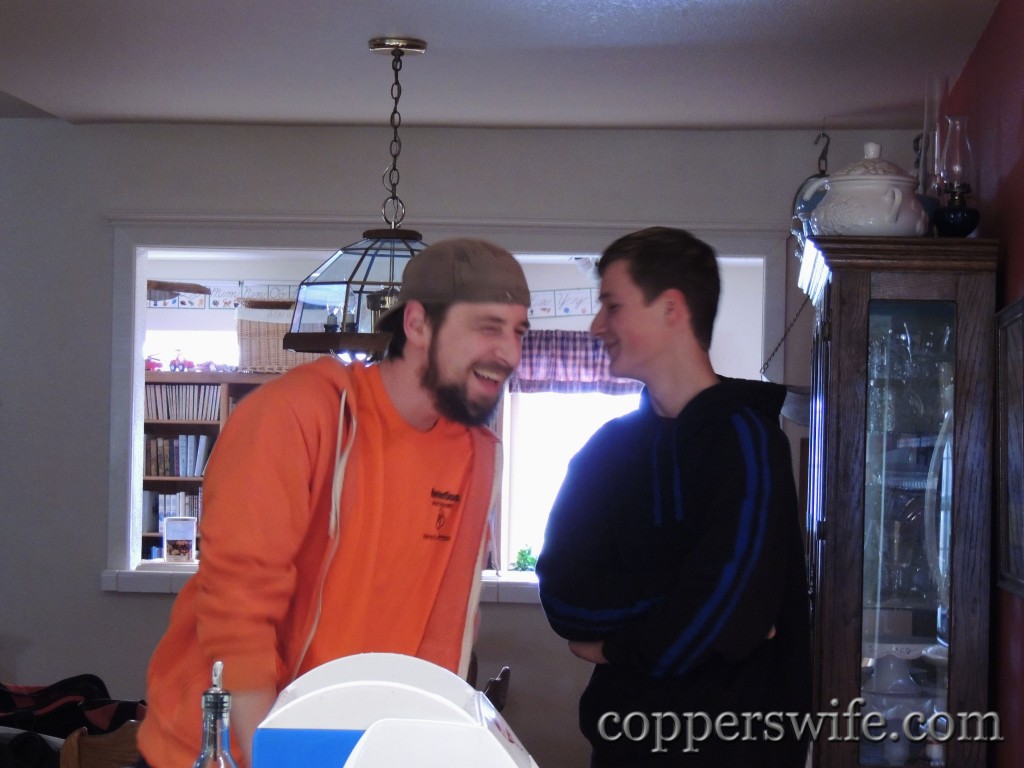 Aaron's following his dream, one he's had since he was about four years old. More details will follow as his plans are confirmed. I'm so proud of him I could burst!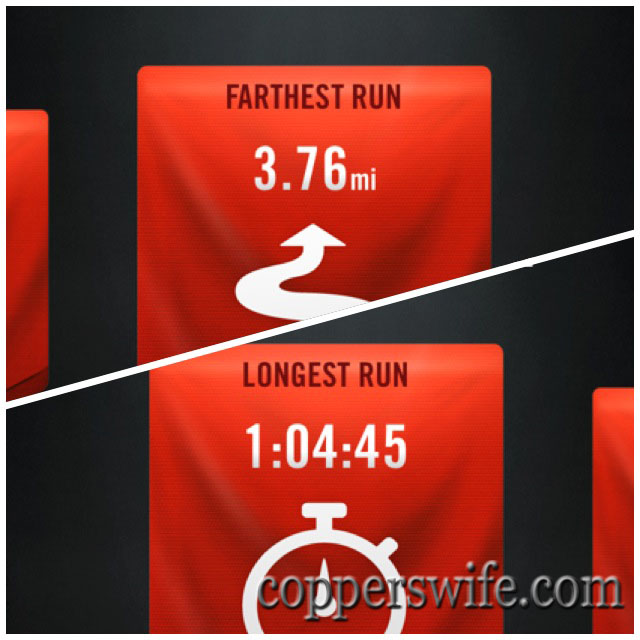 This is a screen shot of the Nike App on my phone. It lies. I don't "run" anywhere, but for the last several months, since early summer, I've been walking several days each week. I really only have an hour, most days, to walk, but my pace and distance have increased significantly since I first started. That walking, along with joining Weight Watchers, has helped me to lose thirty pounds as of this week. I've a lot more to go, but I'm well on my way. I already have less joint pain and a lot more energy.
I'm planning a brief(ish) post on books and quilting and such next, and then we'll be all caught up and ready to move on.
Thanks so much for your sweet comments on the last post and on the Facebook page. I post on Instagram and Twitter, too, throughout the week, so you can follow along there, too, if you'd like.