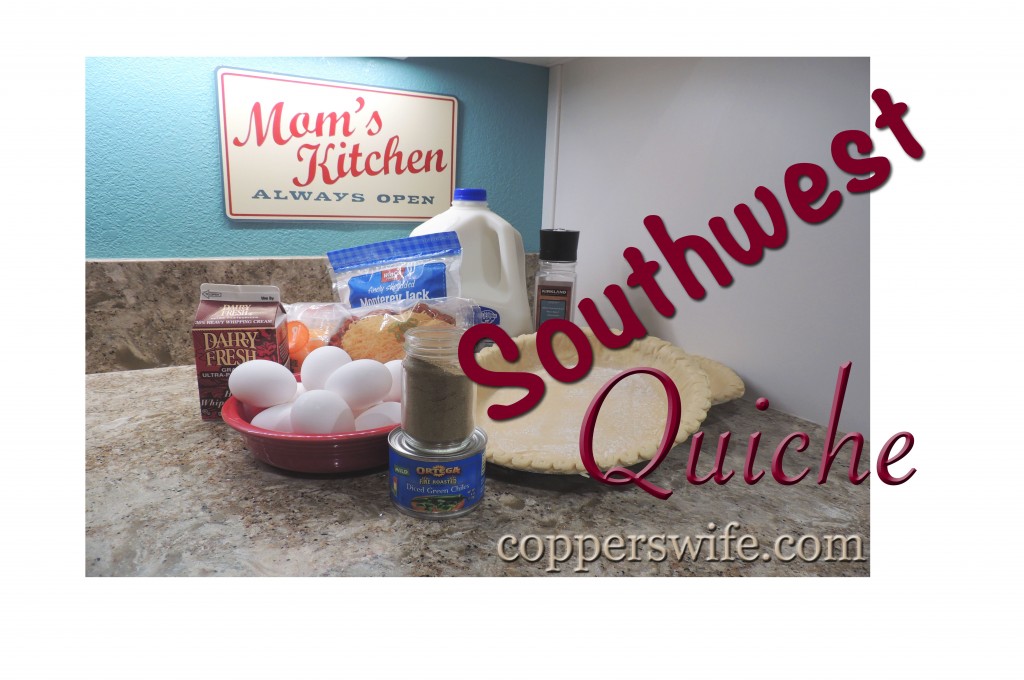 This quiche dish goes together in just a few minutes, and then cooks in a slow(ish) oven for 45 – 50 minutes. It's the one quiche dish that my family will readily eat.  The mild, diced chilies and ground cumin give it a terrific southwestern flair without being spicy. It's delicious and filling, and good any time of the year.
Best of all, it freezes beautifully before it's cooked. I almost always make two, cooking one for dinner, and putting the second in the freezer for another day. Man, I LOVE having meals ready to go in my freezer!
Here's what you'll need to make a single Southwest Quiche. Double the ingredients if you want one for the freezer. Trust me. You do.

Single crust, 9″pie crust, not baked (store bought, or homemade, your choice)
1 1/4 cups Monterey Jack cheese
1 cup cheddar cheese, divided
1, 4 ounce can mild diced chilies, drained (I use one can when I double the recipe, but you can use two. Just be sure they're well drained.)
3/4 cup milk + 1/4 cup heavy cream (or use one cup half & half, or just one cup milk if that's all you have – the cream makes it richer, though)
3 eggs
1/2 teaspoon salt
1/8 teaspoon ground cumin
Spread all of the Monterey Jack cheese, and half of the cheddar cheese in the bottom of the pie crust. Sprinkle the drained, diced chilies over the top.
In a bowl or measuring cup, whisk together the milk, cream, eggs, salt, and cumin, just until the eggs are slightly beaten and the ingredients are combined.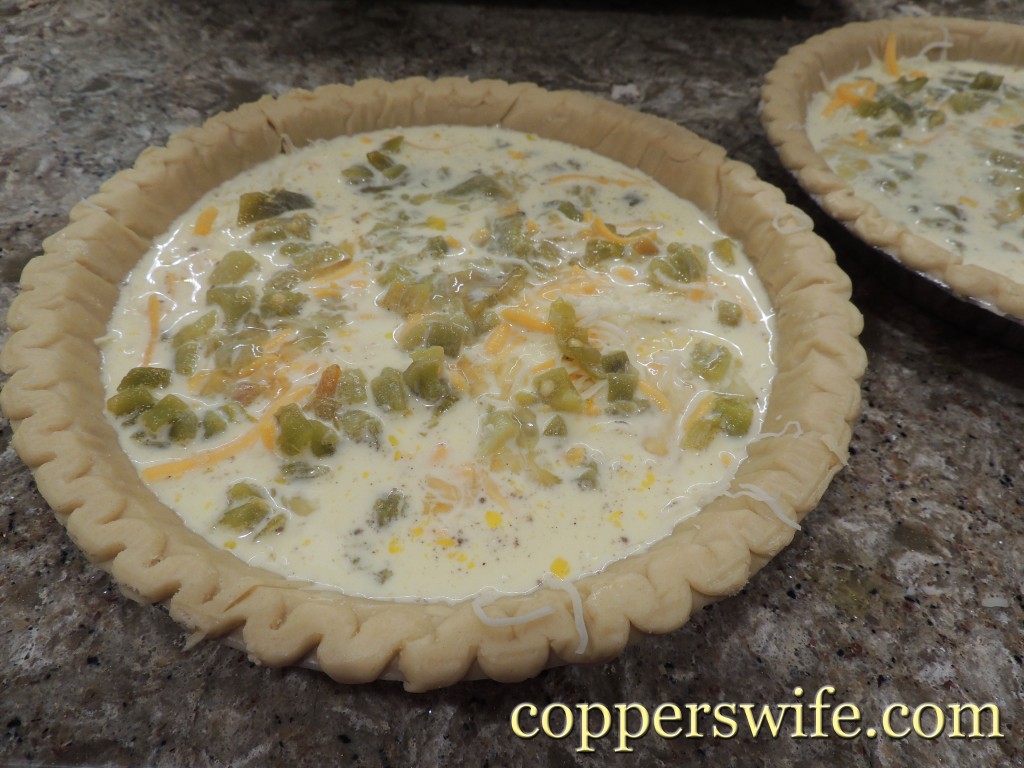 Carefully pour the egg mixture over the cheese and chilies, being careful to not displace them. Just pour slowly, and you'll be fine.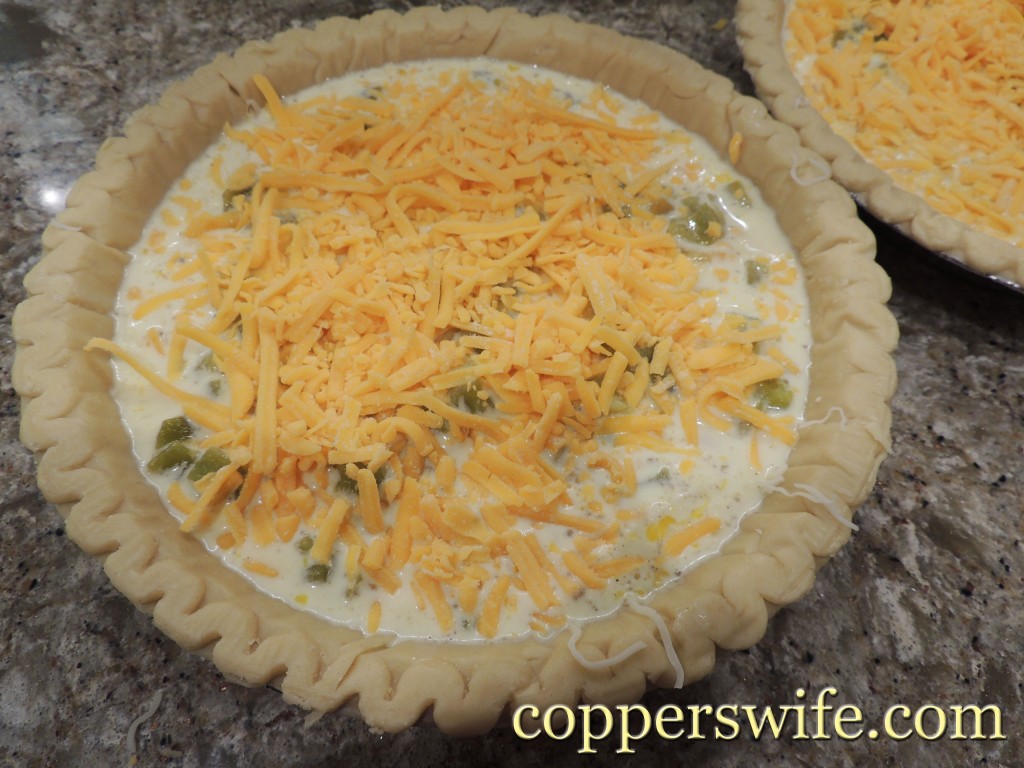 Sprinkle the remaining cheddar cheese over the top. I always use a bit more to give it good color on the top.
Now place the quiche into a 325° oven for 45 – 50 minutes, or until set. I always insert a knife into the center to check. If it comes out relatively clean, the quiche is ready.
Allow the cooked quiche to stand for five minutes to set before cutting and serving. That's important.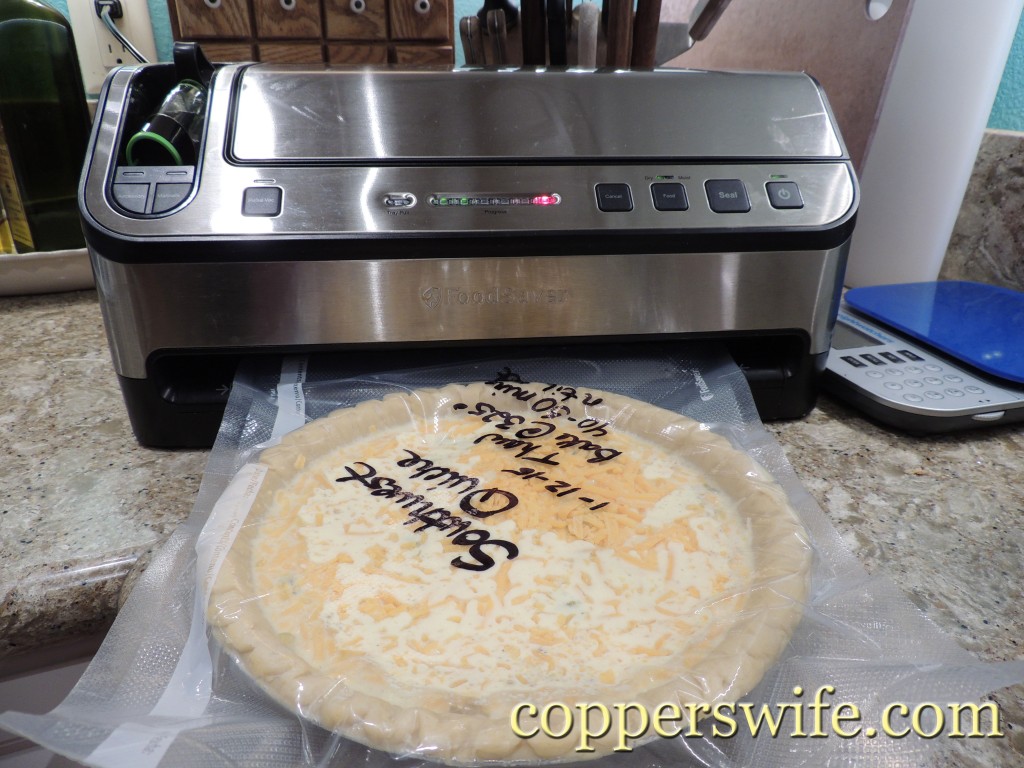 For the second quiche, label a gallon size ziplock freezer bag, or a vacuum sealer bag with the name, date and baking instructions. Carefully slide the UNBAKED quiche into the bag and seal. If you use a vacuum sealer, manually pulse the air out so that you don't vacuum the wet ingredients right out of the crust. Place the bag on a level spot in your freezer, and pat yourself on the back for making two dinners in the time it takes to make one.