I have been blessed with an abundance of new books to be read! After hearing some new-to-me speakers, I bought a few for myself at my church's local IF:Gathering and then again at Women of Faith. Most, though, were gifts. No matter how I came to own them, I have a LOT of new books to read!
My dilemma, of course, is in deciding what to read first. I want to read them all! Long time readers know how important it is that I think that we are reading. It's good for us!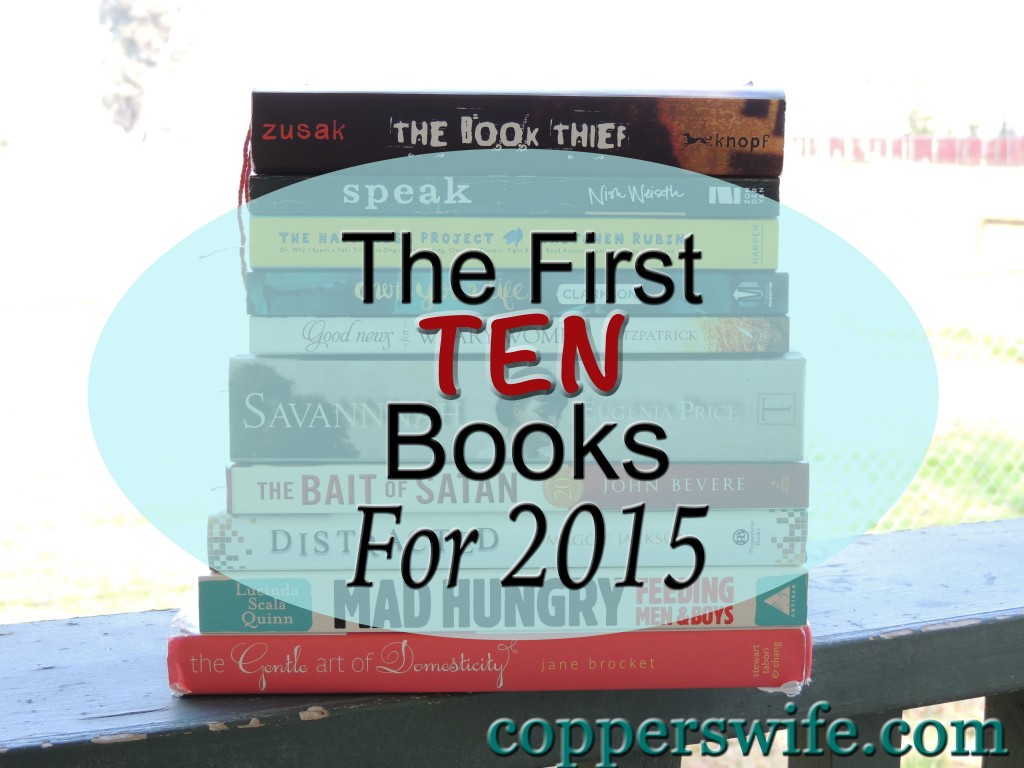 (If you click on the links below, and then make a purchase, some of them will be affiliate links that may put a few pennies into my pocket. Of course, there is no additional cost to you. I am always grateful to those of you who choose to bless me this way. You can read about how I spend those pennies, and more about how I earn them, in my disclosure policy.)
For the last two or three months, my reading has been limited to research on women's ministry and mentoring, or to books that are part of a group study. It's been good reading, and I'll be reviewing those books soon. I am, however, very much looking forward to reading from my stacks and stacks of new books.
I decided to choose ten books to fill my reading basket to start the year. I had three or four books that I'd started, but not finished, so those were the first onto the "first ten" list. Aaron gifted me a sweet, "fluffy" novel  for Christmas, and that was an obvious choice after all the heavy reading of the last few weeks. I chose the rest rather quickly, because the more I looked and tried to decide, the harder the choice became.
Here are the First Ten Books For 2015 in my reading basket.
Sally Clarkson's Own Your Life: Living with Deep Intention, Bold Faith, and Generous Love
 was released on January 6, and delivered to my door on January 8. Sally and I – we go way back! (Just for the record, she doesn't have a clue who I am!) The Clarkson's Educating the WholeHearted Child
 (mine is an ancient edition from the 90's) completely changed the way that I homeschooled my children. I've read most of Sally's books over the years, and she has blessed me in so many ways over the years. Own Your Life
 is right at the top of my first ten books for 2015 list.
It might sound strange to include a cookbook in my reading basket, but it's really the only way that I can guarantee, during this on the go season, that I'll actually remember to pull it out and look through it. My goal, of course, isn't to read it from cover to cover, but rather to look through, mark some new recipes to try, and then cook 'em up! Mad Hungry: Feeding Men and Boys
 was recommended by a young woman I've known since she was a young teen, and who is now the mother of three boys. She's a foodie, too! She says this is a cookbook that women will enjoy cooking from, and that the guys will enjoy eating those dishes, so I know it'll be a hit here. (By the way – she runs a fabulous Etsy store and her purses, bags and scarves are gorgeous and well made.)
I added this book to my reading basket last year, and never got around to it. I've read it before. Twice. I'm looking forward to a long, slow re-read of Jane Brocket's wonderful book on the home. The Gentle Art of Domesticity: Stitching, Baking, Nature, Art & the Comforts of Home
 is just what it claims to be, and my soul is yearning for a bit more of the "gentle" arts in my home this year.
I've had this book for quite awhile, but it's just now making its way into my reading basket. Despite its rather ominous sounding title, Distracted: The Erosion of Attention and the Coming Dark Age
 promises to be a good read. I'll let you know!
I wish this book had a better title, though I like the sub-title! I've been reading it for awhile, and I'm about half way through it. God has used this book in powerful ways in my life, but I didn't expect that when I started reading it. I'm kind of looking forward to reading the rest and seeing how God might use that, too. The Bait of Satan: Living Free from the Deadly Trap of Offense
 was recommended by my in real life, book loving friend, Sheri.
I'm about three fourths of the way through The Happiness Project: Or, Why I Spent a Year Trying to Sing in the Morning, Clean My Closets, Fight Right, Read Aristotle, and Generally Have More Fun
. I've enjoyed it, so far, and I'm making it a priority to finish it up in the next week or two.
My Aaron bought this book for me for Christmas. As I mentioned earlier, my reading has been rather heavy, as of late, so starting a bit of "fluffy" reading was just the thing. Savannah
 was recommended by my friend Kendra and I am really enjoying it.
I've learned something about myself. I don't enjoy reading a book after I've seen the movie. It's not that I think the movie is better, because it usually is not. I almost always find the book far better and more satisfying. However, with The Book Thief
, I'm just having a hard time getting into the story. My plan is to finish Savannah (see above), and then start The Book Thief
 over from the beginning.
I've enjoyed most everything I've read by Elyse Fitzpatrick. Her grace filled writing is like a breath of fresh air. I'm very much looking forward to reading Good News for Weary Women: Escaping the Bondage of To-Do Lists, Steps, and Bad Advice
.
Speak: How Your Story Can Change the World
, by Nish Weiseth. Looking forward to starting this one, too.
I'd love hearing what you're reading now, or if you've already read any of these ten for yourself. Leave a comment here, or on the Facebook page.