I'm late getting my menu plan posted, but better late than never! I have the filling for the Crispy Turkey Wellington for tonight's dinner already made and in the fridge. The Almond Poppy Seed Bread for breakfast in the morning is in the bread machine. I've been busy in the kitchen, but found some time this afternoon to post the menu plan.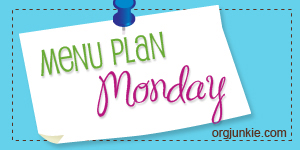 There's lots of goodness on the menu this week! I'll be gone Friday evening and all day Saturday, but I'll spend some time before I leave to make the soup, and bake the french bread my family will enjoy Friday night, and to put together the casserole I'll pop into the oven when I get home Saturday evening. Here's what we're having.
MONDAY
Breakfast – Pancakes
Lunch – Left over soup, and left over Focaccia
Dinner – Crispy Turkey Wellington, Roasted Garlic Green Beans, Green Salad
TUESDAY
Breakfast – Bacon, Scrambled Eggs, Almond Poppy Seed toast
Lunch-  left over Turkey Wellington, fruit
Dinner – Spicy Peanut Butter Noodles, Chopped Asian Salad
WEDNESDAY
Breakfast – Bagels and cream cheese
Lunch – Canned Soup, almond poppy seed toast
Dinner – breakfast quesadillas (bacon, scrambled eggs, cheese, salsa), country fries, fruit
THURSDAY
Breakfast – Oatmeal
Lunch – PBJ Sandwiches, chips
Dinner – Mediterranean Meat Pie, Steamed broccoli
FRIDAY
Breakfast – pancakes
Lunch – Mac & Cheese, Kielbasa, fruit
Dinner- Lentil Vegetable Soup with Bacon, French Bread (Soup recipe in Mad Hungry: Feeding Men and Boys
 – this is an Amazon Associates link. Here's my full disclosure policy.)
SATURDAY
Breakfast – Audrey's Coffee Cake
Lunch – Left-over soup, bread
Dinner – Tomato-Mac-Cheese-Corn Casserole, salad
SUNDAY
Breakfast – cereal or Audrey's coffee cake
Lunch – out
Dinner – Loaded Baked Potatoes
I'm joining Laura for this week's Menu Plan Monday.
Is menu planning a skill you'd like to learn? Need some help getting started? My Menu Planning Series will help!