Fall Planning and Time Management – Wisely budgeting your time as you look well to the ways of your household.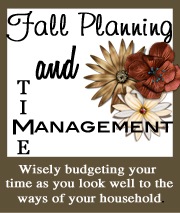 Using the Envelope System For Time Management
Time Management – Schedule Or Flow Chart? 
Using Google Calendar to Budget Your Time
**Coming Soon**
Using Multiple Calendars For Your Multiple Roles
More!